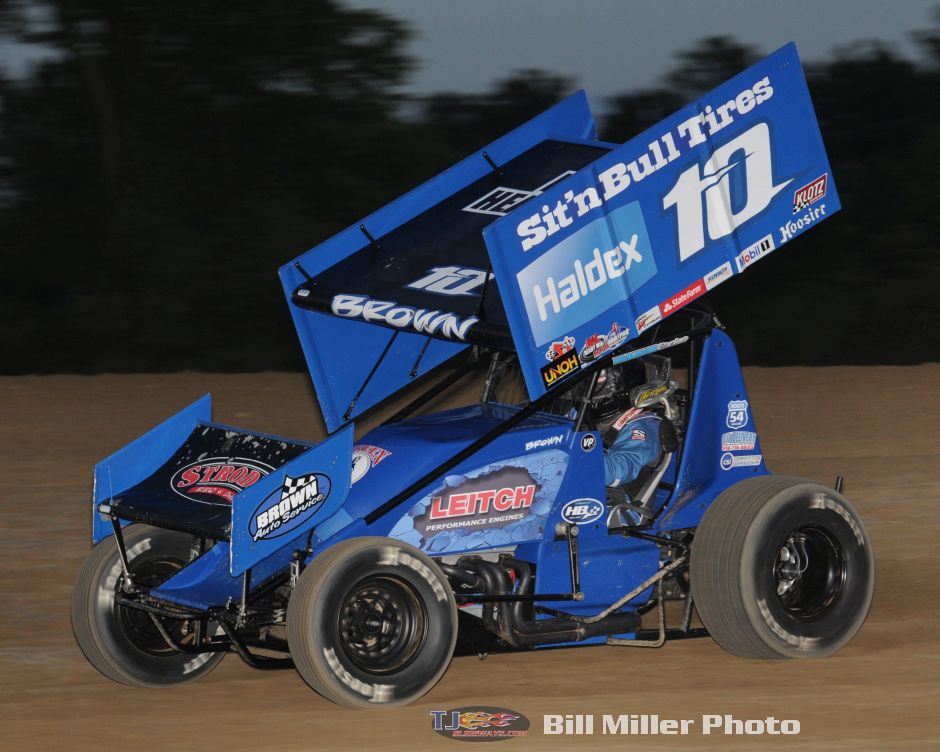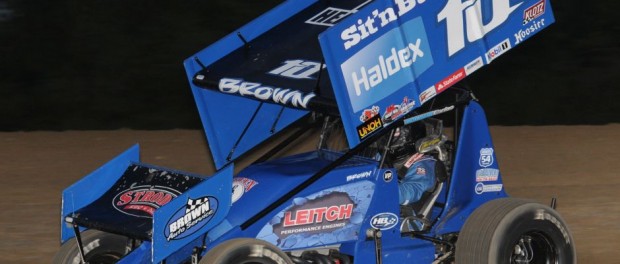 By Dean Reynolds
OHSWEKEN, ON – Each year the Lucas Oil Empire Super Sprints (ESS) make the trek out to the Ohsweken Speedway to battle the track regulars. Each year ESS has brought home the bragging rights…until now. Taking the lead on lap 12, Mitch Brown held off Jason Barney to win his first ever A-Main with the traveling organization.
The Brantford, Ontario chauffeur has been hitting the road this season and the traveling has helped in running against some of the best. When he took the lead from Rob Dietrick just shy the halfway he had to battle both Barney and slower traffic in the event that went green for the final 13 laps.
The event was another leg for the Einstein Construction Group Canada Tour 2015.
"We just had a really good car all night, I could run it hard into the corners and also come off good." Said the smiling winner afterwards, "The track has been different almost each race but we have been getting better the last few weeks. I'll tell you though, this has been the best the track was all year."
Brown has been indeed taking to the road and he acknowledges that it has helped, "Hey you can't get better by staying on the couch!" quipped Brown.
For the Corr/Pak regulars, having ESS come in for one stop adds spice to their regular Friday night and for Brown it made this win special. "I can remember when I was younger coming here and watching ESS. I never thought that I would some day be running with them and now we won. That's special."
For Barney, he charged from his 12th place starting spot and was up to the top five in just a few laps. When the yellow lights came out for debris on lap 12 he was running fourth. When the green lights came on he shot into second but it was for naught as the red lights came on for a flipping Dylan Swiernik.
"That red flag just killed me. I had such a good run and that would have gotten me right there with a lot of laps left." Barney went on. "With the next restart single file it just seems like you give so much track space away."
But, Barney did sweep by his two competitors and made this a great one/two dual. On lap 18 he actually pulled alongside Brown coming off turn four but Brown's Haldex backed #10 held off the challenge going into the next corners.
"He had a good car, He was better than me in 3 and 4 but I could have more speed on 1 and 2." Noted the Brewerton, NY driver. "If I could somehow just get him to change his lane in 3 and 4 I think we had a chance. I just couldn't get there, hey, he earned it and we will take second."
Track owner Glenn Styres took to the extreme outside in the closing stages and brought home his familiar #0 for a fine third place finish. "I was trying the bottom but really wasn't making any ground so I went to the top." Glenn went on. "I was hoping those guys would have a little trouble, I see that they were racing hard but they didn't and ran a great race."
"I always considered ESS as the elite touring group, we like having them here and it's a challenge for us each time." Noted the man who lives off turn two. "I was happy to see Mitch get the win tonight, it shows that we have some good racers here and hopefully I can get a win with ESS too!"
Current ESS point leader Steve Poirier came home fourth with Cory Turner making it three Ohsweken regulars in the top five. Rounding out the top ten were Dietrick, Jamie Trurner, Parker Evans, Paul Kinney, who earned hard charger honors after starting in 22nd and Matt Tanner.
ESS/Ohsweken Notes – A nice field of 28 sprints were on hand and they played host to a large crowd…Ryan Turner was scheduled to start the A-Main in fourth but engine woes forced him to scratch, this allowed Keith Granholm to start the A in his first ESS start of the year…Dane Lorenc had drive line issues all night and didn't complete a lap under competition…Jason Barney now leads the Canadian Tour 2015 over Steve Poirier and Matt Tanner.
Lucas Oil A-Main – Mitch Brown ($1,575), Jason Barney ($1,050), Glenn Styres ($800), Steve Poirier ($655), Cory Turner ($565), Rob Dietrick ($685), Jamie Turner ($455), Parker Evans ($470), Paul Kinney ($485), Matt Tanner ($400), Paulie Colagiovanni ($585), Tommy Wickham ($375), Tyler Hendricks ($350), Curtis Gartly ($315), Chris Steele ($310), Derek Jonathan ($330), Keith Granholm ($275), Lee Winger ($110), Dave Axton ($265), Kyle Pitts ($310), Dylan Swiernik ($255), Keith Dempster ($350), Todd Hoddick ($275).
Scratch – Ryan Turner
Did Not Qaulify – Dane Lorenc, Zach Zumpe, Denny Peebles, Scott Sherk
Lap Leaders – Dietrick (1-11), Brown (12-25)
Car Mate Trailers $25 To Win Heats – Poirer, Brown, Steele
Lacaillade Masonry $50 to win B-Main – Hendricks
Nathan Ackland State Farm/Cobra Coaches Dash – Dempster ($100)
Other Bonuses:
Insinger Performance Hard Charger – Kinney (13 pos.) $50
Engler Machine and Tool Halfway – Brown $50
Ohsweken Speedway 20th Anniversary – Pitts $50
Beard Sewer and Drain Determination Award – Barney $50
SUNY Canton Smart Move – Evans $50
Fondations 55 Pick 5 – C. Turner $35
911 Restoration – Kinney and Colagiovanni $25
Hoosier Tire – Colagiovanni $200
Vahlco Wheels – Dietrick $190
For more Information on the Lucas Oil Empire Super Sprints:
Web: www.empiresupersprints.com
Twitter: @ESSprints
Facebook: https://www.facebook.com/EmpireSuperSprints
Android App: Empire Super Sprints
Alex Hill won the crate sprint car feature.
Crate sprint car feature:
1. 77x – Alex Hill
2. 4 – Mack DeMan
3. 9 – Steve Lyons
4. 0 – Mark Czuba
5. 10-Jan – Jake Brown
6. 47x – Dylan Westbrook
7. 7H – Ryan Hunsinger
8. 18 – Josh Shantz
9. 68 – Aaron Turkey
10. 54 – Ed Green
11. 55 – Mike Thorne
12. 6 – Eric McGlone
13. 43k – Kyle Durnin
14. 1 – Holly Porter