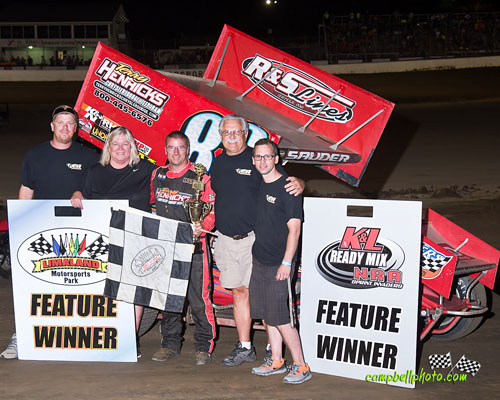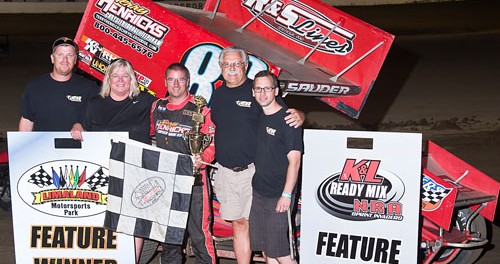 (8/7/15) – The 18th annual championship night for Limaland Motorsports Park began with a four point margin in the NRA Sprint Invaders standings. Last week's feature winner Jared Horstman held the slim advantage over Max Stambaugh and also held a possible tie-breaker if needed having won three NRA features on the season with Stambaugh posting a pair of wins. Amazingly, it would prove to be crucial in the final decision with the championship chase.
Max Stambaugh won his heat race while Horstman finished second in his preliminary event. It narrowed the margin to a slim two points heading into the 25-lap main. Horstman started from the pole with Stambaugh directly behind on the inside of row number two. It guaranteed a thrilling final showdown for the title.
Through the opening six laps of action, Jared Horstman led the field around and as expected he chose a high side line around the track. He began to make contact with lapped traffic and that allowed Stambaugh and others to close the distance. Following a restart on lap number nine, Horstman bobbled slightly and it allowed Butch Schroeder, Kyle Sauder, Stambaugh and J.R. Stewart to move ahead and push Horstman back into the fifth running position.
At the race mid-point Sauder had taken the lead with Schroeder and Stambaugh close behind. Horstman was mired back in fifth behind veteran racer Phil Gressman. It was a race within a race for the championship between Stambaugh and Horstman.
As the 25-lapper was drawing to a finish, Sauder seemed to have the win secured with a several car length lead. Both Stambaugh and Horstman frantically drove for the highest possible finish. As the checkered flag was unfurled officials quickly determined that Stambaugh was the race runner-up and Horstman finished third. A further quick determination revealed a virtual tie with points between the two for the championship. Both drivers had a pair of wins at Limaland Motorsports Park during the season so the defining issue became a third win that Horstman had accomplished earlier in the season at another venue with the touring NRA. That proved to be the defining edge as Horstman claimed his first-ever MRA Sprint Invaders championship.
Archbold's Sauder captured the feature win on the night, his second of the season at the track and he wound up third behind Stambaugh in the Sprints point standings. All three will compete on August 14 in the Reineke King of the Quarter Mile races for significant additional prize money.
K&L Ready Mix NRA Sprints
Heat 1 – (8 Laps – Top 7 Transfer)
1. B20-Butch Schroeder; 2. 17-Jared Horstman; 3. 6S-Jr Stewart
4. 49-Shawn Dancer; 5. 12R-Nick Roberts; 6. 23M-Jack Miller
7. 11-Tim Allison
Heat 2 – (8 Laps – Top 7 Transfer)
1. 6M-Max Stambaugh; 2. 23-Devon Dobie; 3. 31N-Rod Henning
4. 15-Brandon Ferguson; 5. 57-Mike Dunlap; 6. 16B-Dakota Busche
7. 5W-Jeff Williams
Heat 3 – (8 Laps – Top 7 Transfer)
1. 83-Kyle Sauder; 2. 28H-Phil Gressman; 3. 12J-Tyler Moore
4. 35-Ron Blair; 5. 8J-Jess Stiger; 6. 17H-Hud Horton
A-Main – (25 Laps) [#]-Starting Position
1. 83-Kyle Sauder[2]; 2. 6M-Max Stambaugh[3]; 3. 17-Jared Horstman[1]
4. B20-Butch Schroeder[4]; 5. 28H-Phil Gressman[6]; 6. 8J-Jess Stiger[15]
7. 6S-Jr Stewart[7]; 8. 49-Shawn Dancer[10]; 9. 57-Mike Dunlap[14]
10. 23-Devon Dobie[5]; 11. 35-Ron Blair[12]; 12. 31N-Rod Henning[8] 13. 16B-Dakota Busche[17]; 14. 17H-Hud Horton[18]; 15. 12R-Nick Roberts[13]
16. 15-Brandon Ferguson[11]; 17. 5W-Jeff Williams[20]; 18.12J-Tyler Moore[9]