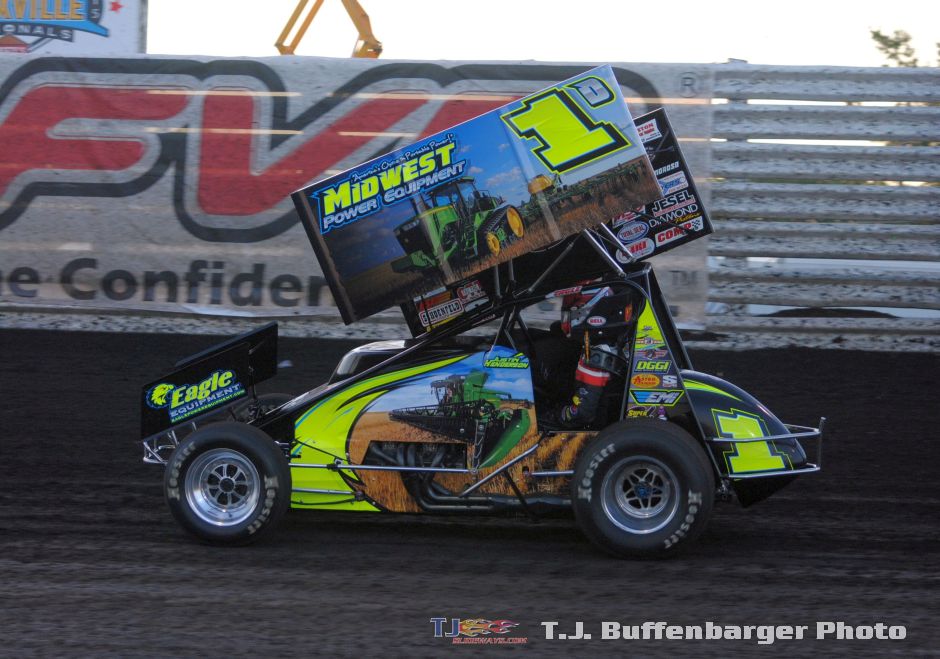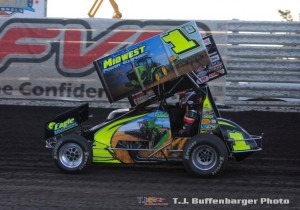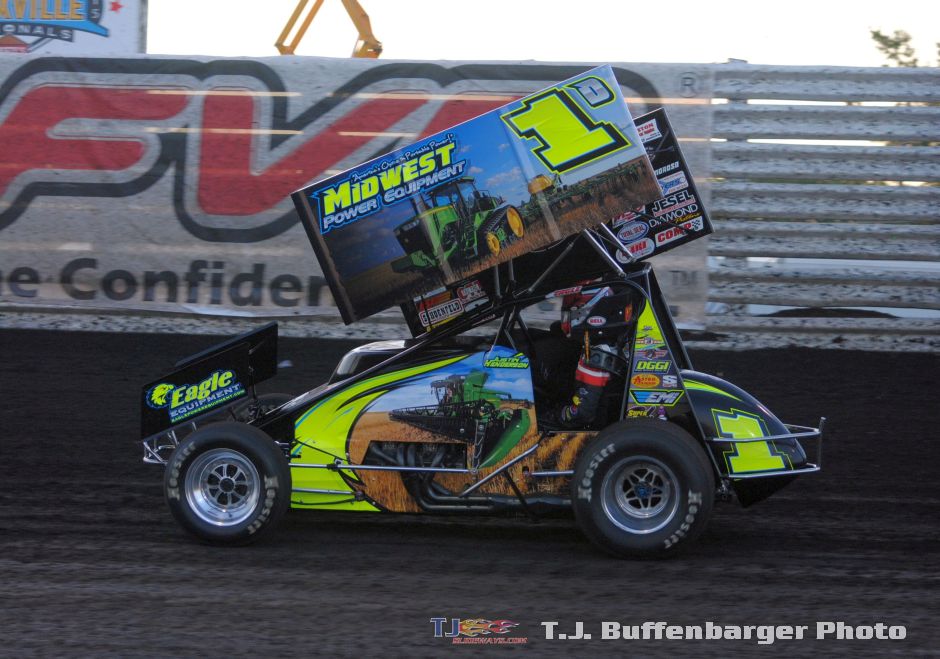 By T.J. Buffenbarger
Wednesday night's qualifying got off to an unusual start when the track slowed significantly approximately 10 cars into the session. Several of the contenders including Shane Stewart, Daryn Pittman, and Greg Hodnett ended up outside of the top 10, putting them behind the eight ball in Nationals points."Typically you don't want to start on the front row of your qualifying night," said Stewart. "We drew 71 and its one of those things the crews joke about. Drawing good pills and bad pills hoping you got all of your bad pills out of the way before the Nationals. And I saw them drive to the back row and thought, 'Oh may this is not going to be very good.' After racing here on Sunday and having 80 plus cars I thought it would be okay because a couple of guys went out late and qualified pretty well. I don't know what it I was, but the track just seemed to fall off after about 10 cars. I know (McMahan) had a good lap, but the rest of us kind of struggled a bit. Honestly it kind of sets the tone of the whole night. Being on the front row I knew I had to take advantage of the situation to be able to capitalize on as many points as I can. We'll just see where it all shakes out, I'll probably be 10th or 11th come Saturday. Just happy to be in the Saturday A-Main again."
I am a strong believer in not being able to "flip a switch" and start running well at the Knoxville Nationals. David Gravel challenges that belief at Knoxville following a stellar charge through the field to land a podium finish on Wednesday. Gravel advanced through the field, taking advantage of the final restart to advance through the field. The strong feature run backed up a solid qualifying effort that landed Gravel second in points for the Nationals after Wednesday's program. Gravel credited Wednesday's feature winner for influencing his run through the pack.
"I watched Shane Stewart a lot at Knoxville and he is really good and getting past guys, said Stewart. "We had a car capable of doing it. We had a really good car and took advantage of it."
When the caution flag appeared with 10 laps to go in Wednesday's feature event with Donny Schatz in striking distance even Shane Stewart was aware of what was coming. When Stewart was asked his thoughts after the caution came out, he replied "The 15 is coming." In reference to Schatz.While Stewart won convincingly, he quickly pointed out that all too often in sprint car racing it's not always an advantage to lead early."When you are leading here sometimes it's the worst place to be," said Stewart. "I felt like my car had decent speed, but you never can tell. You typically judge your speed on trying to get around lapped cars, and I felt like I was doing that okay. When the caution comes out you try to hit your marks. It was a heat race, it was 10 laps left. These (preliminary) races, 25-laps, the laps click off pretty quick."
Even with the second place finish Schatz's qualifying and heat race performances put him on top of the points for the 2015 FVP Knoxville Nationals. Schatz reveled in the press conference that he decided to try something different with his car for the preliminary feature."I decided tonight was the night we needed to try something to see if we could make something better. We don't get a lot of track time here at Knoxville. We had one race here prior and got fogged out halfway through," said Schatz. "We need to try things to get better, and we decided to try something. Half of it was good, half of it was not so good. We were able to hang with (Stewart), but he could get through traffic better than I was. I feel good about it. I look at things different probably than everyone else. I look at tonight as we missed eight points, but we came out in a good spot. It's going to make us pretty solid for Saturday and that's the most important part."
Hard charger honors went to Rico Abreu on Wednesday night with a run from 23rd to 8th position on Wednesday night. Once the points were tallied Abreu sits seventh in points and in position to be locked into Saturday's A-Main. Unfortunately for sprint car fans Abreu has NASCAR K&N East duties Saturday night at Motordrome Speedway in Pennsylvania. The logistics will not allow Abreu to make it back to Knoxville for Saturday's program.
Wayne Johnson's move through slower traffic to pass Daryn Pittman for second position on the feature event was one of the more impressive passes of the evening. Unfortunately for Johnson his motor began to have temperature issues and slowed down and dropped Johnson out of the top five. Overall Johnson ended up eighth in points, which puts him right on the bubble for locking into Saturday night's A-Main.
Newton, Iowa driver Bob Weuve had an impressive qualifying effort in ninth position. The effort was even more impressive when it was revealed Wevue's right rear shock had come loose as the car went out for qualifications. Weuve was unable to parlay the qualifying effort into making the feature on Wednesday, finishing 13th in the B-main.
Several teams rolled out special paint schemes for the Knoxville Nationals including Stewart's throwback to Jeff Gordon's first sprint car.  The most talked about special scheme for Knoxville though was Justin Henderson's "farm car" for sponsor Midwest Power Equipment.  The scheme obviously hit a home run in an area filled with large farms.  Henderson ended up 10th in Nationals points, which should land him in Saturday's B-Main event.