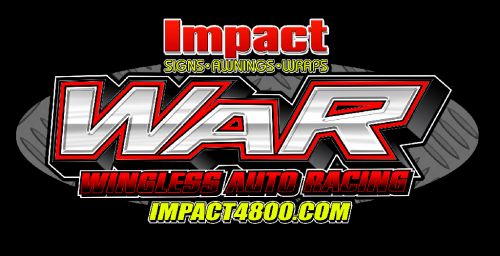 From Chad Buford
Wichita, KS — (August 29, 2015) — Putting on a dominant performance on Saturday night, Casey Shuman picked up his fifth win with the Impact Signs, Awnings, and Wraps WAR Series presented by Next LED at 81 Speedway.
Riley Kreisel jumped into the lead from his outside front row starting position. Sixth starter Koby Barksdale made contact with Chris Parkinson and spun to a stop in between turns three and four bringing out the yellow before a lap could be completed.
On the next attempt at green, Kreisel again shot into the lead with Parkinson and Shuman right behind.
Shuman moved by Parkinson into second at the flag stand to complete lap two and set his sights on Kreisel.
By lap four, Shuman had moved into the lead and would set a torrid pace at the front of the pack.
Behind Shuman and Kreisel were Parkinson, Chris Morgan, Jeff Wingate, and Layne Himebaugh, from his twelfth starting position.
Lap seven would prove disastrous for Kreisel as he slipped over the bank in turn two and fell to sixth.
Moving up just behind him was Barksdale after his earlier spin.
By lap ten, it was Shuman comfortably ahead as he was followed by Parkinson, Morgan, Himebaugh, Kreisel, and Barksdale.
Over the next few laps, Barksdale moved past Kreisel and into fifth with Himebaugh also working his way past Morgan into third.
Shuman's commanding lead grew even bigger as he continued to lap cars.
By lap twenty, he had lapped up to third place and all eyes were on him to see if he could lap the field.
He moved past Himebaugh on lap twenty one and as Shuman took the white flag, he had Parkinson within striking distance. Getting a good run in turns three and four, he fell about a car length short at the checkered flag in his Hockett Racing/Korte Transportation #75. Parkinson was second in his 54th Street Grill and Bar/Ozark Barge and Dock Service #65. Himebaugh, in his first WAR start in over a year, was third in the Risley Trash Service #24C. Chris Morgan was fourth in the RHR #11 with Barksdale rounding out the top five in the #22.
Ryan Rector was not injured after a set of vicious barrel rolls in his heat race, but the Jasper, MO driver would see his night come to an end.
The Impact Signs, Awnings, and Wraps WAR Series presented by Next LED will have a busy Labor Weekend coming up with a race at the Scotland County Speedway in Memphis, MO on September 4th. They will then travel to the Randolph County Raceway in Moberly, MO as they will have a co-sanctioned show with WAR East scheduled for Saturday September 5th and Sunday September 6th. They will have qualifying races on Saturday and then follow that up with a $1500 to win, $200 to start A-Main on Sunday.
To learn more about WAR, please go to https://www.facebook.com/groups/122872191163959/ and join the WAR Facebook page to get the latest information about WAR.
81 Speedway results-
8/29/15
1st Heat- 8 laps
1. 75-Casey Shuman, Rattlesnake Bend, AZ (3); 2. 8-Jeff Wingate, Centertown, MO (2); 3. 55-Kenny Potter, Harrisonville, MO (1); 4. 90-Riley Kreisel, Warsaw, MO (6); 5. 24K-Kevin Risley, Collinsville, OK (5); 6. 13-Clyde Knipp, California, MO (4); 7. 24C-Layne Himebaugh, Collinsville, OK (DNS)
2nd Heat- 8 laps
1. 22-Koby Barksdale, Norman, OK (3); 2. 65-Chris Parkinson, Gladstone, MO (2); 3. 11-Chris Morgan, Topeka, KS (4); 4. 6-Doug Fry, Wheatland, MO (5); 5. 12-John Helm, Kearney, MO (6); 6. 88RR-Ryan Rector, Jasper, MO (1)-DNF
A-Main-25 laps
1. 75-Casey Shuman (5); 2. 65-Chris Parkinson (4); 3. 24C-Layne Himebaugh (12); 4. 11-Chris Morgan (3); 5. 22-Koby Barksdale (6); 6. 90-Riley Kreisel (1); 7. 55-Kenny Potter (8); 8. 6-Doug Fry (7); 9. 13-Clyde Knipp (11); 10. 24K-Kevin Risley (10); 11. 8-Jeff Wingate (1)-DNF; 12. 12-John Helm (9); DNS: 88RR-Ryan Rector
Winged 360 Sprint Car Feature:
1. 51 – Mitchell Moore
2. 10C – Jeremy Campbell
3. 77 – Casey Shuman
4. 81 – Jon Freeman
5. 21 – Josh Fairbank
6. 85 – Forest Sutherland
7. 35 – Rick Wright Jr
8. 20G – Jake Greider
9. 50 – Randy Woodside
Winged 305 Sprint Car Feature:
1. 20G – Jake Greider
2. 7J – Richie Dewell