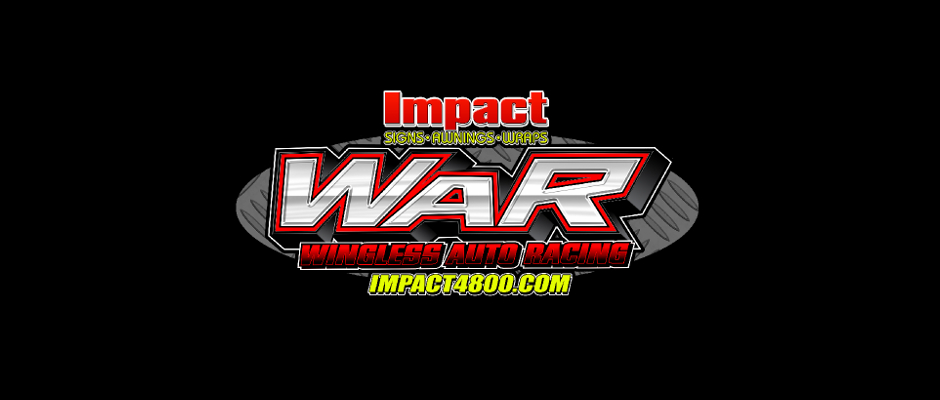 By Chad Buford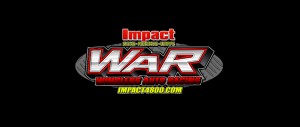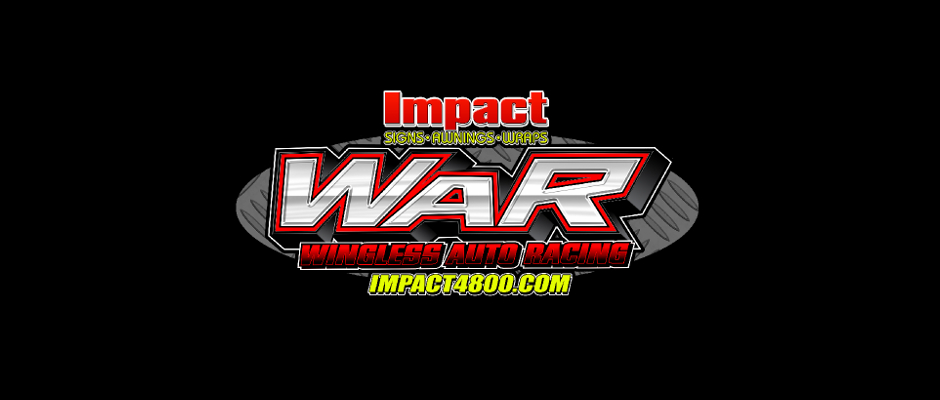 Moving from his third starting spot on the opening lap, Derek Hagar led all twenty five laps on Sunday with the Impact Signs, Awnings, and Wraps WAR Series presented by Next LED at Randolph County Raceway.
Chris Morgan led the field to the green flag as Hagar flew by Tommy Rockwell using the low side of the raceway. Hagar got a run off the bottom to move past Morgan down the backstretch to lead lap one. Fifth starting Chris Parkinson moved into third past Rockwell with Riley Kreisel in fifth early.
The top five would stay this way over the next five laps, but by lap six, Kreisel started putting heavy pressure on Rockwell for the fourth spot, however the rookie driver could not move past. By this point, Zach Daum had moved from his fourteenth starting spot into sixth.
By lap eight, it was still Hagar out front with Morgan and Parkinson running second and third. Daum continued his charge to the front as he got a great run moving past both Rockwell and Kreisel for fourth.
A lap later, Kreisel would move past Rockwell and into fifth.
Hagar was moving through lapped traffic with a big lead over the field by this point.
By lap eleven, Daum had caught up to Parkinson for the third spot and a lap later would see him take the spot.
Another driver moving forward was Clyde Knipp. The rookie driver moved past Rockwell for sixth on lap thirteen.
Daum continued his charge to the front as he moved past Morgan for second on lap fourteen.
Lap sixteen would see the race's first caution as Morgan came to a stop with a blown left rear tire. The Topeka, KS driver was able to get it changed and would restart at the back of the pack.
Hagar took off on the restart with Daum quickly disposing of a lapped car and giving chase.
Daum was able to move in closer to Hagar over the last few laps, but Hagar proved to be too strong as he picked up the win. Daum was second with Parkinson finishing third. Kreisel was fourth with Knipp having his best career finish in fifth. Morgan moved back to sixth followed by Rockwell. Rounding out the top ten were Mike Moore, John Helm, and Casey Baker.
The Impact Signs, Awnings, and Wraps WAR Series presented by Next LED will be in action again on September 19th and 20th. On Saturday September 19 they will make their first ever appearance along with the WAR East series at the St. Francois County Raceway in Farmington, MO.   On Sunday September 20 they will travel to the Quincy Raceway in Quincy, IL for their first appearance of 2015.
To learn more about WAR, please go to https://www.facebook.com/groups/122872191163959/ and join the WAR Facebook page to get the latest information about WAR.
A-Main-25 laps
1. 75-Derek Hagar, Marion, AR (3); 2. 77D-Zach Daum, Pocahontas, IL (14); 3. 65-Chris Parkinson, Gladstone, MO (5); 4. 90-Riley Kreisel, Warsaw, MO (4); 5. 13-Clyde Knipp, California, MO (11); 6. 11-Chris Morgan, Topeka, KS (1); 7. 95-Tommy Rockwell
Towanda, IL (2); 8. 69-Mike Moore, Des Moines, IA (6); 9. 12-John Helm, Kearney, MO (7); 10. 9-Casey Baker, Lone Jack, MO (9); 11. 55-Kenny Potter, Harrisonville, MO (8); 12. 41-Scott Comstock, Tipton, MO (15); 13. 8-Jeff Wingate, Centertown, MO (10); 14. 2C-Zach Clark, Olathe, KS (13); 15. 88-Chad Tye, Independence, MO (12);
DNS: 77-Casey Shuman, Rattlesnake Bend, Az