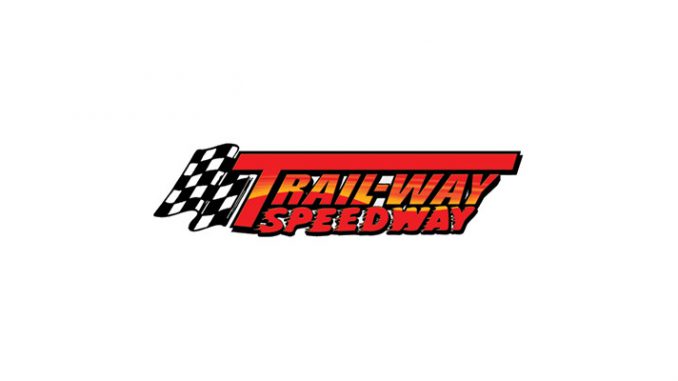 HANOVER, PA (9/4/2015) – Brad McClelland won both ends of the "358" sprint car feature at Trail-Way Speedway Friday night.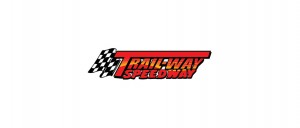 With a one-hour, forty minute rain delay half-way through the event, Brad McClelland started on the pole and led every lap for his division-leading 48th career win at Trail-Way.
After dodging the wet stuff earlier in the evening, Trail-Way was hit with heavy rain during a 14th lap caution involving five cars in turn two.  As the cars were lining up for a restart, a sudden heavy shower forced the cars to outer pit area.
"It didn't matter to me if they called it," said McClelland upon exiting the Steve Rucker Littlestown Auto Care Center/Arter Graphics/Rucker Computer Solutions #6R, "But I'm glad they stuck it out."
"I was too loose at the beginning of the race and I was getting worried," said McClelland, "But the car worked better after the rain."
Cody Fletcher was running second when the rains came, but spun racing through lapped traffic in turns three and four of lap 23, damaging front suspension parts and ending his night.  Dwight Leppo assumed second for the restart and held off Jeff Rohrbaugh over the final two laps.  Mike Bittinger and Doug Hammaker completed the top five.
Qualifiers for the 18 "358" sprinters were won by Rohrbaugh and Trail-Way points leader Isaac Sneeringer, who was hung up in the five-car lap 14 crash and finished tenth.
HOOSIER TIRE MID-ATLANTIC 358 SPRINTS (TRAIL-WAY/LINCOLN SHOOTOUT)
FEATURE (25 Laps) – 1. 6R-Brad McClelland; 2. 4-Dwight Leppo; 3. 45-Jeff Rohrbaugh; 4. 12-Mike Bittinger; 5. 66-Doug Hammaker; 6. 71M-Bill Stine; 7. 45H-Jeff Halligan; 8. 77-David Holbrook; 9. 13-Ryan Higgins; 10. 19Z-Isaac Sneeringer; 11. 5A-Brian Allman; 12. 15-Lucas Montgomery; 13. 10-Zach Euculano; 14. 00X-Chris Frank; 15. 19D-Wyatt Hinkle; 16. 10B-Brandon Noel; 17. 66A-Cody Fletcher (DNF); 18. 83-Cody Fairchok (DNF). No time.
Lap Leaders: Brad McClelland (1-25)
358 Sprint Heat 1 Finish (10 Laps/All Qualify) – 1. 45-Jeff Rohrbaugh; 2. 12-Mike Bittinger; 3. 6R-Brad McClelland; 4. 4-Dwight Leppo; 5. 66-Doug Hammaker; 6. 71M-Bill Stine; 7. 00X-Chris Frank; 8. 77-David Holbrook; 9. 5A-Brian Allman. Time – 2:28.19
358 Sprint Heat 2 Finish (10 Laps/All Qualify) – 1. 19Z-Isaac Sneeringer; 2. 10-Zach Euculano; 3. 15-Lucas Montgomery; 4. 45-Jeff Halligan; 5. 66A-Cody Fletcher; 6. 13-Ryan Higgins; 7. 19D-Wyatt Hinkle; 8. 83-Cody Fairchok; 9. 10B-Brandon Noel. Time – 2:26.05