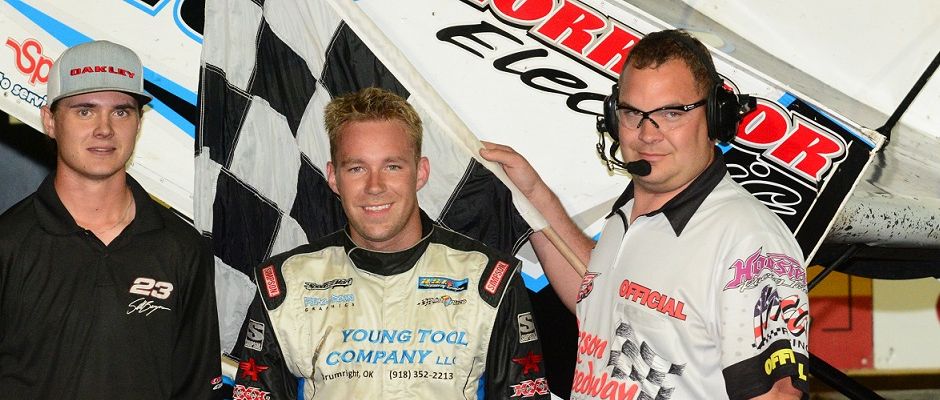 From Bryan Hulbert
Fort Worth, TX — (September 12, 2015) — For the second year in a row, Washington's Seth Bergman parked the Oil Field Equipment and Manufacturing No. 23 in Victory Lane in the Portacool U.S. National Dirt Track Champion at the Texas Motor Speedway Dirt Track with the Lucas Oil American Sprint Car Series presented by the MAVTV Motorsports Network.
For his win, Seth pocketed $4,000 and earned another Portacool Cyclone 3,000 to go with his commemorative Simpson Helmet and custom Cowboy Hat.
Challenged for the lead at the race's halfway point, Bergman commented on the battle, saying, "It was very, very, tricky. I was just thankful to be able to get the lead back and finish this thing off. It's tough to get a track in perfect condition with so many cars. We knew rubber was going to be a factor which makes it tougher being out front because you don't know where to go. I found the rubber down in three and four, but I almost got past, I felt, by a guy ripping the top so I went back to the top and started chasing the rubber down the track and got ripped by for the lead, but that's just part off it on a rubber down race track. Sometimes you're a sitting duck but thankfully the Racecar was good enough, I was able to get back in the hunt."
Battling early on with Johnny Herrera for the point, Seth had his hands full with early race cautions to keep the MVT No. 45x at bay. Getting a green flag run to Lap 11, the caution flew for Shawn Petersen who spun in the first two turns.
Taking off on the restart, the track surface continued to yield multiple racing grooves through turns one and two, but was stuck to the bottom on the other end as rubber set in. Moving around the track, Seth was finally forced to the low line at both ends of the Texas Motor Speedway as traffic loomed with the feature nearing the half way point.
Having to negotiate the back of the field, Herrera saw a nearly two second deficit erased in a lap. On the back bumper of Bergman by Lap 18, the pair had company as John Carney II took advantage of a hole created in the battle between Herrera and Bergman to steal away the race lead on the twenty-first round.
Trying to use a slower car as a pick, Carney ended up having the same slower car used against him as Seth Bergman worked the middle line around the Coyote Candle Co. No. 74b on Lap 26 exiting the fourth turn to reclaim the lead.
Slipping the following lap to third, attention on the track turned to fourth through seventh with Josh Baughman, Aaron Reutzel, Wayne Johnson, and Matt Covington exchanging spots at either end of the track with Baughman holding the advantage in fourth.
Caution on Lap 36 for Johnny Herrera who saw his Right Rear Tire come apart, Seth was unchallenged to the win on the restart; crossing 3.151 seconds ahead of John Carney II.
Carney's best National Tour finish of the 2015 season, the No. 74b was chased to the stripe by Josh Baughman who was the night's KSE Hard Charger after a third place finish in the B-Feature put the No. 17 nineteenth on the grid. Struggling in his Heat Race, Aaron Reutzel also came through the B-Feature, coming from 18th to fourth. Sneaking through the running order in the closing laps, Ray Allen Kulhanek completed the top-five.
Wayne Johnson was sixth with Matt Covington seventh. Channin Tankersley from 14th was eighth with Kyle Bellm ninth from 22nd. Having to change a tire during Shawn Petersen's caution on Lap 11, Blake Hahn came back to complete the top-ten.
Bringing 35 drivers to the Texas Motor Speedway, four Heat Races went to Johnny Herrera, Seth Bergman, Wayne Johnson, and Jake Martens. The B-Feature went to Danny Jennings. One provisional start was used by Kris Miller.
The American Bank of Oklahoma ASCS Red River Region presented by Smiley's Racing Products joined in action with high points going to Kade Morton.
The Lucas Oil American Sprint Car Series presented by the MAVTV Motorsports Network competes next at the 4th annual Casey's General Store ASCS Midwest Fall Brawl at the I-80 Speedway in Greenwood, Neb. on Friday, September 18 and Saturday, September 19. More information on the event can be found at http://www.i-80speedway.com.
For continued updates on the American Sprint Car Series, log onto http://www.ascsracing.com.
Race Results:
Lucas Oil ASCS National Tour / ASCS Red River Region
Texas Motor Speedway Dirt Track – Ft. Worth, Texas
Portacool U.S. National Dirt Track Championship
Saturday, September 12, 2015
Car Count: 35
Heat Races (8 Laps): Winners plus the next 12 highest in passing points to the A-Feature. Top 8 in points will redraw.
Heat 1 (8 Laps): 1. 45X-Johnny Herrera[2]; 2. 4X-Shawn Petersen[7]; 3. 45-Martin Edwards[3]; 4. 2-Mickey Walker[5]; 5. 02-Brandon Long[9]; 6. 33-Kris Miller[8]; 7. 12M-James Mosher[1]; 8. 15K-Kerry McAlister[6]; 9. 55-Brad Queen[4]
Heat 2 (8 Laps): 1. 23-Seth Bergman[6]; 2. 17T-Channin Tankersley[1]; 3. 74B-John Carney II[5]; 4. 1J-Danny Jennings[3]; 5. 52-Blake Hahn[9]; 6. 87-Aaron Reutzel[8]; 7. 28-Tommy Bryant[2]; 8. 05M-Charles McManus[7]; 9. (DNF) 3-Raven Culp[4]
Heat 3 (8 Laps): 1. 77X-Wayne Johnson[3]; 2. 95-Matt Covington[8]; 3. 92-Jordan Weaver[7]; 4. 17W-Harli White[6]; 5. 21T-Ray Allen Kulhanek[9]; 6. 14K-Kyle Bellm[5]; 7. 7M-Chance Morton[2]; 8. (DNF) 17-Josh Baughman[4]; 9. (DNF) 1A-Kevin Ramey[1]
Heat 4 (8 Laps): 1. 48-Jake Martens[1]; 2. 8M-Kade Morton[2]; 3. 4J-John James[7]; 4. 2K-John Kelly[6]; 5. 33H-Mark Huddleston[5]; 6. 11-Joe Wood Jr[3]; 7. (DNF) 29-Travis Rilat[8]; 8. (DNF) 26M-Fred Mattox[4]
B-Feature (12 Laps): Top 6 advance to the tail of the A-Feature.
B Feature 1 (12 Laps): 1. 1J-Danny Jennings[3]; 2. 87-Aaron Reutzel[5]; 3. 17-Josh Baughman[13]; 4. 1A-Kevin Ramey[16]; 5. 45-Martin Edwards[1]; 6. 14K-Kyle Bellm[7]; 7. 2-Mickey Walker[2]; 8. 7M-Chance Morton[9]; 9. 55-Brad Queen[15]; 10. 15K-Kerry McAlister[12]; 11. 12M-James Mosher[11]; 12. (DNF) 05M-Charles McManus[10]; 13. (DNF) 33H-Mark Huddleston[6]; 14. (DNF) 33-Kris Miller[4]; 15. (DNF) 26M-Fred Mattox[14]; 16. (DNF) 11-Joe Wood Jr[8]; DNS 28-Tommy Bryant; DNS 29-Travis Rilat; DNS 3-Raven Culp
A-Feature (40 Laps):
A Feature 1 (40 Laps): 1. 23-Seth Bergman[2]; 2. 74B-John Carney II[9]; 3. 17-Josh Baughman[19]; 4. 87-Aaron Reutzel[18]; 5. 21T-Ray Allen Kulhanek[13]; 6. 77X-Wayne Johnson[6]; 7. 95-Matt Covington[8]; 8. 17T-Channin Tankersley[14]; 9. 14K-Kyle Bellm[22]; 10. 52-Blake Hahn[12]; 11. 1J-Danny Jennings[17]; 12. 92-Jordan Weaver[7]; 13. 8M-Kade Morton[10]; 14. 45X-Johnny Herrera[1]; 15. 2K-John Kelly[16]; 16. 45-Martin Edwards[21]; 17. 4J-John James[3]; 18. 02-Brandon Long[11]; 19. 48-Jake Martens[5]; 20. 17W-Harli White[15]; 21. 4X-Shawn Petersen[4]; 22. 1A-Kevin Ramey[20]; 23. 33-Kris Miller[23]
Lap Leader(s): Seth Bergman 1-20 / 27-40; John Carney II 21-26
KSE Hard Charger: Josh Baughman +16
FSR High Point: Seth Bergman
Provisional(s): Kris Miller (P2)