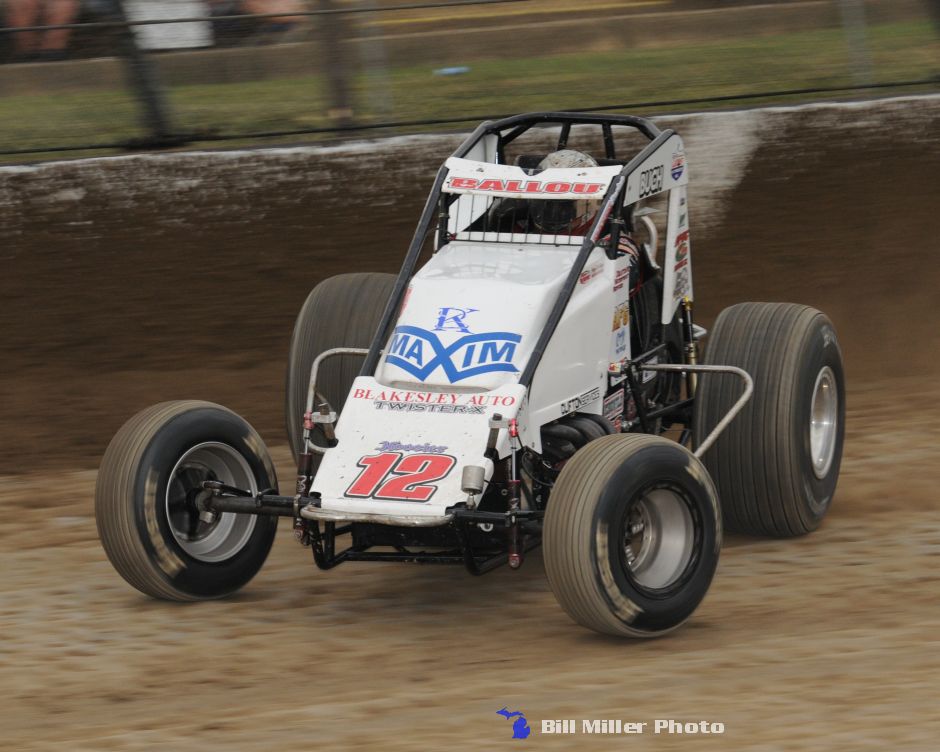 Perris, California…….Robert Ballou hit the home stretch for the AMSOIL Sprint Car National Championship at Perris Auto Speedway Thursday night and dealt the first blow to his two challengers Chase Stockon and Dave Darland, as he came out on top of a torrid three-way battle to win Night 1 of the 20th Budweiser "Oval Nationals" presented by All-Coast Construction. The Rocklin, California driver led mid-way through the nonstop 30-lap Feature in honor of Bill Pratt before encountering a lapped car and nearly spinning, then came back to pass Darland with less than three laps to go for his 11th win of the season.
Richard Vander Weerd shot to the lead from the pole, as Darland, Stockon, and Ballou raced each other for the second spot just behind him. Ballou took the first shot on lap-five after they raced two-by-two, but his turn-three slider didn't stick on Vander Weerd. A lap later, Vander Weerd bobbled on the turn-three cushion with Ballou right behind him, and Darland shot underneath with the lead off turn-four.
Stockon came along with Darland and Ballou, as Brady Bacon shuffled Vander Weerd back to fifth. Stockon made his charge at the leaders and swept past Darland to the lead into turn-three on lap eight, as the three championship contenders sliced and diced while pulling away from the rest of the field.
On lap 14, Ballou used a lapped car to screen Darland, taking second. He quickly closed on Stockon, crossing just .193-seconds behind at the race's halfway mark before swiping the lead into turn-three on lap 16. Two laps later, while mired in heavy traffic, Ballou nearly spun after running up on a car into turn-one. He collected it, but Darland regained the lead with Stockon right in the mix, as well.
Ballou came right back at Darland, and the duo split a lapped car in turn-two on lap 22 while racing for the lead, but Darland was able to hold on. Behind them, Bryan Clauson was on the move after entering the top-five at halfway. He took fourth from Bacon on lap 18 and roared past Stockon for third on lap 24. Stockon took it back the next lap, but Clauson proved too much and claimed third for good on lap 26.
Ballou had again pulled to Darland's back bumper while in heavy traffic, nearly clipping him as they hit five-to-go. On lap 28, Darland came up on a pack of cars running the bottom into turn-one and slipped up, opening a hole that Ballou hit to take the lead and eventual win. His eleven wins on the season is a number reached only five times previously by Tom Bigelow (14 in 1977), J.J. Yeley (13 in 2003), Larry Dickson (12 in 1968), Pancho Carter (12 in 1976), and Bubby Jones (11 in 1979).
Ballou crossed 2.755 seconds ahead in the Pacific Turf & Grass – Blakesley Auto #12 Maxim/Ott to push his championship lead to 27 points.
"I hope the fans enjoyed that one, because I got a workout in that one and it sure looked good from my seat. These guys are the best of the best, and Dave Darland and Chase Stockon are on top of their games right now. If I'm gonna beat them for the title, I've got to win races to finish in front of them. I knew we had a car that could win, but I just kept making stupid mistakes. I stuck to the top too long and burned up my tires a bit too, but I got my rhythm back and went after them. This is a big weekend, so we'll try to back it up tomorrow," Ballou said.
Three-time "Oval Nationals" champ Darland crossed second in the Phillips/Curb-Agajanian Motorsports – Trench Shoring #71P DRC/Foxco and now sits 48 points behind Ballou entering Friday's action.
"The race track was extremely racy tonight, and Ballou and his team are doing a great job running up front and winning races. We're just trying to keep up with them, and tonight we had a good opportunity. He got screwed up behind a lapped car, and I was able to get past him. I'm not sure what the problem was, but I had a little issue with the brakes. That was a concern getting back into traffic, and we left the door open for him just enough," Darland said.
Clauson fell to ninth early in the race before making his storm to the front in the B&H Contractors – Dooling Machine #63 Spike/Stanton.
"With not being in this car much, I'm just getting comfortable again and this is a tough place when you've been running a winged sprint car lately. I felt like we might have been the best car on the track late in the race, but I didn't do a very good job early putting myself in a good position. We made up a lot of it but not enough. Overall, it was a great start to our Oval Nationals, though, and we've put ourselves in a good position to lock in tomorrow," Clauson said.
Stockon came home fourth in the Superior Tank & Trailer – Crescent Electric Supply #32 DRC/Fisher, and Jon Stanbrough came from 11th to round out the top-five in the MP Environmental Services – AED Motorsports Products #81 Spike/J&D.
Justin Grant set the night's ProSource "Fast Time Award" before finishing ninth.
Mike Spencer, who finished 17th, now holds a 21-point lead in the CRA Sprint Car Championship over Damion Gardner, who finished 16th. Vander Weerd, who finished seventh, closed his deficit down to 68 points in the standings.
——————————————-
AMSOIL USAC SPRINT CAR NATIONAL & CRA CHAMPIONSHIP RACE RESULTS: November 12, 2015 – Perris, California – Perris Auto Speedway – 20th Budweiser "Oval Nationals" presented by All Coast Construction
QUALIFYING: 1. Justin Grant, 5, Baldwin-16.655; 2. Brady Bacon, 69, Dynamics-16.831; 3. Robert Ballou, 12, Ballou-16.900; 4. Chase Stockon, 32, 32/TBI-16.909; 5. Dave Darland, 71p, Phillips/Curb-Agajanian-16.951; 6. Richard Vander Weerd, 10, Vander Weerd-16.953; 7. Austin Williams, 2, Jory-16.960; 8. Bryan Clauson, 63, Dooling/Hayward-16.973; 9. Matt Mitchell, 37, Mitchell-17.001; 10. Kevin Thomas, Jr., 17RW, Dutcher-17.019; 11. Tracy Hines, 4, THR-17.025; 12. Jon Stanbrough, 81, Stanbrough-17.039; 13. Damion Gardner, 4x, Alexander-17.046; 14. Chad Boespflug, 04G, Cook-17.053; 15. Mike Spencer, 50, Chaffin-17.099; 16. Austin Liggett, 83, Liggett-17.130, 17. Thomas Meseraull, 66, Amati-17.154; 18. Ronnie Gardner, 12A, Allen-17.163; 19. C.J. Leary, 30, Leary-17.188; 20. R.J. Johnson, 51, Martin-17.192; 21. Jake Swanson, 92, Sertich-17.207; 22. Ryan Bernal, 56, Phulps-17.229; 23. Josh Hodges, 74x, Hodges-17.262; 24. Aaron Farney, 15F, Farney-17.325; 25. Cody Williams, 44, Jory-17.326; 26. Matt Rossi, 02, Rossi-17.352; 27. Max Adams, 5M, Adams-17.364; 28. Chris Windom, 21x, Pollock-17.410; 29. Jace Vander Weerd, 88, Vander Weerd-17.515; 30. Danny Faria, Jr., 4D, Gansen-17.554; 31. A.J. Bender, 21, Bender-17.564; 32. Brady Short, 42, Cheney-17.575; 33. Geoff Ensign, 3F, Finkenbinder-17.628; 34. Brody Roa, 48, Leonard-17.657; 35. Logan Williams, 5J, Jory-17.693; 36. Verne Sweeney, 98JR, Tracy-17.723; 37. Kyle Edwards, 51E, Tafoya-17.729; 38. David Bezio, 37x, Bezio-17.787; 39. Chris Gansen, 4G, Gansen-17.960; 40. Tommy Malcolm, 5x, Napier-17.962; 41. Lee Dakus, 75, Dakus-18.014; 42. Jeremy Ellertson, 98, Ellertson-18.193; 43. Randy Waitman, Y69, Waitman-18.227; 44. Koby Barksdale, 12B, Sampson-18.234; 45. Mitch Wissmiller, 36, Springstead-18.752; 46. Mike Collins, 04, Collins-19.306; 47. Parker Colston, 64, Gore-19.358; 48. Mikey Lovas, 36L, Lovas-19.422; 49. Robert Bell, 71, Bell-NT
C-MAIN: (10 laps) 1. Dakus, 2. Ellertson, 3. Colston, 4. Waitman, 5. Collins, 6. Wissmiller. NT
FIRST HEAT: (10 laps) 1. Swanson, 2. R. Vander Weerd, 3. Hines, 4. Grant, 5. Rossi, 6. Liggett, 7. Sweeney. 2:57.45
SECOND HEAT: (10 laps) 1. Bernal, 2. Meseraull, 3. A. Williams, 4. Bacon, 5. Stanbrough, 6. Adams, 7. Short, 8. Edwards. 2:52.19
THIRD HEAT: (10 laps) 1. Hodges, 2. D. Gardner, 3. Ballou, 4. Clauson, 5. Windom, 6. R. Gardner, 7. Ensign, 8. Bezio. 2:51.94
FOURTH HEAT: (10 laps) 1. Stockon, 2. Farney, 3. Boespflug, 4. J. Vander Weerd, 5. Leary, 6. Roa, 7. Malcolm, 8. Mitchell. 2:51.89
FIFTH HEAT: (10 laps) 1. Spencer, 2. Johnson, 3. Darland, 4. Thomas, 5. C. Williams, 6. L. Williams, 7. Faria, 8. Gansen. 2:55.88
SEMI: (12 laps) 1. Stanbrough, 2. Windom, 3. C. Williams, 4. Liggett, 5. Leary, 6. Ensign, 7. Roa, 8. R. Gardner, 9. Bender, 10. Edwards, 11. Rossi, 12. Bezio, 13. Adams, 14. Malcolm, 15. Ellertson, 16. Waitman, 17. Sweeney, 18. Gansen, 19. Short, 20. Faria, 21. L. Williams, 22. Dakus, 23. Colston. 3:40.85
FEATURE: (30 laps) 1. Robert Ballou, 2. Dave Darland, 3. Bryan Clauson, 4. Chase Stockon, 5. Jon Stanbrough, 6. Brady Bacon, 7. Richard Vander Weerd, 8. Kevin Thomas, Jr., 9. Justin Grant, 10. Thomas Meseraull, 11. Tracy Hines, 12. Ryan Bernal, 13. R.J. Johnson, 14. Chris Windom, 15. Josh Hodges, 16. Damion Gardner, 17. Mike Spencer, 18. Aaron Farney, 19. Austin Williams, 20. Jake Swanson, 21. Cody Williams, 22. Jace Vander Weerd, 23. Chad Boespflug, 24. Logan Williams, 25. Austin Liggett, 26. Chris Gansen. 9:12.71 (New Track Record)
——————————–
**Barksdale flipped in qualifications.
FEATURE LAP LEADERS: Laps 1-5 R. Vander Weerd, Laps 6-7 Darland, Laps 8-15 Stockon, Laps 16-17 Ballou, Laps 18-27 Darland, Laps 28-30 Ballou