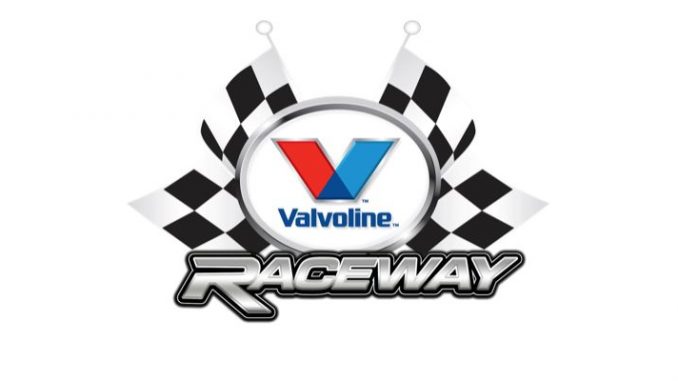 From Valvoline Raceway PR
Sydney, AU — (February 20, 2016) — Robbie Farr, Daniel Sayre and Reagan Angel were all big winners on a dramatic night of competition for the "Ultimate Pink Night" at Valvoline Raceway.
A huge crowd enjoyed the action as Valvoline Raceway raised money and awareness for the National Breast Cancer Foundation with a sea of pink in the crowd and the pits.
The race night was delayed for a significant portion of the program when an accident somewhere on the road in the surrounding suburb caused a major power outage.
Valvoline Raceway is extremely grateful for the patience and understanding shown by fans and race teams alike.
Farr led for the race's entirety but his journey was anything but smooth with for the Sydney veteran with throttle issues on the Hi-Tec Oils #7 Cool.
"I definitely had my hands full," Farr admitted later, "It wasn't an easy ride. We went back to a car that we used earlier in the season and it was definitely the right move, even with the problems I had. The track was slick on the bottom but it had a really big cushion that was pretty tricky. I jumped it a couple of times and nearly gave it away."
Danny Reidy looked to be in the perfect position if Farr encountered too many problems but had to fight off the improved Matt Smith for much of the 30-lap main event.
For much of the race West Aussie Carl Dowling seemed to be in podium contention but the #87 car jumped the cushion in turn one and two late in the event and he lost several positions.
Max Dumesny and Warren Ferguson duked it out for many laps with USC NSW points leader Dumesny eventually winning that battle and coming home in fourth over Ferguson fifth, Grant Anderson sixth, Max Johnston seventh, Ben Atkinson eighth, Sam Walsh ninth and recently returned Jeremy Cross coming home in tenth.
1. Robbie Farr
2. Danny Reidy
3. Matt Smith
4. Max Dumesny
5. Warren Ferguson
6. Grant Anderson
7. Max Johnston
8. Ben Atkinson
9. Sam Walsh
10. Jeremy Cross
11. Jackson Delamont
12. Troy Little
13. Carl Dowling
14. Matt Dumesny
15. Grant Tunks
16. Jordyn Brazier
17. Kelly Linigen
18. Lachlan Abbott
19. Bruce White
20. Andrew Wright (DNF)
21. Thomas Jeffery (DNF)
22. Daniel Goldoni (DNF)
23. Craig Brady (DNF)
24. Darryl Campbell (DNF)
The Wingless Sprint main event was an historic affair with brothers Daniel and Luke Sayre running 1-2 to remove the front two spots from majority race leader Dean Thomas who got bumped back to third in the last five metres.
Daniel Sayre was heroic on the highline as the two tearaway teenagers gave their proud Mum and Dad a moment to savor.
1. Daniel Sayre
2. Luke Sayre
3. Dean Thomas
4. Jason Bates
5. Jeff Thomas
6. Jeff Neve
7. Courtney O'Hehir
8. Darryl Marshall
9. Scott Rowe
10. Brian Briton
Reagan Angel is a rapid riser through the Legend Car ranks and his patient battle with James Duckworth saw him eventually slip by to record a nail-biting main event win.
Duckworth was second with the always-rapid Brad Giffen home in third.
1. Reagan Angel
2. James Duckworth
3. Brad Giffen
4. Rob Rawlings
5. Nathan Camilleri
6. Chris Peterson
7. Dan Morris
8. Jess Cassidy
9. Stuart Bond
10. Aaron Chippendale
The Dumesny Family Race could not be conducted tonight due to the power outage however it will be rescheduled – details of when will be provided soon.