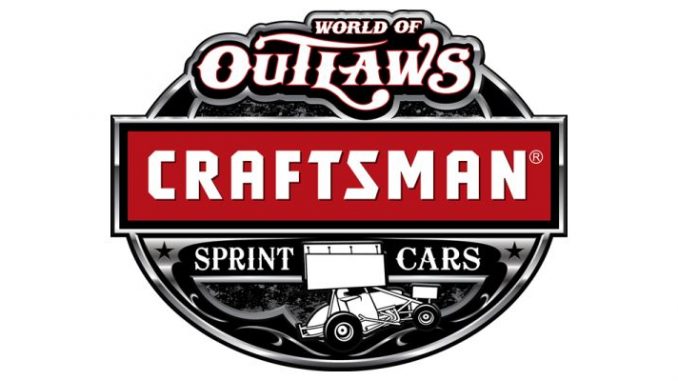 From Aaron Fielder
Queen Creek, AZ — (March 6, 2016) — Shane Stewart overtook Joey Saldana early in the inaugural 30-lap NAPA Desert Shootout feature on Sunday night at Arizona Speedway then dominated the remaining laps to score his first victory of the 2016 World of Outlaws Craftsman® Sprint Car Series season.
Stewart, in the American Born Moonshine/Eneos Oil No. 2, battled his way from the third starting position for his first victory since September 2015.
"We had a really good season last year," said Stewart, who finished second in the series points after scoring nine wins. "We felt like we built on it over the winter, then we came out here and struggled a little bit in Florida in qualifying the first couple of nights, but hopefully we stumbled across something here where we can get qualified better.
"The new format is tough when you're not the best qualifier and I never have been, so when you know you have to qualify in the top six or eight it makes it tough. But the good part is, if your car is good then you are able to race yourself into the dash if you're good enough."
The Bixby, Okla.–native was fifth fastest in qualifying that was paced by Brian Brown. Then he finished second to Joey Saldana in heat race two to place him in the dash.
Saldana, in the Roth Enterprises/HR Livestock No. 83, had one of the fastest cars early after finishing with the second fastest lap in qualifying, winning his heat and running second in the dash to David Gravel.
Gravel started from the pole-position for the 30-lap feature but lost the lead to Saldana on the initial start. Saldana rocketed out to an early advantage over the rest of the field.
Saldana hit slower traffic early at the 3/8-mile track which allowed Stewart to catch up to the leader after he overtook Gravel for the second position just the lap before.
It did not take Stewart long to work his way around Saldana for the lead as he passed Saldana just a lap after catching him. Immediately after, a caution flew for Daryn Pittman.
"I was able to make the bottom work in the dash and I knew it was going to come into play at some point in the race," Stewart said. "Early on the cushion was the place to be, but once we got into lapped traffic, I knew the bottom was going to come into play and it did."
On the ensuing restart, Stewart pulled away from Saldana and Gravel, who started battling for the second position while the leader built a gap between the three.
Near the halfway point, the leaders encountered heavy traffic once again which allowed fourth place Danny Lasoski in the GoMuddy.com/Big Game Tree Stands No. 2L to join the battle for the top three spots.
Lasoski, the 2001 series champion, saw an opening as Saldana and Gravel battled for the runner-up spot and shot around both to claim the position with less than five laps remaining. Saldana slipped back to the fourth position with Gravel sliding in behind Lasoski.
As Stewart took the white flag, the battle between Lasoski and Gravel began to heat up.
Lasoski approached slower traffic which allowed Gravel to challenge for the position. As the field came to the checkered flag, Gravel made his way back around Lasoski securing the runner-up position to race winner Stewart, who won by more than two seconds.
"[This year] we have been struggling early in the night and putting it together later in the night," Stewart said. "But it's good for everyone at Larson Marks Racing – Justin and Kyle – to finally put together a full, solid night.
"You can't start 12th or 15th and win these races because it's just so darn competitive. Finally we were able to get some spots in the dash and put ourselves in contention to win."
Gravel's second place finish was his best finish of the young season, but was not the result he was looking for after winning the dash.
"I had a good start to the race, but I shouldn't have ran the bottom on the opening lap and gave Joey the lead," Gravel said. "I messed around with Joey for quite a while when I knew I had a better car than him. It was just a little too late.
"I had a really good car, I don't know if it was as good as Shane's. If I was in second I could've closed on him in lapped traffic and see what I could do. You can't complain about a second place finish, it was an awesome night for us after struggling at Vegas, so it's good to get a good run."
Lasoski also captured his best finish of the short season, finishing on the podium for the first time in 2016.
"We always want to win," Lasoski said. "I just want to thank Tod Quiring for putting this great team together. This GoMuddy.com car has struggled so far this year.
We didn't have the luck we wanted in Vegas after we put ourselves in position to capitalize…but all these guys work really hard and kept their head up. That's all it is in this sport, each night can change really quick."
Following a short five day break, the World of Outlaws Craftsman Sprint Car Series returns to action in the Golden State, as the series returns to Thunderbowl Raceway in Tulare, Calif. on March 11 and 12.
Follow the World of Outlaws Craftsman Sprint Car Series on Twitter at www.twitter.com/WorldofOutlaws, like it on Facebook at www.facebook.com/WorldofOutlaws, or check out the latest videos on YouTube atwww.youtube.com/WorldofOutlaws.
Arizona Speedway Notebook
RACE NOTES: Brian Brown set the track record at 12.531 seconds…Shane Stewart becomes the fifth different winner of 2016…For the first time this season, both Kasey Kahne Racing with Mike Curb cars finished outside the top three, ending their podium streak.
CONTINGENCY WINNERS – MSD Ignitions ($25 cash): Kraig Kinser; MSD Ignitions ($50 cash): Shane Stewart;Penske Shocks ($50 cash): Donny Schatz; Mobil 1 ($50 cash): Donny Schatz; JE Pistons ($50 cash): Brad Sweet; VP Racing Fuels ($50 cash): Kerry Madsen; Edelbrock ($50 cash): Logan Schuchart; Comp Cams ($50 cash): Jason Sides; Cometic Gasket ($50 cash): Sammy Swindell; Super Flow ($50 cash): Austin Wheatley; Craftsman ($100 cash): Danny Lasoski;Sweet Manufacturing ($50 product certificate): Brad Sweet; KSE Racing Products ($100 product certificate): Josh Baughman;Comp Cams ($50 product certificate): Shane Stewart; Mobil 1 (20% off Mobil1RacingStore.com): Jacob Allen; JE Pistons (Set of Rings): Paul McMahan; JE Pistons (Set of Rings): Jacob Allen.
SEASON WINNERS: Brad Sweet – 3 (Volusia Speedway Park on Feb. 13, Volusia Speedway Park on Feb. 14, Cotton Bowl Speedway on Feb. 26); Donny Schatz – 2 (Volusia Speedway Park on Feb. 14, The Dirt Track at Las Vegas on March 4); Daryn Pittman – 1 (Royal Purple Raceway on Feb. 27); Joey Saldana – 1 (The Dirt Track at Las Vegas on March 3); Shane Stewart – 1 (Arizona Speedway on March 6).
World of Outlaws Craftsman® Sprint Car Series Statistical Report; Arizona Speedway; Queens Creek, Ariz.; March 6, 2016
A-Main – (30 Laps) – 1. 2-Shane Stewart [3] [$10,000]; 2. 5-David Gravel [1] [$5,500]; 3. 2L-Danny Lasoski [5] [$3,200]; 4. 15-Donny Schatz [7] [$2,800]; 5. 49-Brad Sweet [6] [$2,500]; 6. 83-Joey Saldana [2] [$2,300]; 7. 41-Jason Johnson [8] [$2,200]; 8. 29-Kerry Madsen [9] [$2,100]; 9. 1S-Logan Schuchart [11] [$2,050]; 10. 21-Brian Brown [10] [$2,000]; 11. 7S-Jason Sides [13] [$1,500]; 12. 1-Sammy Swindell [16] [$1,200]; 13. 17W-Bryan Clauson [12] [$1,100]; 14. 44W-Austen Wheatley [22] [$1,050]; 15. 17-Josh Baughman [24] [$1,000]; 16. 7-Paul McMahan [20] [$900]; 17. 24-Terry McCarl [17] [$800]; 18. 9-Daryn Pittman [4] [$800]; 19. W20-Greg Wilson [15] [$800]; 20. 55-Trey Starks [19] [$800]; 21. 1A-Jacob Allen [14] [$800]; 22. 2LX-Logan Forler [21] [$800]; 23. 11K-Kraig Kinser [18] [$800]; 24. 73-Brady Bacon [23] [$800]. Lap Leaders: Joey Saldana 1-8, Shane Stewart 9-30. KSE Hard Charger Award: 17-Josh Baughman [+9]
Qualifying – 1. 21-Brian Brown, 12.531; 2. 83-Joey Saldana, 12.563; 3. 2L-Danny Lasoski, 12.600; 4. 49-Brad Sweet, 12.635; 5. 2-Shane Stewart, 12.670; 6. 17W-Bryan Clauson, 12.684; 7. 15-Donny Schatz, 12.707; 8. 41-Jason Johnson, 12.709; 9. 29-Kerry Madsen, 12.710; 10. 5-David Gravel, 12.711; 11. 1A-Jacob Allen, 12.754; 12. 9-Daryn Pittman, 12.830; 13. 1-Sammy Swindell, 12.837; 14. 24-Terry McCarl, 12.864; 15. W20-Greg Wilson, 12.867; 16. 7S-Jason Sides, 12.908; 17. 1S-Logan Schuchart, 12.955; 18. 11K-Kraig Kinser, 12.970; 19. 55-Trey Starks, 12.976; 20. 82-Dusty Zomer, 13.055; 21. 2LX-Logan Forler, 13.099; 22. 7-Paul McMahan, 13.129; 23. 17-Josh Baughman, 13.167; 24. 44W-Austen Wheatley, 13.210; 25. 90-Lance Norick, 13.351; 26. 73-Brady Bacon, 13.432
Heat 1 – (8 Laps – Top 6 finishers transfer to the A-feature) – 1. 49-Brad Sweet [2]; 2. 5-David Gravel [4]; 3. 15-Donny Schatz [3]; 4. 21-Brian Brown [1]; 5. 7S-Jason Sides [6]; 6. 1-Sammy Swindell [5]; 7. 7-Paul McMahan [8]; 8. 55-Trey Starks [7]; 9. 90-Lance Norick [9]
Heat 2 – (8 Laps – Top 6 finishers transfer to the A-feature) – 1. 83-Joey Saldana [1]; 2. 2-Shane Stewart [2]; 3. 41-Jason Johnson [3]; 4. 1S-Logan Schuchart [6]; 5. 1A-Jacob Allen [4]; 6. 24-Terry McCarl [5]; 7. 73-Brady Bacon [9]; 8. 17-Josh Baughman [8]; 9. 82-Dusty Zomer [7]
Heat 3 – (8 Laps – Top 6 finishers transfer to the A-feature) – 1. 2L-Danny Lasoski [1]; 2. 9-Daryn Pittman [4]; 3. 29-Kerry Madsen [3]; 4. 17W-Bryan Clauson [2]; 5. W20-Greg Wilson [5]; 6. 11K-Kraig Kinser [6]; 7. 2LX-Logan Forler [7]; 8. 44W-Austen Wheatley [8]
Dash – (6 Laps, finishing order determined first 6 starting positions of A-feature) – 1. 5-David Gravel [1]; 2. 83-Joey Saldana [3]; 3. 2-Shane Stewart [5]; 4. 9-Daryn Pittman [6]; 5. 2L-Danny Lasoski [2]; 6. 49-Brad Sweet [4]
Last Chance Showdown – (12 Laps – Top 6 finishers transfer to the A-feature) – 1. 55-Trey Starks [1] [-]; 2. 7-Paul McMahan [4] [-]; 3. 2LX-Logan Forler [3] [-]; 4. 44W-Austen Wheatley [6] [-]; 5. 73-Brady Bacon [8] [-]; 6. 17-Josh Baughman [5] [-]; 7. 90-Lance Norick [7] [$300]; 8. 82-Dusty Zomer [2] [$250]
World of Outlaws Craftsman Sprint Car Series Championship Standings
| | | | | | | | | |
| --- | --- | --- | --- | --- | --- | --- | --- | --- |
| Pos | Car | Driver | Total | Diff | Wins | Top 5's | Top 10's | QT |
| 1 | 49 | Brad Sweet | 1115 | 0 | 3 | 8 | 8 | 1 |
| 2 | 83 | Joey Saldana | 1071 | -44 | 1 | 4 | 7 | 1 |
| 3 | 15 | Donny Schatz | 1056 | -59 | 2 | 5 | 7 | 0 |
| 4 | 2 | Shane Stewart | 1044 | -71 | 1 | 5 | 7 | 0 |
| 5 | 9 | Daryn Pittman | 1036 | -79 | 1 | 5 | 6 | 2 |
| 6 | 1 | Sammy Swindell | 996 | -119 | 0 | 1 | 3 | 0 |
| 7 | 5 | David Gravel | 984 | -131 | 0 | 3 | 5 | 0 |
| 8 | 41 | Jason Johnson | 973 | -142 | 0 | 2 | 5 | 1 |
| 9 | 7s | Jason Sides | 962 | -153 | 0 | 0 | 2 | 0 |
| 10 | 2L | Danny Lasoski | 945 | -170 | 0 | 1 | 2 | 1 |
| 11 | 17W | Bryan Clauson | 932 | -183 | 0 | 1 | 3 | 0 |
| 12 | 7 | Paul McMahan | 930 | -185 | 0 | 0 | 1 | 0 |
| 13 | 1S | Logan Schuchart | 910 | -205 | 0 | 0 | 2 | 0 |
| 14 | 11k | Kraig Kinser | 892 | -223 | 0 | 0 | 1 | 0 |
| 15 | 24 | Terry McCarl | 870 | -245 | 0 | 0 | 0 | 0 |
| 16 | W20 | Greg Wilson | 858 | -257 | 0 | 0 | 0 | 0 |
| 17 | 29 | Kerry Madsen | 788 | -327 | 0 | 0 | 4 | 0 |
| 18 | 1A | Jacob Allen | 770 | -345 | 0 | 0 | 0 | 0 |
| 19 | 82 | Dusty Zomer | 532 | -583 | 0 | 0 | 0 | 0 |
| 20 | 17 | Josh Baughman | 480 | -635 | 0 | 0 | 0 | 0 |