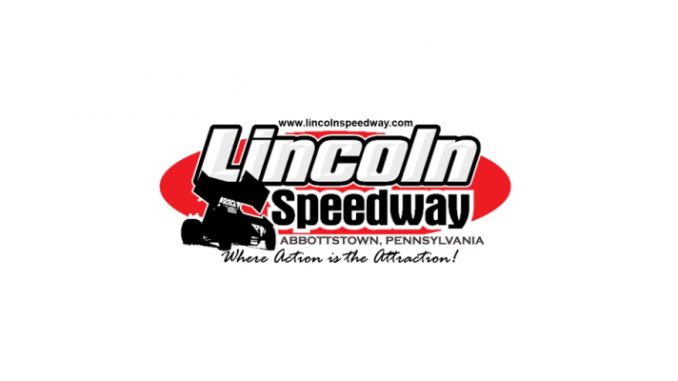 From Lincoln Speedway
Abbottstown, PA — (March 12, 2016) — It's not uncommon for the name Dietrich to be in victory lane at Lincoln Speedway. But this time it was older brother Billy Dietrich who came out on top of the 25-lap 410 sprint car feature Saturday afternoon as his younger brother and former track champ Danny crossed under the checkered flag in fifth spot.
"Danny Who?," said a jubilant Billy in victory lane after track announcer Wayne Harper mentioned he kicked his brothers butt. "I can say that because I work with him but it goes both ways, trust me."
Dietrich also knows how to impress a new sponsor, Ramsey Construction who joined the team earlier in the week and was on hand to witness Dietrich's second career Lincoln Speedway 410 Sprint car win.
"We didn't even get the stickers on, which sucks, but he's here today and at least he got to see it," the Aspers driver said about his new sponsor. "We're glad to have him on board with all of the other great sponsors we have on the car. "
Dietrich lined up third and quickly took the second spot as polesitter Glenndon Forsythe grabbed early lead. While Dietrich chased Forsythe, several great battles were taking shape between Shane Hoff and Kyle Moody and Danny Dietrich and Cory Haas.
Dietrich pulled alongside Forsythe going down the backstretch as the frontrunners split the lapped car of Brandon Noel in turn four with Dietrich emerging as the race leader.
The only red flag of the day came out on lap nine when Brandon Rahmer got into the second turn catch fence after contact with another car.
Billy Dietrich set the pace as 5-time defending track champion Brian Montieth, who started 13th, moved in to battle Danny Dietrich and Cory Haas with Montieth taking fifth place on lap 12 and moved into fourth a lap later.
Dietrich caught the rear of the field with about eight laps to go as Forsythe, Hoff and Montieth quickly closed.
Montieth continued his charge, taking third from Hoff with 20 laps complete and tried several times to get under Forsythe but was unable to make the pass.
Dietrich held on in traffic to capture the $3,200 payday to become the third different winner in as many races so far this season in the Pigeon Hills oval.
"I drove as hard as I could and under that red I thought I'm just gonna give it 16 more laps as hard as I can," said the second generation driver and son of former Lincoln great and track champion Dan Dietrich. "I got burnt last year on the last lap so I'm not gonna lie, I caught the lapped cars and I thought I'll be damned so I'm just gonna run into them if I have to."
Dietrich took the win ahead of Forsythe, point leader Montieth with Shane Hoff crossing fourth for his career best finish. Fifth went to Danny Dietrich ahead of Cory Haas, Adam Wilt, Gerard McIntyre, Jr., Kyle Moody and Alan Krimes.
Heats for the 21 sprint cars on hand were won by Brandon Rahmer, Gerard McIntyre, Jr. and Austin Hogue.
Lincoln Speedway switches to evening racing next Saturday night, March 19th, at 6 PM with the 410 Sprints being joined by the 358 Late Models. Gates open at 4 PM.
RACE RESULTS
LINCOLN SPEEDWAY
Abbottstown, PA
Saturday, March 12, 2016
Lawrence Chevrolet 410 Sprints
Feature (25 Laps) – 1. 8-Billy Dietrich; 2. 2W-Glenndon Forsythe; 3. 21-Brian Montieth; 4. 69-Shane Hoff; 5. Danny Dietrich; 6. 11C-Cory Haas; 7. 15-Adam Wilt; 8. 16-Gerard McIntyre, Jr.; 9. 99M-Kyle Moody; 10. 87-Alan Krimes; 11. 52-Austin Hogue; 12. 55K-Robbie Kendall; 13. 51-Freddie Rahmer; 14. 59-Jim Siegel; 15. 21T-Scott Fisher; 16. 91-David Quakenbush; 17. 12B-Brad Franks; 18. 15M-Bobby Mazingo; 19. 12J-Bill Jones, Jr.; 20. 88-Brandon Rahmer (DNF); 21. 10B-Brandon Noel (DNF). No Time
Lap Leaders – Glenndon Forsythe (1-7), Billy Dietrich (8-25).
Heat One (10 laps/all qualify) – 1. 88-Brandon Rahmer; 2. 99M-Kyle Moody; 3. 8-Billy Dietrich; 4. 87-Alan Krimes; 5. 21-Brian Montieth; 6. 12J-Bill Jones, Jr.; 7. 21T-Scott Fisher (DNF). Time 2:18.077
Heat Two (10 laps/all qualify) – 1. 16-Gerard McIntyre, Jr.; 2. 2W-Glenndon Forsythe; 3. 11C-Cory Haas; 4. 69-Shane Hoff; 5. 15M-Bobby Mazingo; 6. 12B-Brad Franks; 7. 91-David Quakenbush (DNF). Time 2:19.326
Heat Three (10 laps/all qualify) – 1. 52-Austin Hogue; 2. 59-Jim Siegel; 3. 48-Danny Dietrich; 5. 55K-Robbie Kendall; 5. 15-Adam Wilt; 6. 51-Freddie Rahmer; 7. 10B-Brandon Noel (DNF). Time 2:17.473