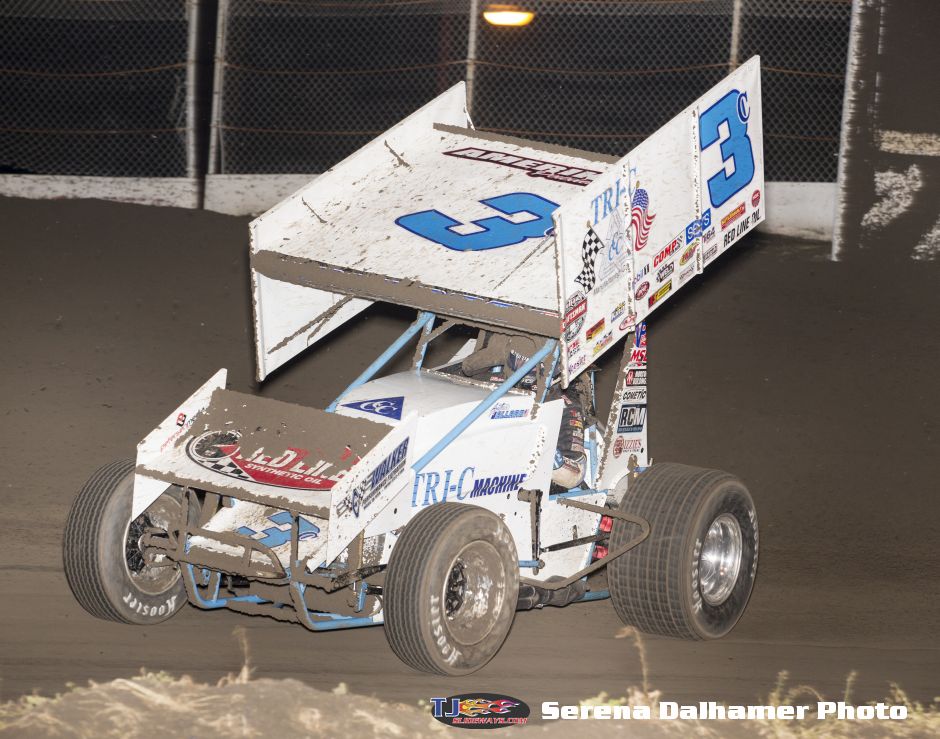 From Troy Hennig
Placerville, CA — (March 21, 2016) — More times than not, the professional traveling World of Outlaw drivers are always the favorites to win any race they enter in 2016. However, one track that offers the local weekend warrior racer the wild card option is the compact quarter-mile bullring known as Placerville Speedway. Tight corners with high banking and short straight-a-way's, Placerville Speedway not only accommodates great racing but often allows the improbable to happen. In stick and ball terms, Placerville Speedway offers a home court advantage that could allow numerous quality local drivers the chance to dethrone the Outlaws. The second annual Brad Sweet's Placerville Short Track Outlaw Showdown presented by Riebes Auto Parts is slated for this Wednesday night, March 23rd.
However, with all that said, the way to victory lane still goes through the Tony Stewart Racing/Bad Boy Buggies #15 driver of Donny Schatz. The seven-time World of Outlaw champion is coming off back-to-back wins at Stockton Speedway and is the defending champion of last year's inaugural race at Placerville. Brad Sweet is not only promoting the event, he is one of the drivers to beat. With his three wins in 2016, Sweet holds a 58-point edge in the World of Outlaws standings over Brownsburg, IN Roth Motorsports driver Joey Saldana. The Larson/Marks Racing #2 of Shane Stewart holds the third position in points while Schatz has four wins and sits in the fourth spot. Sweet's Kasey Kahne Racing teammate Daryn Pittman of Oklahoma rounds out the top five in points.
With the previous announcement of Elk Grove's Kyle Larson cleared to race in this event, local fans can once again claim his as their own. Larson continues to stay dirt savvy with starts at the Chili Bowl Midget Nationals and 410 winged sprint car win in Arizona this past January. Larson's buddy Rico Abreu of Rutherford, CA is currently transitioning between dirt track life and racing in the NASCAR Truck Series on asphalt. Paradise driver Kyle Hirst is fresh off a third place finish at Stockton during Saturday night's 30-lap main event. The two-time King of the West champion will try and secure his first Outlaw win. A true local to root for is Andy Forsberg of Auburn. Forsberg is a five-time Placerville Speedway champion and is coming off winning both the Friday and Saturday night main events at Stockton during the winged 360 races. In fact, Forsberg has not lost a race he has entered in 2016. "Placerville is my best chance at a World of Outlaw win because it's one of the smallest tracks they race on which usually means you don't need the best motor with the most horsepower to beat them," said Forsberg. "This gives us locals more of a level playing field even though they are the professionals and they adapt so quick to changing track sizes and racing surfaces."
Spring forward with a sweet deal to this event. With kids on spring break this week and the weather forecast looking perfect for Wednesday, children 11 and under will be admitted to the race for just $20.00. A limited amount of reserved tickets are available by following this online link at https://dirtcar.ticketforce.com/ordertickets.asp?p=659&backurl=default.asp Fans can purchase pit passes / general admission seating on the day of the event but those seats are all first come first serve. Tickets and will call booth will open at 2 PM. Pit gate opens at 2 PM. Grandstands open at 4 PM with sprint car qualifying slated to begin at 6:30 PM.