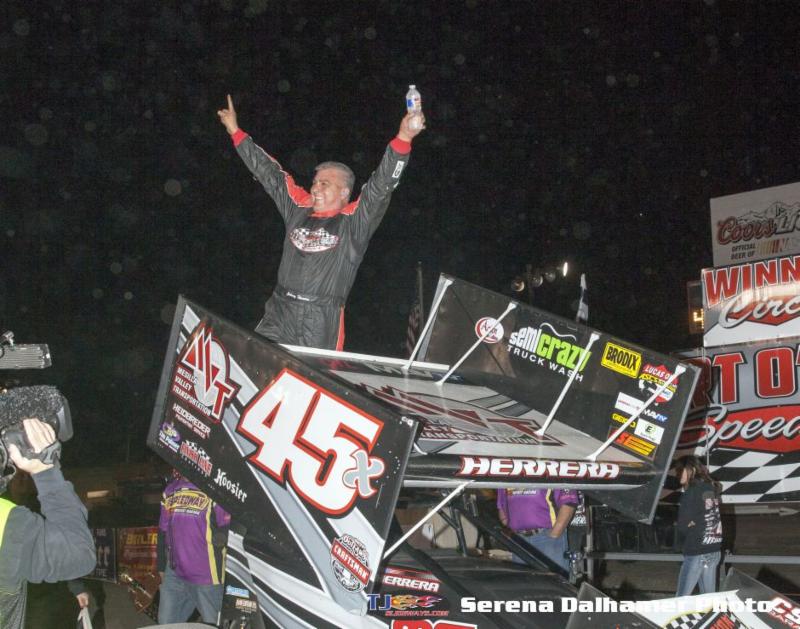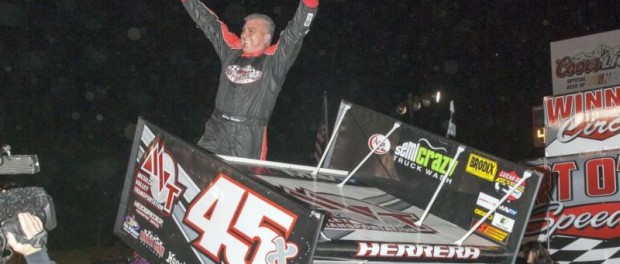 From Inside Line Promotions
Johnny Herrera opened his 2016 campaign for the Lucas Oil ASCS National Tour championship with the strongest message possible.
Herrera dominated the season opener last Thursday at Heart O' Texas Speedway in Waco, Texas, where he led all 30 laps to score his first career season-opening win with the series and the 14th triumph of his career.
"Coming out of the box and winning the first race is great," he said. "It's great for my confidence and the whole team in general. Last year we got some regional wins in April and May, but it took us until June to get a national win. Now we've got that out of the way."
The event began with Herrera maneuvering from fifth to third place in a heat race. That earned him a position in the feature redraw, where he pulled the No. 4 to start the main event on the outside of the second row.
"I don't think I changed a whole lot on the car the entire night," he said. "I was good on the start of the feature. Going into the first corner most people went to the bottom. I came out of turn two in second. Going into turn three I was in second and the leader dropped to the bottom. The seas parted and there we were."
Herrera hustled to the top spot on the opening lap and he never looked back despite a handful of cautions.
"The car was phenomenal," he said. "There were a couple of close calls, one in traffic and there was a hole in turn one. One time I got it bouncing pretty good and almost off the edge of the track, but it worked out well for us."
The victory propelled Herrera into a doubleheader at Devil's Bowl Speedway, where the opening night was rained out last Friday.
"Me and my crew guy went with a little different setup on Saturday," he said. "We wanted to try it. We started the night that way and just weren't very good. I didn't feel good in hot laps or the heat race. We made some changes for the qualifier and we still weren't very good."
Herrera advanced from fifth to second place in a heat race, but dropped from fourth to fifth place in a qualifier. That was good enough to lock him into the 11th starting position for the main event.
"We put our heads together and went back to what I would do normally," he said. "We went back to basics and that was really good. We just started a little too far back there."
Herrera rallied to record a fifth-place result, which kept him atop the ASCS National Tour championship standings.
He is slated to compete this Friday at Cotton Bowl Speedway in Paige, Texas, and Saturday at Bronco Raceway Park in Cleveland, Texas, with the ASCS National Tour.