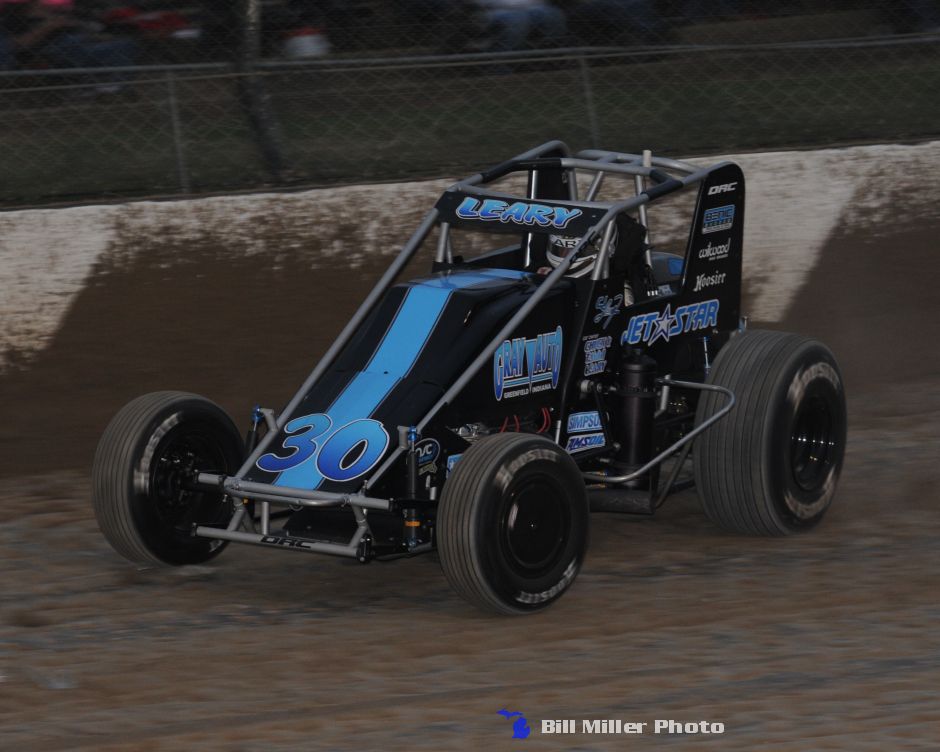 From USAC

They say good things come to those who wait. Those words never rang more true than in Sunday's "Sumar Classic" at the Terre Haute (Ind.) Action Track as C.J. Leary's turn finally came, breaking through for his long-awaited first career USAC National feature victory in the 2016 Silver Crown season opener, joining his father Chuck, who won the 1997 "Hoosier Hundred" at the Indiana State Fairgrounds, to become the first father-son duo to win races in the 46-year history of the Silver Crown Series.
Leary, of Greenfield, Ind., the Silver Crown "Rookie of the Year" just one season ago, took the lead from Justin Grant on lap 94 and reversed his fortunes from last year's "Sumar Classic" second place finish to take the victory in his Leary-6R Racing/Leary Construction-AMSOIL-sponsored DRC/Claxton Toyota.
The 100-lapper in the afternoon sunshine harkened back to yesteryear when the Terre Haute Action Track regularly hosted daytime events, creating a challenge for each of the teams from the get-go. Within the first 10 laps, turn two took rubber and became a treacherous test as the drivers had little room for error between the paper-thin cushion and the Action Track's infamous red, white and blue cement.
Leary, who started outside the front row, continuously made runs at ProSource fast qualifier and race pole sitter Grant for the lead, but was never able to pull ahead, having to settle for the second spot throughout the middle portion of the race. On lap 55, Grant tagged the wall with the right rear in turn two, briefly disrupting his rhythm and momentum, but Leary was unable to close the gap, hitting the wall in the same spot as Grant moments later, with both continuing without damage.
Grant's pace was electric as he lapped everyone but the first eight positions by the 68th lap. By lap 74, Brady Bacon had found the rubber, closing in on Leary for second, now putting Grant, Leary and Bacon one-two-three with one quarter of the race remaining.
Leary closed on Grant once again after Grant bounced his right rear off the turn two wall, but Leary was unable to shrink the advantage, getting pinned behind the lapped car of Neil Shepherd on the bottom, allowing Bacon to run down Leary a few laps later and clear him for the second position with just 21 laps to go.
Just when Bacon appeared to be Grant's top challenger for the lead, Leary returned the favor, beating Bacon to the bottom in the first turn to regain second. With Grant able to ward off every single challenge that was thrown at him, a lap 89 caution for the stopped car of Austin Nemire reset the field.
The car of Robert Ballou was the only lapped machine separating Grant in first and Leary, second. Leary quickly disposed of Ballou and made his charge at Grant and, with just seven laps to go, Leary used a run off the bottom of turn four to jet past Grant for the lead and pull away from the field, winning by a 0.424 second margin over Grant, 2015 Silver Crown champ Kody Swanson, Bacon, Chris Windom, Shane Cottle, defending "Sumar Classic" winner Shane Cockrum, Bryan Clauson, Jerry Coons, Jr. and Dave Darland.
One night after his runner-up finish in the USAC AMSOIL Sprint Car National Championship feature at Lawrenceburg (Ind.) Speedway, Leary was beaming with confidence and was finally able to claim the victory that had eluded him after six career runner-up finishes in USAC National competition.
"I never thought my first USAC win would come in the (Silver) Crown car," Leary said. "It kind of feels surreal. The track was rough with it taking rubber, so we had to be a little patient there. That yellow (on lap 89) helped a lot because they had been telling me that Bacon was down there (on the bottom of the track) and that it finally took rubber, so I moved all the way down on that restart and got around Justin (Grant)."
Though somewhat disappointed by his second place finish after running up front for the majority of the 100 lap race, by virtue of his fast qualifying time and leading the most laps (93), Grant, of Ione, Calif., leads the points after the first round of the 2016 Silver Crown schedule.
"The track was tricky just because it was super slick and there wasn't really a lot to hold onto up top," Grant said. "But I felt like we were good up there. I just hated to see that yellow at the end because I felt like we could've finished the deal, but it's a good start to our season and hopefully we can keep building on this. We'll get one soon."
Former "Sumar Classic" winner Kody Swanson of Kingsburg, Calif. had a quiet, but strong third place run as he seeks to become the first driver to win three consecutive USAC Silver Crown titles.
"I'm just so thankful to drive for DePalma Motorsports," Swanson beamed. "These guys work so hard for me and deserve to win every race and I hate that I couldn't get this one for them. But we'll take third; it's a solid run to start the season and we'll just go out and try to win the next one."
————————————————–
USAC SILVER CROWN CHAMPIONSHIP RACE RESULTS: April 3, 2016 – Terre Haute, Indiana – Terre Haute Action Track – "Sumar Classic"
PROSOURCE QUALIFYING: 1. Justin Grant, 8, Carli-21.691; 2. C.J. Leary, 30, Leary/6R-21.806; 3. Jerry Coons Jr., 20, Nolen-22.021; 4. Kody Swanson, 63, DePalma-22.066; 5. Chris Windom, 98, RPM/Gormly-22.222; 6. Brady Bacon, 48, Martens-22.225; 7. Shane Cottle, 81, Williams-22.819; 8. Dave Darland, 17, Dutcher-22.836; 9. Shane Cockrum, 71, Hardy-22.843; 10. Steve Buckwalter, 53, SET-22.956; 11. Billy Puterbaugh, Jr., 27, Phillips-23.025; 12. Terry Babb, 00, Babb-23.226; 13. Robert Ballou, 14, McQuinn-23.259; 14. Bryan Clauson, 6, Klatt-23.544; 15. David Byrne, 40, Byrne-23.839; 16. Casey Shuman, 55, Bateman-23.914; 17. Terry James, 23, Satterthwaite-24.011; 18. J.C. Bland, 5, Bland-24.610; 19. Austin Nemire, 91, Hemelgarn-25.039; 20. Neil Shepherd, 7, Shepherd-NT;
FEATURE: (100 laps) 1. C.J. Leary, 2. Justin Grant, 3. Kody Swanson, 4. Brady Bacon, 5. Chris Windom, 6. Shane Cottle, 7. Shane Cockrum, 8. Bryan Clauson, 9. Jerry Coons Jr., 10. Dave Darland, 11. Robert Ballou, 12. Casey Shuman, 13. David Byrne, 14. Billy Puterbaugh, Jr., 15. Neil Shepherd, 16. Terry James, 17. Austin Nemire, 18. Terry Babb, 19. Steve Buckwalter, 20. J.C. Bland. NT
——————————
KSE/MARTENS MACHINE SHOP HARD CHARGER: Bryan Clauson
FEATURE LAP LEADERS: Laps 1-93 Grant, Laps 94-100 Leary.
NEW USAC SILVER CROWN CHAMPIONSHIP POINTS: 1-Grant-73, 2-Leary-70, 3-Swanson-64, 4-Bacon-61, 5-Windom-58, 6-Cottle-55, 7-Cockrum-52, 8-Clauson-49, 9-Coons-46, 10-Darland-43.
NEXT USAC SILVER CROWN CHAMPIONSHIP RACE: April 30 – Toledo (OH) Speedway – Hemelgarn Super Fitness "Rollie Beale Classic"