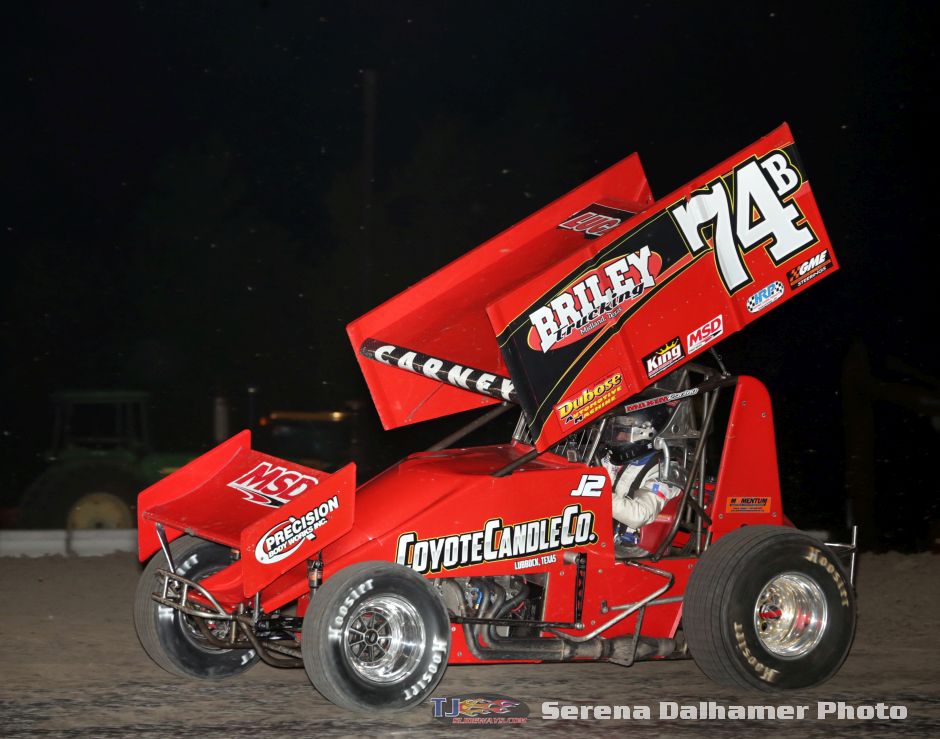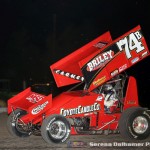 From Bryan Hulbert
Las Cruces, NM — (April 2, 2016) — In a festival of slide jobs at the Southern New Mexico Speedway, El Paso's John Carney II swept the weekend with the Carlyle Tools ASCS Southwest Region to pocket $5,000 in the 25 lap American Linen and Supply ASCS Southwest Shootout.
Red after the first lap for Royal Jones, who was able to walk away, Carney rolled second as Johnny Herrera showed the way. Caution on Lap 3, the restart saw the John James No. 4j take over the lead with a slide job through turns one and two, only to lose the top spot the following lap to Logan Forler.
Finding the tail of the field by Lap 10, Forler and Carney began a game of Cat and Mouse. Using lapped cars as picks, the pair swapped slide jobs at all ends of the Southern New Mexico Speedway.
Able to continually beating out the No. 4j to the line after several hair raising moves through traffic, Carney finally killed the momentum of Forler's No. 2L on Lap 18 to take over the race lead. Still picking their way through the field, the closing laps saw Carney able to gain some breathing room in route to the $5,000 score.
Logan Forler held on to second with Johnny Herrera holding onto third after battling several laps with the No. 17 of Josh Baughman who came from ninth to fourth. Wes Wofford rounded out the top-five.
Rick Ziehl was sixth with Kyle McCutcheon seventh from 13th. Colton Hardy, Bob Ream, Jr., and R.J. Johnson from 17th completed the top-ten as the night's SpeedMart Hard Charger of the night.
The Carlyle Tools ASCS Southwest Region returns to competition on Saturday, April 16 at the Canyon Speedway Park in Peoria, Ariz. For more information on the Canyon Speedway Park, log onto http://www.canyonspeedwaypark.com.
For continued updates on the Carlyle Tools ASCS Southwest Region, log onto http://www.ascsracing.com.
Race Results:
ASCS Southwest Region
Southern New Mexico Speedway – Las Cruces, N.M.
ASCS Southwest Sprint Car Shootout
Saturday, April 2, 2016
Car Count: 27
Event Count: 28
Heat 1 (8 Laps): 1. 131-Royal Jones; 2. 19-Wes Wofford; 3. 74-Colton Hardy; 4. 18W-Lorne Wofford; 5. 18-Kyle McCutcheon; 6. 29-Darrell Sickles; 7. 2-Shad Peterson; 8. 12J-Josh Grady
Heat 2 (8 Laps): 1. 17-Josh Baughman; 2. 8-Bob Ream Jr; 3. 77-Colt Treharn; 4. 12-James Mosher; 5. 51-R.J. Johnson; 6. 91-Casey Buckman; 7. 22-Jesse Baker; 8. 14-Cody Sickles
Heat 3 (8 Laps): 1. 75X-J.T. Imperial; 2. 90-Lance Norick; 3. 48-Shawn Sander; 4. 4U-James Aragon; 5. 01-Kaylene Verville; 6. 0J-Jeremy McCune; 7. (DNF) 24-Rich Martin
B Feature (12 Laps): 1. 51-R.J. Johnson[3]; 2. 91-Casey Buckman[2]; 3. 01-Kaylene Verville[4]; 4. 0J-Jeremy McCune[5]; 5. 22-Jesse Baker[6]; 6. 12J-Josh Grady[10]; 7. 4U-James Aragon[1]; 8. 2-Shad Peterson[9]; 9. 14-Cody Sickles[11]; 10. (DNF) 29-Darrell Sickles[7]; DNS 24-Rich Martin
A Feature (30 Laps): 1. 4J-John Carney II[2]; 2. 2L-Logan Forler[3]; 3. 45X-Johnny Herrera[1]; 4. 17-Josh Baughman[9]; 5. 19-Wes Wofford[5]; 6. 20Z-Rick Ziehl[4]; 7. 18-Kyle McCutcheon[13]; 8. 74-Colton Hardy[10]; 9. 8-Bob Ream Jr[12]; 10. 51-R.J. Johnson[17]; 11. 90-Lance Norick[8]; 12. 91-Casey Buckman[18]; 13. 18W-Lorne Wofford[11]; 14. 75X-J.T. Imperial[7]; 15. 0J-Jeremy McCune[20]; 16. 4U-James Aragon[23]; 17. 22-Jesse Baker[21]; 18. 12J-Josh Grady[22]; 19. 01-Kaylene Verville[19]; 20. (DNF) 48-Shawn Sander[16]; 21. (DNF) 2-Shad Peterson[24]; 22. (DNF) 12-James Mosher[15]; 23. (DNF) 77-Colt Treharn[14]; 24. (DNF) 131-Royal Jones[6]
Lap Leaders: Johnny Herrera 1-3; Logan Forler 5-17; John Carney II 4, 18-25;