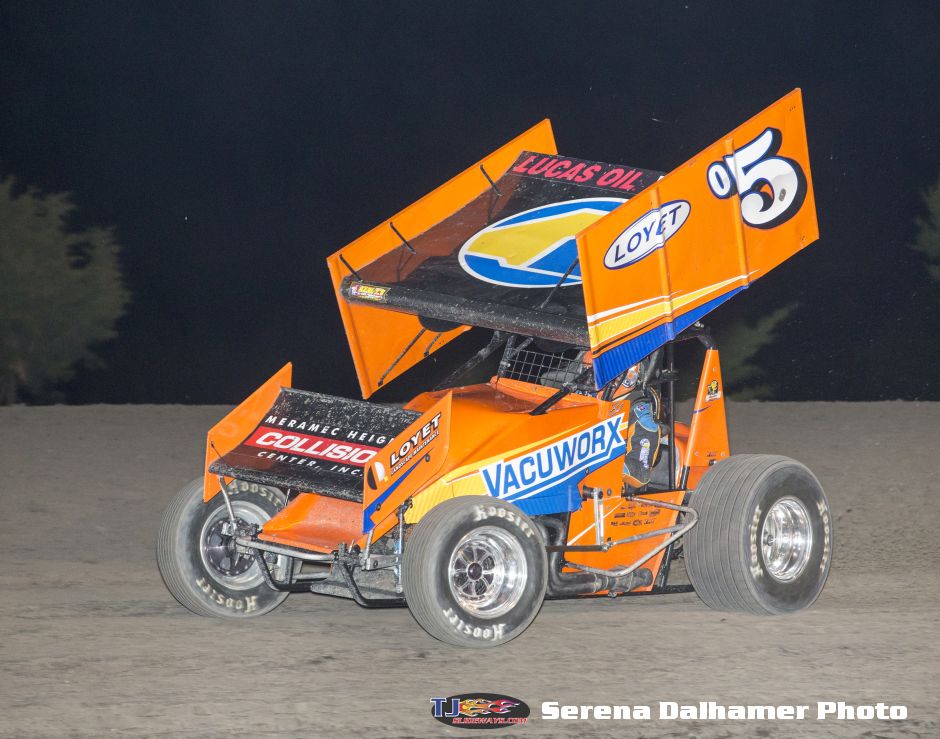 By Bill W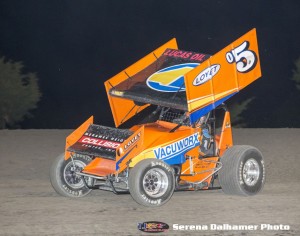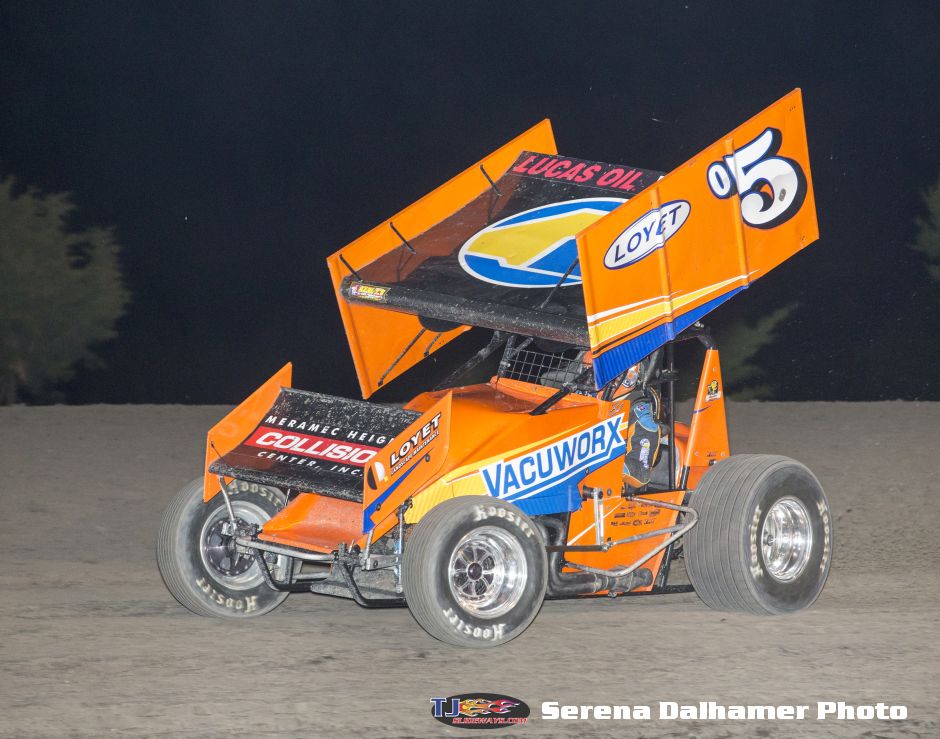 April 4, 2016 – Having the month of April off from ASCS competition will still keep Brad Loyet and the Vacuworx Global #o5 team busy. Saturday night, they towed down to the opener at the St. Francois County Raceway north of Farmington, Missouri. The Sunset Hills, Missouri driver made the most of his visit, capturing the feature win.
Things started well after drawing a starting spot outside of row two for his heat race. "We were able to win that deal," says Brad. "They put new clay on the track and the banking is a lot more even from top to bottom than it had been. It used to flatten off on top, and they fixed that."
Brad found a line on the bottom to get the heat lead. "Most of the guys stuck to a six or eight inch curb on the top of the track," he says. "I was able to sneak by them on the bottom in three and four. We kind of checked out from there."
He would start inside row three of the Dash. "The locals there are really good at that track," says Brad. "They proved that at last year's NSL show there. I was a little worried about starting fifth. The track was still really nice. We worked our way up to third and the second place car turned over battling for the lead."
The second place finish in the Dash set Brad up for the main event. "I was more than happy to start outside row one for the feature," he says. "At the start, we didn't get the jump, but coming off turn two I came back underneath the leader. From there, we were able to kind of check out."
There was the usual traffic on the bullring. "Lapped traffic is always an issue at Farmington, but we were able to work our way through it," says Brad. "We got our first win, so we can't complain at all."
Most of the feature went non-stop. "It was a really good racetrack," says Brad. "There were some DNF's, but the majority of them happened in one wreck. I think it was four or five cars. I think we only had one yellow the whole feature."
Brad's Website
Visit Brad on the web at www.LoyetMotorsports.com!
Brad's Weekly Releases
If you'd like to be added to Brad's e-mail list for weekly releases, e-mail sprntcar@hotmail.com with "Loyet" in the Subject Line.
Brad and the Loyet Motorsports team would like to thank primary sponsors: Vacuworx Global and Loyet Landscape Maintenance. Associate sponsors: Maxim Race Cars, J and D Performance Racing Engines, Butlerbuilt Professional Seat Systems, Meramec Heights Collision Center, KSE Racing, Weld Wheels, Penske Shocks, Wilwood Disc Brakes, Hepfner Racing Products, DMI, Saldana Racing Products, Rod End Supply, Bell Helmets, TI 64, Conroy Control, The Engine Heater, Ealey Transportation, and Speedway Motors.