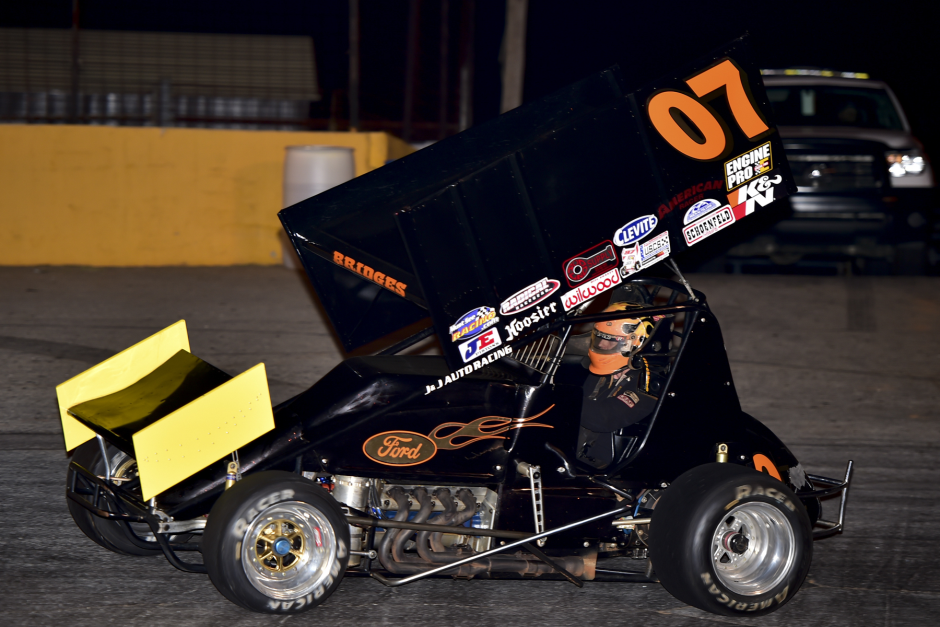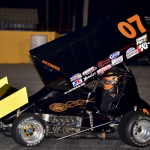 From Jacob Seelman
Holly, MI — (April 7, 2016) — When the Must See Racing Sprint Car Series presented by Engine Pro (MSRSCS) announced their 2016 schedule would include four stops on the asphalt in North and South Carolina, few drivers were more excited about the shows than Cherryville, N.C. veteran Johnny Bridges.
After finishing second to National Sprint Car Hall of Famer Jeff Bloom in the series' inaugural stop at Hickory (N.C.) Motor Speedway in 2015, the long-time 360 sprint car racer was hungry for more and hoping there would be a repeat performance.
Now, Bridges will have his shot at redemption during the two season-opening MSRSCS shows on April 15-16, at Anderson (S.C.) Motor Speedway and Hickory, which returns to the Must See Racing calendar for the second consecutive year.
The two shows are part of the inaugural six-race American Sprint Cup (ASC) mini-series, which will offer extra points fund money and crown a champion within the greater scope of the 2016 MSRSCS championship battle. With four of the six races split between Anderson and Hickory, Bridges feels he has as good a shot as anyone to collect one or more victories at the two historic Southern facilities, as well as be in contention for the ASC crown throughout the season.
"I love racing at both Anderson and Hickory, and I've got a lot of experience at both tracks that I feel like will really help me out against some of the northern guys that come down to contend for those races," Bridges said. "I felt comfortable in last year's race at Hickory, and I haven't raced at Anderson in two years — not since the last race that USCS ran there — but I still have a lot of the notes that we used from when we were there. I'm confident we'll be able to prepare a top-notch car to go out and run strong during the race weekend."
Bridges is the all-time track record holder at Anderson, setting the mark on July 26, 2014 with a lap of 13.040 seconds (103.528 mph) at the wheel of his No. 07 Ford-powered 360 sprint car, and won at the fast three-eighths mile track in April of that year. And while the 48-year-old hasn't won at Hickory over his storied career, he does have the runner-up to Bloom from last year to fall back on, as well as a second runner-up finish to Terry Gray at NASCAR's oldest short track in 2010.
All of that in mind, the stat books would make Bridges an arguable favorite to come away with the win at one or both tracks.
"I've always been real fast at Anderson; I've worked up a good rhythm there over the years and it's just always been a good track to me," Bridges smiled. "Hickory's been tougher … I've run second there a few times and just never been able to quite get over the last hump to pull in victory lane there. I'm just a racer at heart though, so I'm excited about any chance we have to go grab a trophy and I think we'll be able to take a shot at it when it's time to rock and roll."
"I wouldn't call myself the favorite, but I will say we'll be up there (in contention). Last year was fun, racing against Jeff Bloom the way we did. That was a highlight of my career and I hope to have the chance to do it again — and maybe get the win away from him this time."
Bridges says the keys to winning at Hickory have eluded him, but the history is always apparent when you roll into the gate at the 0.363-mile oval.
"I've just never been … too comfortable in Hickory when we've raced there. I really don't know why, because we've always had good speed every time we've raced on the pavement. (Crew chief) Mike (Curley) and I learned some things last year that I think will make us strong, though, so we're excited about it."
Bridges also circles the Must See Racing rules — designed to keep 360 c.i. sprint cars like his competitive against the 410 c.i. cars of the Midwest regulars like defending MSRSCS champion Jimmy McCune, two-time series titlist Brian Gerster and other challengers — as a major benefit to the Southern teams looking for success and to build their programs.
"The (100 pound) weight break that's written into the rules for 360 cars really helped us and kept things more even last year (at Hickory), and I like that (Must See Racing) has put up bonus money for the top-finishing 360s in the main event. That's a huge help for guys like me and I hope it helps to grow the interest in these shows down south."
"I've always enjoyed running on the American Racer tires as well," Bridges remarked during the recent test session for Must See Racing at Anderson on March 18. "They hold up well and they really hold speed later into a run as well. We're just excited for the weekend as a team, and hopefully we come out and can do some pretty big things. That's the goal, anyways."
Bridges has many long-time supporters backing his racing efforts in 2016, including Advance Powder Coating Solutions, J&J Auto Racing and Chassis, ButlerBUILT Racing Seats, KSE Racing Products and FSR Radiators.
The 2016 Must See Racing Sprint Car Series season kicks off on Friday, April 15 at the three-eighths mile Anderson Motor Speedway in Williamston, South Carolina for the first round of the six-race American Sprint Cup mini-series that pits the stars of southern sprint car racing against the veterans of the Midwest in a battle for glory.
Pit gates open at 2 p.m. on race day, with grandstands following at 4 p.m. Qualifying rolls at 6 p.m. and racing starts promptly at 8.
The high-speed train then moves to the 0.363-mile Hickory Motor Speedway in Newton, North Carolina on Saturday, April 16 for the second stop on the American Sprint Cup title tilt.
Pit gates at Hickory open at 1 p.m. on race day, with grandstand gates opening at 3, qualifying at 5 and racing at 7.
General admission ticket prices for both days are $15 for adults and $5 for kids five and under. Pit passes are $35.
For more information on the Must See Racing Sprint Car Series, visit www.mustseeracing.com.