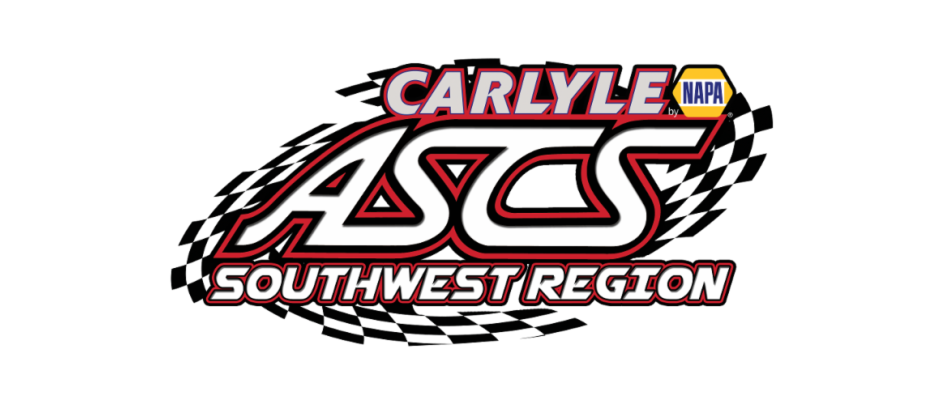 From Bryan Hulbert
Tulsa, OK — (April 11, 2016) — The deserts are heating up as the Carlyle Tools ASCS Southwest Region returns to action for the season's sixth night of competition coming at the Canyon Speedway Park in Peoria, Ariz. on Saturday, April 16.
The second time in 2016 the Carlyle Tools ASCS Southwest Region is set to take on the one-third mile oval, the season's first outing at the Canyon Speedway Park on March 12 went to Logan Forler. The Washington native became the 12th different driver in series history to conquer Canyon.
While his season started off a bit rocky, New Mexico's Rick Ziehl has recovered and now leads the way in the 2016 driver standings with a slim 15 point advantage over Arizona's Bob Ream, Jr.
Logan Forler, holds third despite running a part time schedule with Colton Hardy coming up to fourth. Leading the points going into the New Mexico double header two weeks ago at the Southern New Mexico Speedway, mechanical issues has dropped J.T. Imperial to a tie for fourth with Hardy; 47 points removed from the top spot.
One driver who may run double duty this weekend as the night's events are paired with Canyon's NAPA Non-Wing Series, R.J. Johnson is currently sixth with Casey Buckman, Jeremy McCune, Lance Norick, and Wes Wofford completing the top-ten in driver standings.
Saturday, April 16 at the Canyon Speedway Park will get underway at 7:00 P.M. (MT) with the NAPA Non-Wing Series, Allscapes IMCA Stocks taking on the SCRA Stocks Cars, along with Power 600 Mini Sprints, and Dwarf Cars. Canyon Speedway Park is located at 9777 W. Carefree Hwy. in Peoria, Ariz. For more information on the Canyon Speedway Park, call (602) 258-RACE or log onto http://www.canyonspeedwaypark.com.
The 2016 season for the ASCS Southwest Region is the ninth year of competition throughout Arizona, New Mexico, and west Texas. The ASCS Southwest Region is powered by Carlyle Tools, Hoosier Tires, Brodix, Team Lucas, and SpeedMart. Fans can follow along with the ASCS Southwest Region on Facebook at http://www.facebook.com/ascssouthwestregion
For continued updates including official finishes, points, and more on the ASCS Southwest Region, log onto http://www.ascsracing.com.