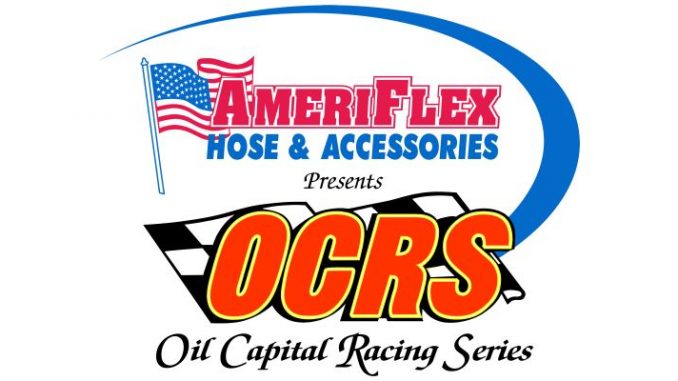 From Lonnie Wheatley
Muskogee, OK — (April 12, 2016) — With a pair of successful weekends logged in the books to kick off the 2016 season, Outlaw Motor Speedway shifts gears this weekend with Open Wheel Friday atop the 3/8-mile clay oval.
Friday's Open Wheel spectacular that fires off at 8:00 p.m. features the Sprint Cars of the Oil Capital Racing Series, the POWRi West Midgets and IMCA Modifieds.
Mustang's Robert Sellers and Owasso's Matt Sherrell reign as defending champions of Outlaw Motor Speedway's Open Wheel Friday event with Sellers topping last April's OCRS Sprint Car portion and Sherrell taking POWRi West Midget honors.
Sellers went on to win last year's OCRS championship while Sherrell recently captured his first career POWRi National Midget victory at Tulsa's Port City Raceway.
While Sellers topped last year's OCRS Sprint Car feature on Open Wheel Friday, current OCRS points leader Whit Gastineau has topped a series feature at Outlaw Motor Speedway over each of the past two years including last August's Harold Leep Classic.
Also the winner of this year's OCRS season opener, Gastineau is out to an early 21-point lead over Talala's Zach Chappell in series points with Tulsa's Sean McClelland, Sellers and Norman's Brandon Jennings among the early top five. Tenth-ranked Sheldon Barksdale was awarded the series most recent victory at Lawton Speedway on Saturday night.
Broken Arrow's Jason McDougal leads the POWRi West Midgets into Open Wheel Friday after winning the series most recent event at Port City to move atop the series point charts ahead of Blake Edwards, Steven Shebester, Robert Sellers and Grady Chandler.
McDougal is one of several drivers expected to pull double duty on Friday night along with defending POWRi West Midget winner Matt Sherrell.
McDougal climbed into an OCRS Sprint Car for the first time in his young career this past Saturday night at Lawton Speedway and raced to victory lane only to be denied in post-race technical inspection.
Rounding out Open Wheel Friday will be the IMCA Modifieds that have offered up three different winners in as many features at Outlaw Motor Speedway thus far in 2016. William Gould and Dalton Clay split honors at the season opening Azalea Festival Nationals on April 1-2 while Arkansas' Johnny Bone, Jr., won last Friday's main event.
General admission tickets for Open Wheel Friday are available for $15 with Senior Citizens and Military admitted for $10. Children ages 6-12 are admitted for $8 with children five and under free. Pit passes are available for $30.
The complete Outlaw Motor Speedway 2016 schedule is available at http://outlawmotorspeedway.net/schedule/.
Outlaw Motor Speedway is located southwest of Muskogee, OK, on U.S. 69 to the Wainwright exit, then 0.1 miles west. It is approximately 12 miles north of the I-40 and U.S. 69 interchange.
For more information, contact the track at 918-625-6200 or check online at http://outlawmotorspeedway.net/.