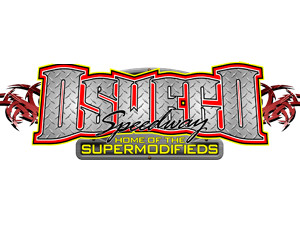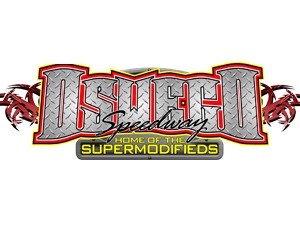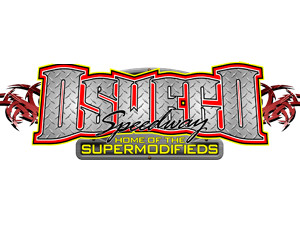 By Danny Kapuscinski
OSWEGO, NY (April 14, 2016) – When Oswego Speedway goes green flag racing on May 14 as a part of the 66th annual season opener presented by Mitchell's Speedway Press, the Speedway's weekly contingency program will go into effect giving racers something extra to race for on each night of the upcoming season.
A total of twelve weekly partners have signed on so far for 2016, offering cash, certificates, and product to both the Novelis Supermodified and Pathfinder Bank SBS divisions valued at over $13,500 for the season.
"This program is a testament to our drivers and teams, being that so many local businesses want to step up and help the racers that put on our shows each and every week," said Oswego Speedway PR Director, Dan Kapuscinski. "We are grateful for the support of all of our partners, because without them it would not be possible to put on these events each year. We encourage all of our fans support those who support Oswego Speedway."
The Novelis Supermodified division will contend for seven weekly contingency prizes during the 2016 season.
The Lighthouse Lanes Hard Charger and Up & Comer Awards will return this season. The Hard Charger Award will again will go to the driver advancing the most positions in the night's main event, while the Up & Comer Award will be handed to the highest finishing driver in the main event that has never won a Supermodified feature.
Each week these recipients will receive a gift certificate to Lighthouse Lanes for a free sheet pizza, 25 chicken wings, and a cosmic bowling lane to be used for driver and team.
The Radical Racegear Lap Leader Award will return for its third season in 2016. The driver that leads the most laps in each Novelis Supermodified main event will earn a $100 product certificate to be used at Radical Racegear, based in Greensboro, NC.
At season's end, the driver that led the most laps throughout the entire year's campaign will be awarded a set of six brand new crew shirts from Radical Racegear.
Supermodified drivers will also once again compete for the Shell Shock Custom Helmet Paint heat race challenge in 2016. The driver that wins the most Novelis Supermodified qualifying heat races this season will be entitled to a free custom helmet paint job by Shell Shock founder Noah Ennis.
The winner of the 30th annual $10,000 to win Mr. Novelis Supermodified main on July 23 will also receive a custom trophy helmet from Shell Shock, commemorating 30 years of the Mr. Supermodified classic.
Heat race winners in the Supermodified division will also earn a hot and fresh pizza delivered by Cam's Pizzeria.
Enders Racing Engines will also again provide contingency certificates to Enders supporters this season. Any driver competing with an Enders Racing Engine, that also displays an Enders decal, will earn a $100 certificate for winning a regular Supermodified show.
Enders will award a $500 certificate if their engine drives to victory in the Davis Bros. Inc. $10,000 Mr. Novelis Supermodified main as well as the Budweiser International Classic 200.
A total of nine weekly contingencies will be on the line in Oswego's Pathfinder Bank SBS division.
Among those pairing with the Supermodified division will be the weekly heat race contingencies provided by Cam's Pizzeria and Shell Shock Custom Helmets as well as the winner's contingencies from Enders Racing Engines.
Any driver competing with an Enders Racing Engine, that also displays an Enders decal, will earn a $50 certificate for winning a weekly SBS show and a $250 certificate for winning the Bud Light SBS Classic.
Contingencies specific to the SBS division include the D&S Landscaping Hard Charger Award, the Nice Price Auto Sales Up & Comer Award, the Sherwood Racing Wheels Lap Leader Award, the Bacc-Off 'Hard Luck' Award, and the White's Car Care 4th Place Award.
The driver that advances the most positions in an SBS main will earn $25 from D&S Landscaping while the highest finishing driver that has never won an SBS main will earn $25 from Nice Price Auto Sales.
Returning to the SBS division in 2016 will be the Sherwood Racing Wheels Lap Leader Award. The driver that leads the most laps in each SBS main this season will earn a $60 product certificate from Sherwood Racing Wheels.
The driver determined to be the 'Hard Luck' runner in each week's SBS main will be rewarded with a $25 bonus while the fourth place finishers in each week's main event will be given $25 from White's Car Care with special bonuses of $50 during the May 28 Tony White Memorial and the Bud Light SBS Classic.
On track activity begins at Oswego Speedway on Saturday, May 7 with the annual open test session for all racing divisions. Testing will run from 1-5pm and is free for spectators to sit in the main grandstand.
Racing action at the Speedway begins May 14 with the 66th annual opening night celebration presented by Mitchell's Speedway Press featuring the lid lifters for the Novelis Supermodifieds, the Pathfinder Bank SBS, as well as the 61-lap RoC Modified Richie Evans Memorial.
Grandstand gates will open on May 14 at 1:30 p.m. with SBS and Supermodified time trials taking place at 4 p.m. and racing getting underway at 5 p.m.
Kids 16 and under are once again admitted FREE for regular season events at the Speedway in 2016.
For more information on Oswego Speedway be sure to visit www.oswegospeedway.com. You can also FOLLOW on Twitter @OswegoSpeedway and LIKE on Facebook at www.facebook.com/OswegoSpeedway.

About Oswego Speedway: Oswego Speedway, a sports entertainment company, is a 5/8 mile semi-banked pavement racing oval located off the shores of Lake Ontario in scenic Oswego, NY. Oswego Speedway has been a continuously run weekly racing venue since August, 1951. The premier open-wheel pavement short track cars in the world, Supermodifieds, run weekly at Oswego Speedway making Oswego the only weekly Supermodified racing venue in the world. The Small Block Supermodifieds accompany the full blown Supers on a weekly Saturday night schedule which runs from May through September. Oswego Speedway is mentioned in racing circles as the "Indy of the East," as no fewer than a dozen past and present competitors have competed at the famed Indianapolis Motor Speedway including Mario Andretti, arguably the greatest driver of all time, two-time Indy 500 champion Gordon Johncock, along with former International Classic Champions Bentley Warren, Joe Gosek, and Davey Hamilton.