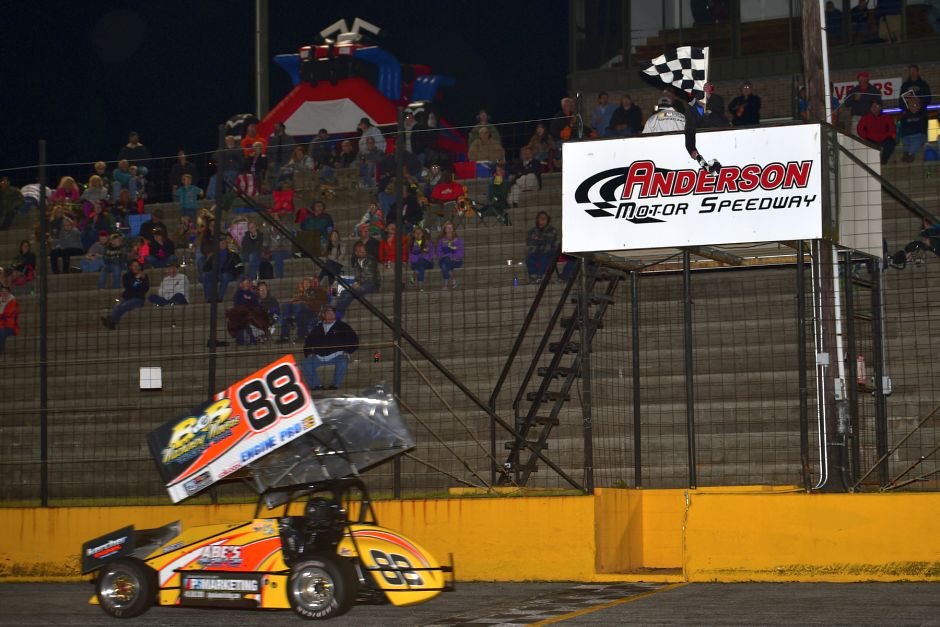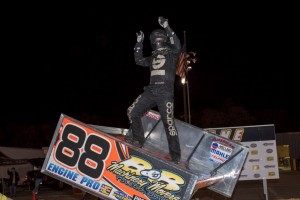 From Jacob Seelman
Williamston, SC — (April 15, 2016) — From one Anderson to another, reigning Must See Racing Sprint Car Series (MSRSCS) champion Jimmy McCune kicked off the 2016 season the same way he ended 2015 — on top of the heap.
McCune charged past outside polesitter Jeff Bloom going down the backstretch on lap 12 of Friday night's season-opening 50-lap feature at Anderson (S.C.) Motor Speedway and never looked back, extending his lead out to as much as 3.5 seconds at times before finally crossing 2.475 seconds ahead of two-time series champion Brian Gerster at the twin checkers.
The dominating performance saw the Toledo, Ohio veteran put all but the top five drivers a lap or more down at the finish, en route to his 12th career series victory.
McCune won three times at the quarter-mile Anderson Speedway in Indiana last year, but relished the opportunity to become the first 410 sprint car driver to taste victory at the similarly-named, three-eighths mile South Carolina speed plant.
"Our car was great tonight," McCune said in Engine Pro Victory Lane. "It handled well in clean air, but it was good working behind (slower) cars too and that's what you want. It started to lose (the handle) a little bit there late in the race, and I had to bide my time making passes and pick the right opportunities, but it all worked out pretty well."
"Jeff was getting real loose up off both ends (of the race track), so I just had to be patient early on until I could get up underneath him. We were really, really strong on the bottom of the race track tonight and I think it showed. This is a great way to kick off our 2016 season — on top, just like we were last year — and hopefully we can keep it going into the rest of the weekend and the rest of the season as well."
After a five-car inversion put West Bloomfield, Michigan's Ike Beasley on the Engine Pro Pole Position and relegated fast qualifier Johnny Bridges to fifth, Beasley led a 15-car field to the green flag with National Sprint Car Hall of Famer Jeff Bloom to his outside. Bloom took off like a rocketship on the initial start, grabbing the lead and pulling out to a full second's advantage, while McCune was left to scrap for second with Gerster and Beasley early on.
The race's only caution flag would erase Bloom's lead, however, when Joe Speakman slowed to a stop on the backstretch and drew the yellow rag over the speedway with six circuits complete.
McCune restarted on Bloom's tailtank and nearly got by for the lead on the restart, but Bloom slammed the door in turn one and would lead the next five laps before the No. 88 Abe's Auto Parts/B&B Machinery sprinter finally worked clear of the No. 26 Eldora Speedway Special at the 12th round.
Once McCune was clear on the inside of the backstretch, he drove off into another zip code as Gerster worked over Bloom for the runner-up position. The Fishers, Indiana veteran finally got around Bloom at lap 17, but was hard-pressed to catch McCune for the win with traffic between he and the leader.
Ultimately, the all-time series wins leader (14) and quick qualifier (21) was forced to settle for second, unable to get through slower traffic as easily as McCune did through the second half of the main event.
"We just never got going at the start as well as Jimmy did, and then the lap cars just killed our chances," Gerster lamented. "Hats off to those guys — they beat us heads-up tonight — but this team will regroup and come back stronger tomorrow at Hickory. We were good, he was just a little bit better this go-round."
Bloom brought home the final podium position in third, with fast timer and Cherryville, North Carolina native Bridges finishing fourth as the highest-placed 360 c.i. sprint car against the Midwestern 410s. Fellow 360 pilot and 15-time national sprint car champion Terry Gray, from Bartlett, Tennessee, rounded out the top five and the lead lap machines.
2010 NASCAR Whelen Modified Tour champion Bobby Santos III finished sixth, a lap off the pace, and Beasley faded to seventh after his pole start.
Earlier in the day, Bridges scored his first-career MSRSCS Engine Pro Fast Time Award, posting a lap of 13.041 seconds (103.520 mph) that was a thousandth of a second (0.001) off of his own track record, set on July 26, 2014. Gray, Beasley and Santos each won their respective 10-lap heat races, that helped to set the field for the main event.
The Must See Racing Sprint Car Series returns to action on Saturday night, April 16 for race two of their 2016 season and round two of the American Sprint Cup at Hickory Motor Speedway in Newton, North Carolina.
Bloom is the defending winner of the Hickory event, scoring his maiden MSRSCS victory on April 4, 2015 in the series' inaugural race at the 0.363-mile oval that serves as NASCAR's oldest weekly short track.
For more information on Must See Racing, visit the series on the web at www.mustseeracing.com.
RESULTS: Must See Racing Sprint Car Series; American Sprint Cup Round One; Anderson Motor Speedway; April 16, 2016
1. #88 – Jimmy McCune
2. #50- Brian Gerster
3. #26 – Jeff Bloom
4. #07 – Johnny Bridges
5. #10 – Terry Gray
6. #22A – Bobby Santos III
7. #97 – Ike Beasley
8. #81 – Brad Wyatt
9. #12 – Grant Galloway
10. #9L – Chris Lamb
11. #75C – Jerry Caryer
12. #9 – Kris Leming
13. #51 – Jay Dunham
14. #72S – Joe Speakman
15. #59 – Johnny Petrozelle (DNS)