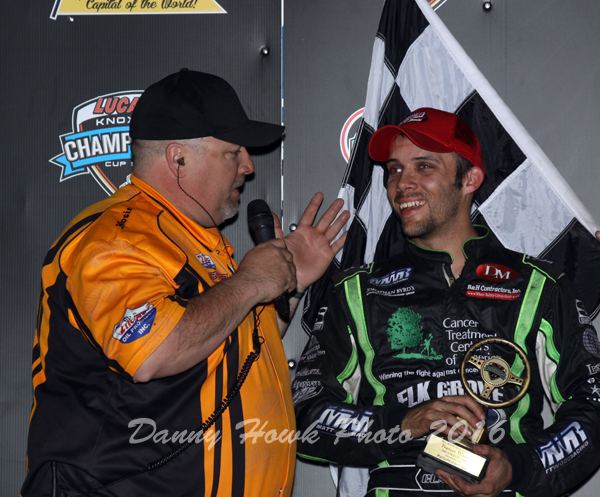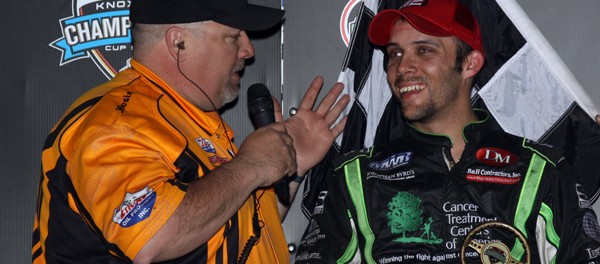 From Bill Wright
April 19, 2016 – It was a night the Matt Wood Racing #17w team and driver Bryan Clauson won't soon forget! The Noblesville, Indiana driver picked up a win in the 360 class and drove to a strong second place finish in the 410 feature Saturday night at Knoxville Raceway in Iowa. That followed a victory for Bryan the night before with USAC at Bloomington Speedway. Plan A for this weekend sees the Elk Grove Ford #17w at Devil's Bowl Speedway in Mesquite, Texas with the World of Outlaws.
The team decided to pull double duty at Knoxville Saturday. "We took the 360 along to make up for a bit of racing we've missed this year," says Bryan. "It's good whenever we can get some more laps at Knoxville. The team had Friday off, so it made it easier on the guys to have it ready. We didn't necessarily qualify as well (10th quick in the 33-car field) as we wanted. I don't know where we missed it."
Bryan would bounce back, running second in his heat. He would start tenth in the 360 main. "We felt strong in the heat," he says. "We were able to move around, and we were able to make the right adjustments for the feature. The thing was a blast to drive. I could drive anywhere I wanted to and needed to."
By the fourth lap, Bryan was into the top five. He would grab the lead from Clint Garner on the twelfth circuit and go on to record his first career 360 win at Knoxville. "It's hard enough to win those races from the first couple rows, let alone the fifth row," he says. "That was pretty spectacular. You need a dominant car to do that, and we had one. It was cool to get our first weekly win at Knoxville. Any time you can beat (Justin) Henderson and Garner there, you've done your job."
On the 410 side, things were also going well. He would time in sixth quick and lock himself into the feature through the heat race. "We got off to a good start qualifying well," says Bryan. "Then we did what we had to do in the heat to start on the front row."
Bryan would pace the field for four laps before Danny Lasoski got by on a restart. "I think we were good enough to win, we just needed to be a little better," he says. "I think winning the 360 feature may have hurt us a little bit with the 410. We made some decisions after the 360 race that may have ended up hurting us a little bit."
He would hang on to a strong second place finish. "We made a mistake on the restart there, and let Danny get by us," says Bryan. "I'm still learning, and that was one of my mistakes. I feel if I could have kept him at bay on the restart, we were good enough to hold him off. Overall though, it was a great night for our team. To get first and second at Knoxville is a great accomplishment for us, and shows how far we've come as a team. There were several times last year when we were on the verge of getting lapped, and to finish up front is satisfying."
The team headed to the Missouri State Fair Speedway for an afternoon show with the ASCS-Warrior region. After winning his heat from the pole, Bryan qualified for the feature redraw. "Unfortunately, I didn't have my lucky draw hand going," he says. "We ended up with the eight. By the time the feature rolled, it was rubber down. Not only did we draw the fourth row, but we drew the outside. By the time we got down in the groove, we settled in. We were able to make a couple of moves, and a couple of guys fell out. We ended up with a fifth place finish, so overall, it was a solid day."
This weekend the team will match up with the Outlaws again in Texas. Bryan's only other appearance at the Devil's Bowl Speedway came in 2014 in 360 action. "I remember both ends were really different, and I had no clue what I was doing," he jokes. "I'm looking forward to getting back. Anytime you have a few laps somewhere, it makes it a little easier."
Matt Wood Racing would like to thank: Elk Grove Ford, Cancer Treatment Centers of America, Jonathan Byrd's Hospitality and Restaurant Group, America's Best Value Inn, Quick Lane and Impact Signs, Awnings & Wraps!