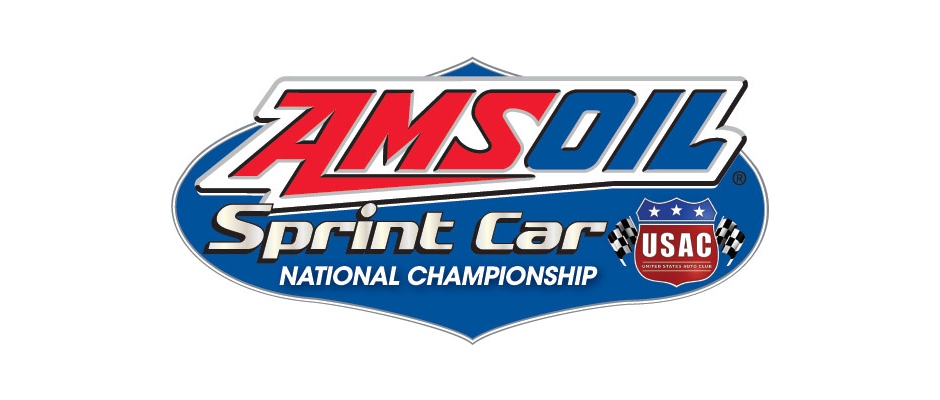 From USAC
This weekend's #LetsRaceTwo" Sprint Car spectacular at the Eldora Speedway in Rossburg, Ohio offers race fans a unique "doubleheader" program, showcasing both the USAC AMSOIL National Sprint Car Championship and the World of Outlaws Craftsman Sprint cars on both Friday and Saturday night.
Leading the USAC contingent is Chase Stockon of Haubstadt, Ind., who has "top-10" finishes in all seven of the series races so far this year, including a victory at his home track in Haubstadt: Tri-State Speedway. He enjoys a 25-point lead over Kyle Cummins of Princeton, Ind., whose five "podium" finishes this season are the best for any driver. He continues to seek his initial USAC Sprint victory despite five career second-places.
Friday night's race is the annual "Don Branson/Jud Larson Classic." Justin Grant won last's year's "Branson/Larson" feature, the 31st running of the event which started with Dave Peperak's victory in 1981. Other former race winners expected to compete are Jerry Coons, Jr. (2006 and 2009), Robert Ballou (2007 and 2010) and Dave Darland (2014).
Darland's 14 career Eldora victories are second on the all-time USAC list behind Jack Hewitt's 24. His five Eldora Sprint wins are part of his all-time leading 58 USAC career Sprint total.
This weekend's action should be unpredictable since the last seven Eldora USAC Sprint races have produced seven different winners!
Thomas Meseraull, winner of last year's "4-Crown Nationals," is expected to be another top favorite for victory this weekend. He stands fourth in the latest series points and won a race in Ocala, Fla. earlier in February. Brady Bacon, who is third in the standings, comes into Eldora fresh off his victory at Montpelier (Ind.) Motor Speedway and hopes to add to his team's all-time USAC victory record of 93 National Sprint Car feature wins. Bacon was the 2014 "4-Crown Nationals" Sprint Car winner.
—————————————————————————-
UPCOMING USAC AMSOIL SPRINT CAR NATIONAL CHAMPIONSHIP EVENT
DATE: Friday, May 6, 2016
SERIES: USAC AMSOIL Sprint Car National Championship
TRACK: Eldora Speedway (Rossburg, Ohio) – 1/2-mile, high-banked dirt oval
EVENT: "LetsRaceTwo" / "Don Branson/Jud Larson Classic" featuring the USAC AMSOIL Sprint Car National Championship and World of Outlaws Craftsman Sprint Cars
STARTING TIMES:
1:30pm: Ticket Sales Begin (Main Gate and Turn 4)
2:00pm: Turn 3 Pit Gate Opens
2:00pm: Spectator Gates Open
6:00pm: Hot Laps Begin
7:30pm: Racing Begins
TICKETS:
Ages 13 & up: $28 (General Admission), $32 (Reserved)
Ages 12 & under: Free (General Admission), $10 (Reserved)
TRACK ADDRESS: 13929 OH-118, New Weston, OH 45348
TRACK PHONE: (937) 338-3815
TRACK WEBSITE: http://www.eldoraspeedway.com/
—————————————————————————-
UPCOMING USAC AMSOIL SPRINT CAR NATIONAL CHAMPIONSHIP EVENTS
DATE: Saturday, May 7, 2016
SERIES: USAC AMSOIL Sprint Car National Championship
TRACK: Eldora Speedway (Rossburg, Ohio) – 1/2-mile, high-banked dirt oval
EVENT: "LetsRaceTwo" featuring the USAC AMSOIL Sprint Car National Championship and World of Outlaws Craftsman Sprint Cars
STARTING TIMES:
1:30pm: Ticket Sales Begin (Main Gate and Turn 4)
2:00pm: Turn 3 Pit Gate Opens
2:00pm: Spectator Gates Open
6:00pm: Hot Laps Begin
7:30pm: Racing Begins
TICKETS:
Ages 13 & up: $28 (General Admission), $32 (Reserved)
Ages 12 & under: Free (General Admission), $10 (Reserved)
TRACK ADDRESS: 13929 OH-118, New Weston, OH 45348
TRACK PHONE: (937) 338-3815
TRACK WEBSITE: http://www.eldoraspeedway.com/
—————————————————————————-
2016 USAC AMSOIL SPRINT CAR NATIONAL CHAMPIONSHIP DRIVER POINT STANDINGS (TOP-10)
(476) Chase Stockon (Haubstadt, IN)
(451) Kyle Cummins (Princeton, IN)
(449) Brady Bacon (Broken Arrow, OK)
(445) Thomas Meseraull (San Jose, CA)
(409) Dave Darland (Lincoln, IN)
(398) Robert Ballou (Rocklin, CA)
 (370) C.J. Leary (Greenfield, IN)
(367) Justin Grant (Ione, CA)
(343) Max McGhee (Camby, IN)
(340) Chad Boespflug (Hanford, CA)
—————————————————————————-
2016 USAC AMSOIL SPRINT CAR NATIONAL CHAMPIONSHIP OWNER POINT STANDINGS (TOP-10)
(476) 32/TBI Racing #32
 (451) Rock Steady Racing #3R
 (449) Dynamics, Inc. #69
 (445) Amati Racing #66
 (409) Jeff Walker/Curb-Agajanian Racing #11
 (398) Ballou Motorsports #1
 (367) Baldwin Brothers Racing #5
(365) Michael Dutcher Motorsports #17GP
 (343) Sam McGhee Motorsports #17
(340) NineEight Motorsports/EZR #98E
—————————————————————————-
ALL-TIME "#LETSRACETWO" / "MOTHER OF ALL SPRINT CAR WEEKENDS" WINNERS AT ELDORA SPEEDWAY
5/8/2015: Robert Ballou
5/9/2015: Justin Grant
—————————————————————————-
ALL-TIME "DON BRANSON/JUD LARSON CLASSIC" WINNERS AT ELDORA SPEEDWAY
1981: Dave Peperak, 1982: Jack Hewitt, 1983: Rich Vogler, 1984: Steve Butler, 1985: Jac Haudenschild, 1986: Rick Hood, 1987: Rich Vogler, 1988: Jac Haudenschild, 1990: Jack Hewitt, 1992: Terry Shepherd, 1993: Robbie Stanley, 1994: Frankie Kerr, 1995: Kevin Doty, 1996: Frankie Kerr, 1997: Kevin Huntley, 1998: Kevin Doty, 1999: Derek Davidson, 2000: Jay Drake, 2001: Tracy Hines, 2002: J.J. Yeley, 2003: Boston Reid, 2004: Jay Drake, 2005: Jay Drake, 2006: Jerry Coons, Jr., 2007: Robert Ballou, 2008: Tracy Hines, 2009: Jerry Coons, Jr., 2010: Robert Ballou, 2012: Tracy Hines, 2014: Dave Darland, 2015: Justin Grant