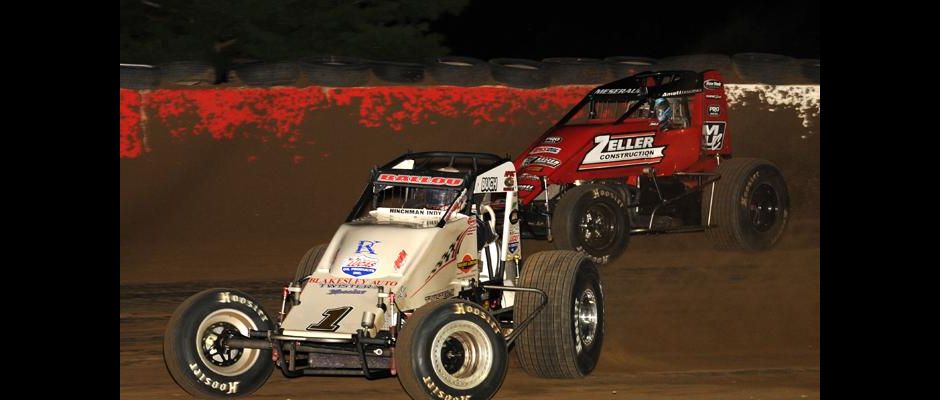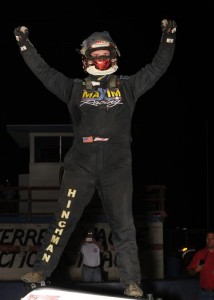 From USAC
Terre Haute, IN — (May 25, 2016) — Robert Ballou slid his way into the record books Wednesday night, surpassing A.J. Foyt and Roger McCluskey on the all-time USAC AMSOIL National Sprint Car win list with his 24th career series win and becoming just the third driver in the 46-year history of the "Tony Hulman Classic" to win in back-to-back years after outdueling Thomas Meseraull in a torrid race-long battle to collect the coveted rifle at the Terre Haute (Ind.) Action Track.
As the green flag flew at the start of the 30-lap feature, pole-sitter Meseraull shot out to the front of the pack. But, it was second-quickest qualifier and inside row-three starter Ballou who quickly charged to the second spot by lap two, setting the stage for an epic battle between the two for the top spot.
After a pair of cautions slowed the pace with just four laps completed, Meseraull and Ballou rode the cushion, spraying Terre Haute's newly-painted red, white, and blue wall with rooster tails through each of the four turns. On lap nine, Ballou followed Meseraull with a full head of steam into turn three, jetting to the bottom at the entrance of three and throwing a massive slider that stuck, giving him the lead as the two exited turn four.
However, the move was all for naught due to the stoppage of Landon Simon's stalled machine at the top of turns three and four, bringing out the yellow flag.
The yellow did not deter Ballou one iota. As soon as the green dropped on the ensuing restart, Ballou went to the well once again, replicating the same move he made on Meseraull just before the caution fell, diving to the inside guardrail before sliding up to the wall between turns one and two. But Meseraull didn't blink, instead, staying on the throttle with just inches to spare between Ballou's right side Hoosiers and the concrete, taking back the lead as they exited turn two.
A rejuvenated Jon Stanbrough threw his hat in the ring of contenders after slipping past Ballou for 2nd at the flag stand on lap 10. However, Ballou would reload and reclaim the second spot from Stanbrough, the 2002 "Hulman Classic" victor, one lap later and now found Meseraull clearly within sight on his radar.
Ballou and Meseraull engaged in an exhibition of sliders on laps 17 and 18 that put the sizable Wabash Valley crowd on its feet. The two exchanged the lead on three separate occasions in that lap and a half span, as they traded slide jobs at the end of the straightaways at the entrance of turns one and three, culminating with Ballou and Meseraull banging wheels at the exit of four on lap 18 as Mesearull reemerged at the head of the field.
On lap 22, Ballou threw one last jab for good measure, executing a picture-perfect slider on Meseraull for the lead. From that point until the drop of the checkered flag, nobody was game for Ballou's presence down the stretch as the Rocklin, California driver ultimately delivered the final knockout blow, pulling away for a 4.422-second margin of victory over Meseraull, Stanbrough, Bacon, Chris Windom (from the 20th starting spot), Chase Stockon, Shane Cottle, Dave Darland, Jerry Coons, Jr. and Justin Grant.
Ballou was able to add another rifle to his growing collection of "Hulman Classic" hardware after picking up his first series victory in three months in his Ballou Motorsports/MPHG Promotions – Blakesley's Auto/Maxim/Ott. He joined Steve Butler (1987-88) and Levi Jones (2008-09) as a winner of consecutive winners of the classic event and also became just the fourth defending USAC National Sprint Car champ to win the race, adding his name to a list that includes Pancho Carter (1975), Steve Butler (1987-88) and Levi Jones (2009)
"We haven't finished as well as we'd have liked to recently," Ballou admitted. "But we've been really fast and we don't give up. We had to put a motor in this car at 1:30 this morning, and then I was late for qualifying, and it just made me furious for the rest of the night. This car keeps going up and down the road based on our winnings, so it's great that we got another one tonight. I slid Meseraull and knew I didn't have him cleared, and then the last time, we both slid the same corner and he was trying to protect himself; thankfully, we're both standing up here on the front stretch."
Meseraull, of San Jose, California, chopped two markers off of Bacon's lead in the series' standings with his second place finish in the Amati Racing/Marion Underground Construction – Zeller Construction/DRC/Dynotech, now standing just 17 points behind Bacon heading into the six-race "Eastern Storm" series that begins June 7 at Grandview Speedway in Bechtelsville, Pennsylvania.
"It was nice to start up front tonight," Meseraull said with relief. "(Crew chief) Donnie (Gentry) had the car awesome tonight. Him and I disagree on things sometimes, but he had it spot-on tonight and that just shows how good Robert (Ballou) was."
Avon, Indiana's Jon Stanbrough scored his first top-three USAC result in nearly a full-calendar year, a second-place at Pennsylvania's Susquehanna Speedway in June of 2015. Stanbrough returned to form in his Jon Stanbrough Racing/Woodland Auto Display – MPHG Promotions/Spike/J & D, running as high as second on the 10th lap and dropping to 4th before rallying just one lap from the finish to take third from point-leader Brady Bacon.
"Lapped traffic was a factor at the end for us, Stanbrough said." But I felt like I got better after Brady (Bacon) passed me. Then, I got back by him and, luckily, the lapped cars played into our favor at the end. To be able to pull out a 3rd is good, but we keep getting better and better every weekend. I thought we had something at (last weekend's race at) Gas City before we tipped over. All I've got to do is keep sitting up in the seat and we'll keep running up front."
"Tony Hulman Classic" contingency award winners included Brady Bacon (ProSource Fast Qualifier), Shane Cottle (Simpson Race Products First Heat Winner), Aaron Farney (Competition Suspension, Inc. (CSI) Second Heat Winner), Thomas Meseraull (Benic Enterprises Third Heat Winner), Carson Short (Indy Race Parts Fourth Heat Winner), Chris Windom (KSE Racing Products/B & W Auto Mart Hard Charger) and C.J. Leary (Wilwood Brakes 13th place finisher).
USAC AMSOIL SPRINT CAR NATIONAL CHAMPIONSHIP RACE RESULTS: May 25, 2016 – Terre Haute, Indiana – Terre Haute Action Track – "46th Tony Hulman Classic"
PROSOURCE QUALIFYING: 1. Brady Bacon, 69, Dynamics-20.514; 2. Robert Ballou, 1, Ballou-20.882; 3. Chase Stockon, 32, 32 TBI-20.924; 4. Chad Boespflug, 98E, NineEight/EZR-21.087; 5. Justin Grant, 2E, Epperson-21.176; 6. Jon Stanbrough, 81, Stanbrough-21.219; 7. Thomas Meseraull, 66, Amati-21.219; 8. Kyle Cummins, 3R, Rock Steady-21.234; 9. Mitch Wissmiller, 1w, Wissmiller-21.313; 10. Jarett Andretti, 18, Andretti-21.330; 11. C.J. Leary, 17GP, Dutcher-21.350; 12. Landon Simon, 24, LSR-21.353; 13. Max McGhee, 17, McGhee-21.547; 14. Bill Rose, 6R, Rose-21.584; 15. Jerry Coons Jr., 10E, Edison-21.612; 16. Carson Short, 21, Short-21.631; 17. Shane Cottle, 57, Hazen-21.671; 18. Aaron Farney, 15F, Farney-21.711; 19. Dave Darland, 11, Walker/Curb-Agajanian-21.713; 20. Chris Windom, 5, Baldwin-21.777; 21. Jimmy Light, 23, Two-Three-22.034; 22. J.J. Hughes, 76, Hughes-22.097; 23. Matt Goodnight, 39, Goodnight-22.191; 24. Logan Jarrett, 29, Jarrett-22.248; 25. Tony DiMattia, 50, DiMattia-22.465; 26. Bret Mellenberndt, 97, Mellenberndt-22.687; 27. Cole Ketcham, 41K, Ketcham-22.817; 28. Isaac Chapple, 52, LNR-22.956; 29. Terry Babb, 8D, KCBJ-29.425; 30. Ken Drangmeister, 27, Drangmeister-NT.
SIMPSON RACE PRODUCTS FIRST HEAT: (8 laps) 1. Cottle, 2. McGhee, 3. Bacon, 4. Grant, 5. Light, 6. DiMattia, 7. Wissmiller, 8. Babb. 2:49.16
COMPETITION SUSPENSION (CSI) SECOND HEAT: (8 laps) 1. Farney, 2. Ballou, 3. Stanbrough, 4. Andretti, 5. Hughes, 6. Mellenberndt, 7. Rose, 8. Drangmeister. 2:47.61
BENIC ENTERPRISES THIRD HEAT: (8 laps) 1. Meseraull, 2. Darland, 3. Coons, 4. Leary, 5. Stockon, 6. Ketcham, 7. Goodnight. NT
INDY RACE PARTS FOURTH HEAT: (8 laps) 1. Short, 2. Windom, 3. Cummins, 4. Boespflug, 5. Jarrett, 6. Simon, 7. Chapple. 2:53.47
SEMI: (12 laps) 1. Stockon, 2. Wissmiller, 3. Simon, 4. Hughes, 5. DiMattia, 6. Rose, 7. Ketcham, 8. Chapple, 9. Jarrett, 10. Light, 11. Mellenberndt, 12. Goodnight. 13. Babb, 14. Drangmeister. NT
FEATURE: (30 laps) 1. Robert Ballou, 2. Thomas Meseraull, 3. Jon Stanbrough, 4. Brady Bacon, 5. Chris Windom, 6. Chase Stockon, 7. Shane Cottle, 8. Dave Darland, 9. Jerry Coons Jr., 10. Justin Grant, 11. Aaron Farney, 12. Chad Boespflug, 13. C.J. Leary, 14. Jarett Andretti, 15. Kyle Cummins, 16. Bill Rose, 17. J.J. Hughes, 18. Max McGhee, 19. Landon Simon, 20. Mitch Wissmiller, 21. Carson Short, 22. Tony DiMattia. NT
—————————-
FEATURE LAP LEADERS: Laps 1-16 Meseraull, Lap 17 Ballou, Laps 18-21 Meseraull, Laps 22-30 Ballou.
KSE RACING PRODUCTS/B & W AUTO MART HARD CHARGER: Chris Windom (20th to 5th)
NEW USAC AMSOIL SPRINT CAR NATIONAL CHAMPIONSHIP POINTS: 1-Bacon-804, 2-Meseraull-787, 3-Stockon-712, 4-Darland-684, 5-Leary-673, 6-Cummins-658, 7-Ballou-655, 8-Boespflug-618, 9-McGhee-559, 10-Grant-492.
NEXT USAC AMSOIL SPRINT CAR NATIONAL CHAMPIONSHIP RACES: June 7 – Bechtelsville, PA – Grandview Speedway – "Eastern Storm" – "Jesse Hockett Classic"