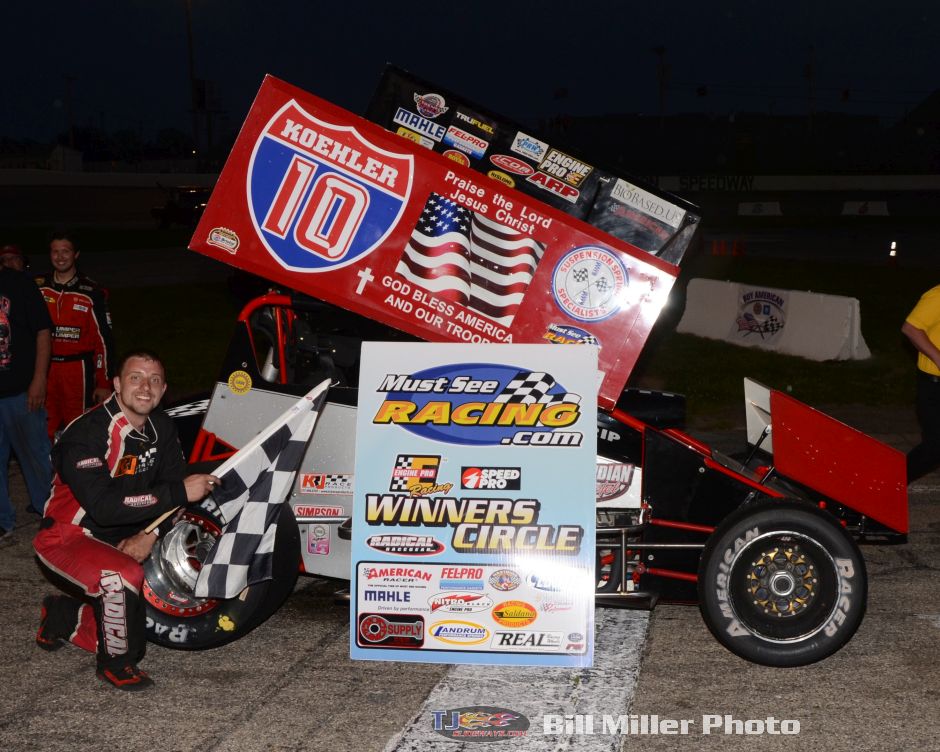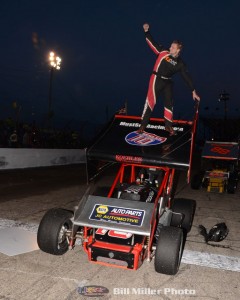 From Jacob Seelman
Anderson, IN — (May 25, 2016) — What a birthday it was for veteran car owner Ron Koehler on Wednesday night at Anderson Speedway.
Koehler, who celebrated turning 79 throughout the day with the Must See Racing Sprint Car Series presented by Engine Pro, was able to add a special present to the night when his driver Chris Neuenschwander took down a stunning maiden victory in the Ivy Tech 60 presented by Sam Pierce Chevrolet.
Neuenschwander took the lead from polesitter Jeff Bloom on the outside lane going into turn one and never looked back, leading all 60 laps of the A-main en route to his first-career series victory and ending the streak of Anderson victories for defending series champion Jimmy McCune at three.
"I've won here one other time in a winged car, but tonight is really special," an emotional Neuenschwander, who becomes the 16th different driver to win a Must See Racing feature, said in victory lane. "This was a great machine tonight. It was absolutely on a rail. Anyone probably could have won this race (looking on from the stands), that's how close the field was. But for us, this was just one of those nights where the car was right, the driver was right and the luck was right … and all of that put together got us a really big win."
"Ron's a really happy camper tonight," he added with a big grin. "This means a lot to him, too, and we're gonna celebrate this one. You can count on that."
Neuenschwander was shuffled up onto the front row after fast qualifier Jacob Wilson rolled a six on the inversion die, and the race winner said after the race that track position was key.
"Clean air helped us a lot in the race. The car was just fantastic; that's probably one of the best cars I've ever had to drive. I don't know if we could have come through the field, but we were out front and that made it work tonight."
The race's only yellow flag flew coming to complete lap two, when Brad Wyatt lost the right front wheel off his No. 81 Mike Blake Racing entry and narrowly missed hitting the turn one wall. While Wilson — who had a huge run on the outside — was in the process of passing McCune for the runner-up spot, the pass was negated by the caution flag.
That set up a mammoth battle between the two for the final 59 laps, who scrambled in and out of traffic and could not get away from each other as Neuenschwander deftly scooted away. By the time the checkered flag fell, the New Haven, Indiana driver was 1.5 seconds clear of McCune, who ultimately finished second and assumed the series points lead.
"I don't think there was a difference, tonight, honestly. He was just out in clean air and a little bit better," McCune admitted. "I got to him once but couldn't do anything with him, and then had a bit of a time keeping Wilson back there. All in all though, I'm just happy to be standing here on the frontstretch with a second-place finish after the way this car was driving earlier in the day. We worked on it and worked on it, and it was pretty good at the end."
Wilson rounded out the podium in third, and said after the race that he had the top lane working — the caution that set him back to third simply kept him from challenging.
"We could have kept up with Chris if we had gotten to second … but it just wasn't in the cards. I think I need to call in a favor to (track owner) Rick (Dawson) and have him make this place a little wider," Wilson joked. "I think that would have helped. We were trying to work it on the high lane — the car was great after we changed the drive line (before the feature) — but McCune just made it wide enough to keep us held down there."
Hometown favorite Aaron Pierce struggled and ended the night in fourth, the first car one lap down. Wisconsin's David Byrne, the fastest car from practice, rounded out the top five finishers.
Koehler, who came home eighth, said he was just thankful to finally put a car in Must See Racing victory lane — something he said he wished might happen during the driver's meeting, when series officials and his fellow drivers presented him with a special birthday cake and impromptu celebration.
"He's a great driver, and I'm thrilled to death that we're standing here tonight. I said to everyone earlier today that I wanted one of my cars in victory lane, and sure enough, here we are. It's my 79th birthday, but I'm happy enough that I feel like I'm 16 again! Just a fun race. I'm happy, and my cars aren't wrecked. That's the best part!"
Wilson kicked off the night by setting the Engine Pro Quick Time around the quarter-mile oval, posting a lap of 10.557 seconds (85.251 mph) in his No. 07 Mitch Smith Auto Services/Anderson Transport sprinter. Neuenschwander and Jerry Caryer split the two 10-lap heat races that served as a prelude to the night's feature action.
The Must See Racing Sprint Car Series returns to action on Friday, June 3 with their inaugural event at the half-mile Madison International Speedway in Oregon, Wisconsin.
For more information on Must See Racing, including results, points standings, driver and team information and more, visit www.mustseeracing.com.
RESULTS: Must See Racing Sprint Car Series; Ivy Tech 60 pres. by Sam Pierce Chevrolet; Anderson Speedway; May 25, 2016
Engine Pro Time Trials (best of two laps): 1. #07 – Jacob Wilson, 10.557 seconds (85.251 mph); 2. #40 – David Byrne, 10.593; 3. #88 – Jimmy McCune, 10.710; 4. #26 – Aaron Pierce, 10.768; 5. #10 – Chris Neuenschwander, 10.808; 6. #26 – Jeff Bloom, 10.832; 7. #7* – Joe Swanson, 10.883; 8. #75C – Jerry Caryer, 11.015; 9. #81 – Brad Wyatt, 11.095; 10. #0 – Christian Koehler, 11.771; 11. #10K – Ron Koehler, 12.010; 12. #71 – Brian Vaughn, 14.229.
Mahle Heat Race #1 (10 laps; all transfer): 1. Chris Neuenschwander, 2. Jimmy McCune, 3. Brad Wyatt, 4. Joe Swanson, 5. Ron Koehler, 6. Jacob Wilson
SpeedPro Heat #2 (10 laps; all transfer): 1. Jerry Caryer, 2. Aaron Pierce, 3. David Byrne, 4. Christian Koehler, 5. Jeff Bloom, 6. Brian Vaughn.
Ivy Tech 60 pres. by Sam Pierce Chevrolet & Engine Pro (60 laps): 1. Chris Neuenschwander, 2. Jimmy McCune, 3. Jacob Wilson, 4. Aaron Pierce, 5. David Byrne, 6. Joe Swanson, 7. Jerry Caryer, 8. Ron Koehler, 9. Jeff Bloom, 10. Christian Koehler, 11. Brian Vaughn, 12. Brad Wyatt.
Feature Lap Leaders: Neuenschwander 1-60.
Cautions: One (Lap 1)