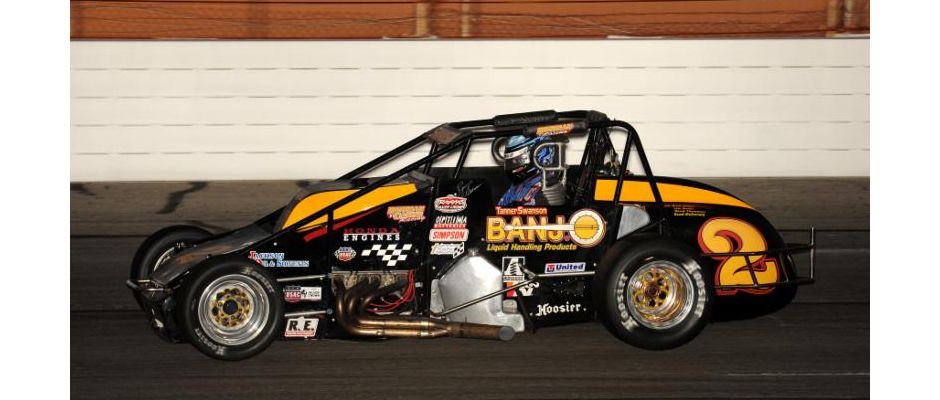 From USAC
In recent years, Tanner Swanson hasn't gotten behind the wheel of a racecar as often as he once did. Despite his limited schedule of races that one could count on a single hand, the 25-year-old Kingsburg, California driver makes each and every one of those opportunities count, specifically at Lucas Oil Raceway in Brownsburg, Indiana where Friday night he earned his fifth victory in his last six visits to the .686-mile paved oval at the "Carb Night Classic…The Race Before the 500". In the process, he tied Mike Bliss to become the winningest driver in USAC Silver Crown competition at Lucas Oil Raceway.
To put his domination in perspective, Tanner's only defeat in the past four seasons at Lucas Oil Raceway in a Silver Crown car came after leading the opening 99 and three-quarters of a lap in a race in July 2014 before David Byrne snuck by him for the win on the final corner.
However, early on in the night, it was not a simple cakewalk for Tanner after only managing a fourth-place qualifying run in ProSource Qualifying. Up front, it was three-time Lucas Oil Raceway Silver Crown winner Bobby Santos on the pole with Tanner's brother Kody Swanson, a one-time Lucas Oil Silver Crown winner and the previous night's victor at the "Hoosier Hundred" at the Indiana State Fairgrounds, alongside.
At the drop of the green flag, the top-three consisted of highly-accomplished pavement shoe Santos in the lead with K. Swanson and T. Swanson running one, two, three. By lap three, Tanner had got around Kody for the second spot. The three followed nose-to-tail, trying to maintain a quick pace, but also conserving the tires with a full load of fuel behind them.
On lap 21, fourth-running Jerry Coons, Jr. went for a scary ride after his throttle stuck at the end of the back straightaway. With nowhere to go and no time to slow the car down, Coons pummeled the SAFER barrier, leaving a trail of rubber against the pearly white wall from the entrance of three to between turns three and four. Coons was uninjured.
Tanner would size up Santos, peeking his nose alongside Santos multiple times in a bid for the top spot through the middle portion of the 100-lap event. But luck didn't seem to be on Tanner's side as yellow flags flew on multiple occasions just as Tanner appeared ready to pounce on Santos for the lead.
By lap 70, the trio of Santos, T.Swanson and K.Swanson were all running just feet from each other in a high-stakes, high-speed game of poker as each stayed within striking distance but trying not to show their hand quite yet.
Santos was able to withstand each challenge to his perch, but on lap 81, his car quickly slowed with apparent engine trouble, giving way to Tanner Swanson for the remaining 20 circuits.
From that point forward, Tanner went relatively unchallenged, making his way with ease around a handful of backmarkers in the final few laps to take the checkered flag over Kody, Chris Windom, first-time series starter Robert Stout, Aaron Pierce. Justin Grant came home 6th in his pavement Silver Crown debut while David Byrne, Joe Axsom, Shane Cockrum and Joe Liguori rounded out the top-10.
Throughout the 56-year history of Lucas Oil Raceway, there have been distinct eras of domination in USAC competition. In the last 20 years, when one showed up to the Brownsburg, Indiana oval, for a time, it seemed no one could beat names such as the aforementioned Mike Bliss and Bobby Santos, but also Dave Steele and Tracy Hines. In the mid-2010s, the name that strikes fear into competitors signing in at the pit window at Lucas Oil belongs to Tanner Swanson, who led the remaining 20 laps of Friday night's race to take the victory in his Bowman Racing/Bowman Properties – Bowman-Elmore Racing/Beast/Kistler Chevy.
"We were great on the long runs, but on the restarts, I was super tight all the time," Tanner recalled. "We lost our radios as soon as I went green, but I figured Kody was close and I was trying to make moves that wouldn't put us both in a bad spot. I hate to win one when the leader falls out, but I'm glad that this team and all their hard work paid off."
In the 46-year existence of USAC's Silver Crown division, Friday night's race marked just the fourth time that the series has raced on back-to-back nights. Kody Swanson once again proved to be the most versatile, following up Thursday night's "Hoosier Hundred" victory on the dirt with a second place run on the pavement one night later in the DePalma Motorsports/Radio Hospital – Champion Oil/Hampshire/Hampshire Chevy to extend his championship point lead to 24 over Chris Windom heading into June 10th's race at Williams Grove Speedway in Mechanicsburg, Pennsylvania.
"I always say I should win every night I get in this car and I mean it," Kody declared. "Tonight was one of those nights where I thought we'd maybe be able to double up. Tanner just does a phenomenal job and I hated to see Bobby (Santos) out because he was making Tanner press awfully hard. I was just hoping to capitalize late in the race because I thought we had that good of a car. With about 30 to go, the power steering started going out, so that made it tough, but the guys gave me a car that I could still handle despite that. But we'll take second. I think it's the first time in two years I've even been able to see that #02 car (of Tanner Swanson) here, so we're looking forward to coming back in July."
Canton, Illinois driver Chris Windom collected his third top-five finish in the three series races run thus far in 2016, finishing a season-best third on Friday night in his RPM-Fred Gormly/RPM Auto Enterprise/Beast/J & D Mopar.
"The car took off really well on the restarts; that's how I got by Pierce and Wilson early on," Windom said. "We just didn't have the four-tire grip that the #63 and the #02 had, but at the end, we came on a lot stronger. We just couldn't keep up with them for that long to be there at the end."
"Carb Night Classic" contingency award winners included Bobby Santos (ProSource Fast Qualifier), Shane Cockrum (KSE Hard Charger) and Shane Cottle (Wilwood Brakes 13th place finisher).
USAC SILVER CROWN CHAMPIONSHIP RACE RESULTS: May 27, 2016 – Brownsburg, Indiana – Lucas Oil Raceway @ Indianapolis – "Carb Night Classic"
QUALIFYING: 1. Bobby Santos, 122, DJ Racing-21.380; 2. Kody Swanson, 63, DePalma-21.449; 3. Jerry Coons Jr., 20, Nolen-21.462; 4. Tanner Swanson, 02, Bowman-21.516; 5. Robert Stout, 21, Bowman/Armstrong-21.533; 6. Aaron Pierce, 26, Pierce-21.546; 7. Chris Windom, 98, RPM/Gormly-21.653; 8. Jacob Wilson, 07, WBR-21.773; 9. David Byrne, 40, Byrne-21.832; 10. Joe Liguori, 99, Gormly-21.978; 11. Joe Axsom, 120, Nolen-22.032; 12. Justin Grant, 8, Carli-22.081; 13. Austin Nemire, 91. Hemelgarn-22.247; 14. Casey Shuman, 55, Bateman-22.432; 15. Shane Cottle, 81, Williams-22.550; 16. Shane Cockrum, 71, Hardy-22.751; 17. Tad Roach, 84, Spivey-NT; 18. Patrick Lawson, 2, Lawson-NT.
FEATURE: (100 laps) 1. Tanner Swanson, 2. Kody Swanson, 3. Chris Windom, 4. Robert Stout, 5. Aaron Pierce, 6. Justin Grant, 7. David Byrne, 8. Joe Axsom, 9. Shane Cockrum, 10. Joe Liguori, 11. Austin Nemire, 12. Casey Shuman, 13. Shane Cottle, 14. Jacob Wilson, 15. Bobby Santos, 16. Jerry Coons Jr., 17. Patrick Lawson. NT
——————————
FEATURE LAP LEADERS: Laps 1-80 Santos, Laps 81-100 T.Swanson.
KSE RACING PRODUCTS HARD CHARGER: Shane Cockrum
NEW USAC SILVER CROWN CHAMPIONSHIP POINTS: 1-K.Swanson-204, 2-Windom-180, 3-Cottle & Grant-159, 5-Coons & Byrne-141, 7-C.J. Leary-125, 8-Cockrum-121, 9-Shuman-117, 10-Bryan Clauson-110.
NEXT USAC SILVER CROWN CHAMPIONSHIP RACE: June 10 – Williams Grove (PA) Speedway – "Horn-Schindler Memorial"