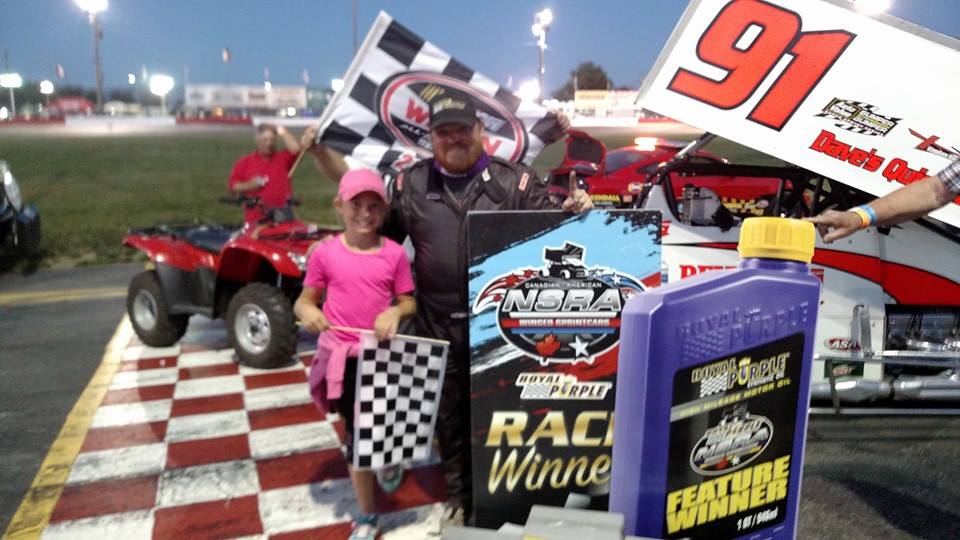 From Ben Deatherage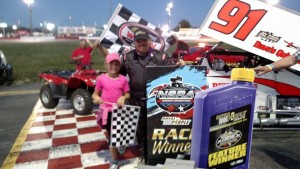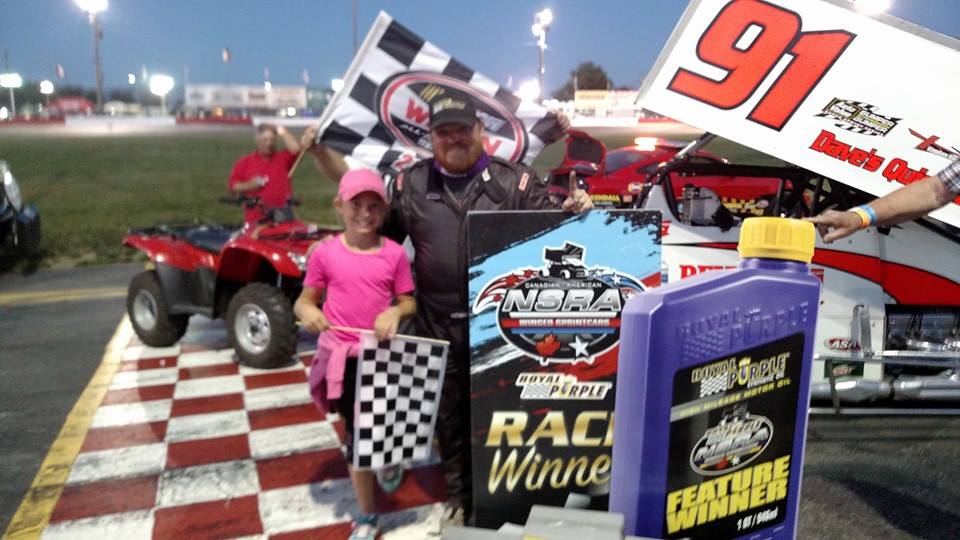 Meridian, ID — (June 3, 2016) —  Meridian Speedway would host the Royal Purple NSRA Sprint Series on Friday June 3rd for the first night of the BOB FM Diamond Cup presented by Star Diamonds Jewelry Boutique. Nineteen cars would pull into the pits from the states of Idaho, Oregon, Utah, Washington, and California along with the Canadian province of British Columbia.
In the main event Bryan Warf would take the lead right off of the bat. Warf, of Meridian in his Dave's Quick Lube/Oxarc Welding/Alan Marsh Travel Center #91 Beast, would set a rapid pace. The race would go non-stop from green to checkered with Warf leading every single lap to pick up night one of the Diamond Cup. It also marked the team's third consecutive victory after winning at both Meridian and Rocky Mountain Raceway, in West Valley City, Utah, last week..
The Rockmount Nassau Welding Solutions/Davis Auto Parts/WSK Machine/Oregon Tool & Supply #76 Beast, of Roseburg, Oregon driver Andy Alberding, was second followed by a hard charging Matt Hein, who is also from Roseburg and is the pilot of his Coast-line West insulation/Independent Motor Rebuilders/JR Standley Family #98H Beast, in third. The rest of the top five would consist of Cobble Hill, British Columbia teenager placing fourth, in the Rod Rendell owned Shark Racing Engines/Rendle Motorsports/Taylor Metal Craft/Millstone Heating and Sheet Metal #14 Beast, while crossing the line in fifth was Langley, British Columbia's Aaron Willison in his Rags to Riches Top Shop/Kick Ass Cookies/Serious Performance Race Engines #41 Stealth.
Matt Hein was fast time of the night while Robbie Price got the job done in the trophy dash. Heat race winners were Lonnie Adamson from Salt Lake City, Utah in the Local 222 Teamsters/Graco Models/UnderPressure Massage #12 Beast, Colton Nelson of Meridian in his Blimpie/NelKuBe #28 entry, and Caldwell's Matt Elliott in the Jackson Group Peterbuilt/Westside Bodyworks/Sign Shoppe #77 Beast. A 410 dash was held for King of the Wings legal cars and was won by Adamson.
This event is ran over a period of two nights with the top point earner declared the winner of the Diamond Cup. After one night of racing for the BOB FM Diamond Cup presented by Star Diamonds Jewelry Boutique Bryan Warf is the point leader for the ring. He has a slim four-point margin over defending Diamond Cup winner Andy Alberding.
Join us for night two of the BOB FM Diamond Cup presented by Star Diamonds Jewelry Boutique on Saturday June 4th. Pit Gates open at 10:30 AM, Push To Fire at 2:30 PM, Practice Rotation 2:45, Front Gates open at 4:00, and Racing is scheduled to being at 6:30. Tickets for Saturday night's action are $18.50 for adults. Be sure to check meridianspeedway.com for ticket pricing specials and text 'meridianspeed' to 84483 to get exclusive updates.
Be sure and stay up to date with the NSRA by visiting the series website at www.nsraracing.com. Also check out the official Facebook page and click "Like" to follow the tour via your favorite electronic devices.
Royal Purple is the proud title sponsor of the NSRA Pavement Sprint Car Series. Royal Purple manufactures high performance lubricants for most automotive, industrial, marine, motorcycle and racing applications. It is considered the best synthetic motor oil by many end users. For more information or to find a store that carries these wonderful products log on to www.royalpurpleconsumer.com.
Race Summary:
Royal Purple NSRA Race #2
BOB FM Diamond Cup presented by Star Diamonds Jewelry Boutique Night #1
Friday, June 3rd, 2016
Meridian Speedway
Meridian, Idaho
A Feature 1: 1. 91-Bryan Warf; 2. 76-Andy Alberding; 3. 98H-Matt Hein; 4. 14-Robbie Price; 5. 41-Aaron Willison; 6. 43-Kyle Bergener; 7. 66-Kyle Vantreight; 8. 32-Mitch Holte; 9. 12-Lonnie Adamson; 10. 28-Colton Nelson; 11. 45-Ken Hamilton; 12. 7-Randy Dubois; 13. 33A-Kyle Alberding; 14. 9-Jimmy Hamilton; 15. 23-Robert Stout; 16. 77-Matt Elliott; 17. 13-Stacey Jensen; 18. 1-Tony Thomas; (DNS) 8-Chris Ratterree
Heat 1: 1. 12-Lonnie Adamson; 2. 76-Andy Alberding; 3. 9-Jimmy Hamilton; 4. 14-Robbie Price; 5. 45-Ken Hamilton; 6. 13-Stacey Jensen
Heat 2: 1. 28-Colton Nelson; 2. 91-Bryan Warf; 3. 66-Kyle Vantreight; 4. 32-Mitch Holte; 5. 98H-Matt Hein; 6. 33A-Kyle Alberding
Heat 3: 1. 77-Matt Elliott; 2. 23-Robert Stout; 3. 66-Kyle Vantreight; 4. 32-Mitch Holte; 5. 98H-Matt Hein; 6. 33A-Kyle Alberding
Qualifying: 1. 98H-Matt Hein; 2. 91-Bryan Warf; 3. 14-Robbie Price; 4. 32-Mitch Holte; 5. 41-Aaron Willison; 6. 76-Andy Alberding; 7. 66-Kyle Vantreight; 8. 43-Kyle Bergener; 9. 45-Ken Hamilton; 10. 23-Robert Stout; 11. 7-Randy Dubois; 12. 12-Lonnie Adamson; 13. 77-Matt Elliott; 14. 28-Colton Nelson; 15. 33A-Kyle Alberding; 16. 9-Jimmy Hamilton; 17. 8-Chris Ratterree; 18. 1-Tony Thomas; 19. 13-Stacey Jensen