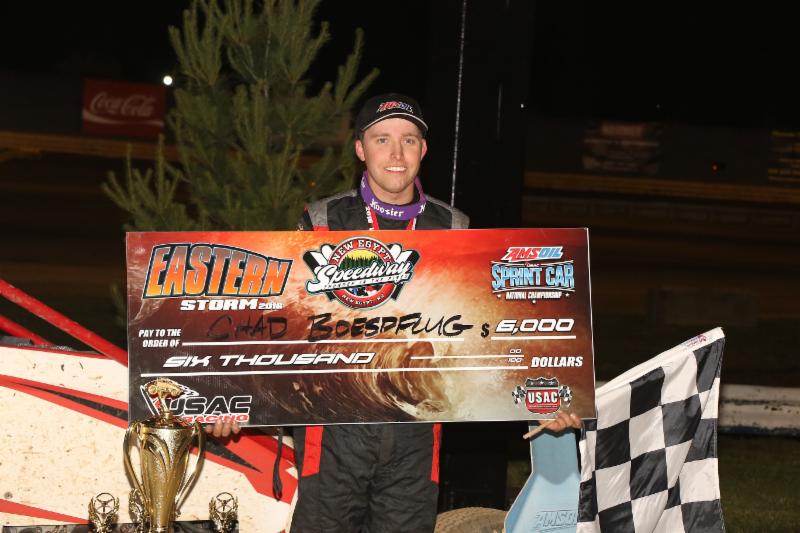 Plainfield, IN Wednesday June 15th, 2016
–  Chad Boespflug competed in his third Amsoil USAC Eastern Storm Tour this past week. A series of five nights of racing at five different track across Pennsylvania and New Jersey is the slate of USAC Eastern Storm 
competition
. Night one Boespflug and his NineEight Motorsports / EZR Team got off on the wrong foot at Grandview Speedway with a poor qualifying effort that saw them behind all night as 
qualifying
 is huge being it sets the field for every event that follows. Qualifying anywhere outside of the top 10 with USAC means you will start deep in the feature even if one makes the transfer into the main. Boespflug and Crew Chief Davey Jones worked to improve the car for qualifying the remainder of the week. The new Maxim chassis and fresh Claxton engine combination had what it took to put together good qualifying runs after tweaking a few thing. The adjustments made were good for a 3rd, two 5th's, and 6th place in ProSource qualifying on nights two through five.
Although the results did not show the best on paper for Boespflug he did manage to 
finish
 just outside the top 10 at Grandview finishing 12th and 
maintained
 a top 10 finish at Lincoln 
finishing
 9th. The strong qualifying runs worked to Boespflug's advantage making the feature invert to start within the top six the final three nights of racing.

Night three took the Eastern Storm tour across the Delaware river from Pennsylvania into the Garden State of New Jersey to New Egypt Speedway. Boespflug had a fast race car right out of the gate topping the time chart in hot laps, then backing it up with a 5th quick time trial effort. Boespflug rolled out for the heat race at NES in the fifth position and was fast yet again finding momentum and making his way into the third position before the checkers fell. The feature inversion placed Boespflug outside front row for the start of the 30 lap AMain. CJ Leary grabbed the early race lead as Boespflug trailed. An early race caution was all that Boespflug needed to make his move around Leary to take over the race lead. Boespflug was able to hold off Robert Ballou and hard charging Bryan Clauson to pick up his second Amsoil USAC National Win of the season and first career win in the Garden State of New Jersey.

Night four and five of the east coast swing saw the tour traveling back into Pennsylvania to Port Royal Speedway and Susquehanna Speedway. Two nights that Boespflug and the team would rather forget as strong top 5 feature runs were both cut short due to mechanical issues.

"Coming off the win at New Egypt we knew this new Maxim was going to be good the rest of the week, and it was. Things just didn't go our way at Port and Susky. Both nights I feel we had a car capable of finishing in the top 5 where we were running, if not on the podium. A broken rocker arm sent us home early Saturday and a part failure ended our night once again Sunday sending us home with a wrecked race car. I could not turn and drove into the turn one wall running third. Ending any night with a junked car is frustrating, but while running up front is even worse. We will regroup and rebuild this week before heading to the Midwest for four days next week. I cannot thank my guys and all of our partners that made this week possible enough, without them this trip would not have been possible. " -Boespflug reflects on the ups and downs of Eastern Storm. 
Thank You to All Eastern Storm Supporting Partners:
Capitol Renegade, Capitol Custom Trailers, and Chip Rupp.
Thank You to All Continued Supporting Partners:
Amsoil, Bell Helmets, Butlerbuilt Seats, B & W Auto Mart, Capitol Renegade, Capitol Custom Trailers, Chip Rupp, Claxton Engines, Creative Finishing, DLG, FK Indy, Hinchman Indy, HRP, Indy Race Parts, Manvel Motorsports, Maxim Racing, Midwest Shades, PAC Springs, RevvedUp Industries, Rockwell Time, Shaws, and STIDA.
Race Results:

USAC at Grandview Speedway: 6/7: Qualifying: 21th / 30 Cars – Heat Race: S 1st F 1st – AMain: S 19th F 12th

USAC at Lincoln Speedway: 6/8: Qualifying: 3rd / 29 Cars – Heat Race: S 6th F 6th – AMain: S 7th F 9th

USAC at New Egypt Speedway: 6/10: Qualifying: 5th / 28 Cars – Heat Race: S 5th F 3rd – AMain: S 2nd F Won

USAC at Port Royal Speedway: 6/11: Qualifying: 5th / 26 Cars – Heat Race: S 5th F 5th – AMain: S 3rd F DNF

USAC at Susquehanna Speedway: 6/12: Qualifying: 6th / 26 Cars – Heat Race: S 5th F 3rd – AMain: S 2nd F DNF