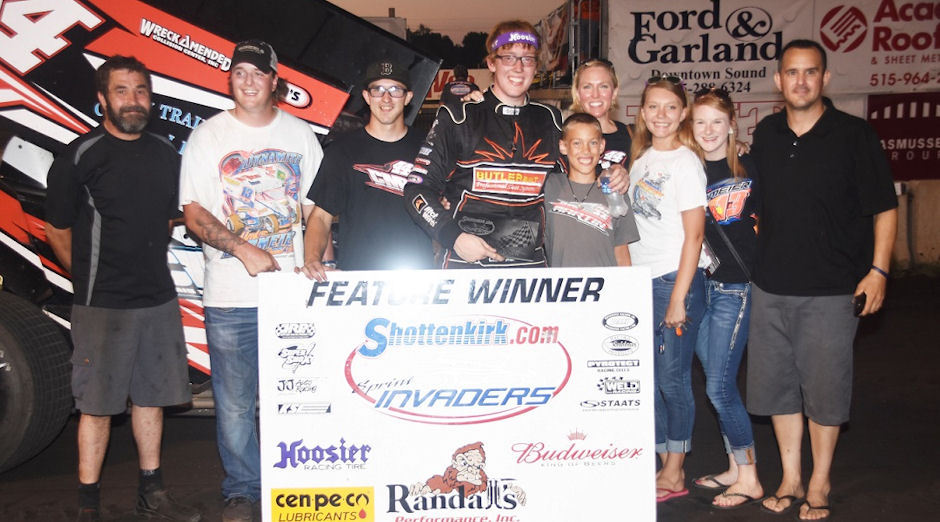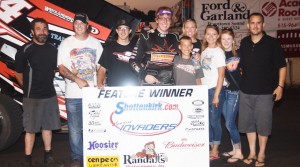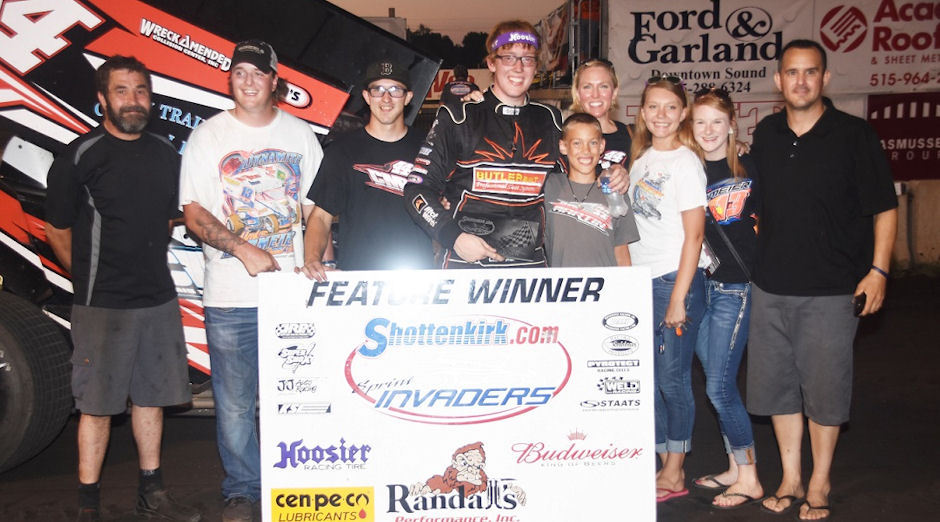 By Bill W
Des Moines, IA, June 22, 2016 – Chris Martin became the first driver with the Shottenkirk.com Sprint Invaders with a repeat win this season by driving the Chris Martin Racing #44 to victory Wednesday night at the Iowa State Fair Speedway in Des Moines. The win was worth $1,500 to the 18-year-old driver from Ankeny, Iowa.
Martin shot out to the early lead in the 20-lap feature event, ahead of Jon Agan, and John Schulz, who surged from sixth to third. Agan's run was short-lived, however, on a night when his sponsor, Dee Zee Manufacturing, was sponsoring the race night. The Knoxville driver would pull to the infield and retire on lap three.
Tim Moore would spin shortly after that, and bring the first caution of the event. The restart saw Martin leading Schulz, Jarrod Schneiderman, Josh Schneiderman and Austin Johnson back to green. Though Russ Hall pressured Johnson, the top five remained the same through the 12-lap mark when Nate Van Haaften came to a stop in turn four.
Johnson shot under Josh Schneiderman to take fourth on the restart. Hall would spin while running sixth with five laps to go, bringing the final yellow flag of the event. Schulz would take a shot on the low side of one and two, but Martin would pull away for his third career win with the Sprint Invaders. Martin and Schulz checkered in front of Jarrod Schneiderman, Johnson and Josh Schneiderman. Dustin Clark, Hall, hard-charger Dave Getchell, John Greenwood and Tim Moore rounded out the top ten.
The popular two heat format was used, with the second set inverted by the finish of the first set. Martin swept his heats, the second from the tail. Johnson and Van Haaften won the others. Agan won the Dash.
"The race on Friday (at Eldon when Schulz passed him for the win) really hurt," said Martin in Victory Lane. "Today, I was determined and we were here with a purpose. We came in here with a full head of steam. It's really cool to win in front of a home crowd only living ten minutes up the road. The car was just on rails tonight. I couldn't complain about one thing."
"Track position on this place is everything," said Schulz. "We got a heck of a good start. I don't know what happened to Jon, but he fell out. After that, we just kind of got in line. I told myself I wouldn't be happy unless I took one shot at him. He didn't bobble and was running flawlessly. The top was definitely the place to be. Starting sixth and running second…this is one place I've never been good at. We'll take it tonight."
"It was kind of one-lane around the top," said Jarrod Schneiderman. "I was kind of a sitting duck until I could get to the top. There wasn't a whole lot of passing and we fell in line. I was happy with the way things went. To start our night, we had a tire blow out and rip the fender off our dually. So this was not a bad end to our night. We've got about 25 nights on this motor, and we're just trying to finish out this Sprint Invaders season. We want that first win really bad."
The Shottenkirk.com Sprint Invaders next event will be Tuesday, July 14 at Cedar County Raceway in Tipton. For more information on the Shottenkirk.com Sprint Invaders, visit www.SprintInvaders.com!
Results
Shottenkirk.com A main (started), 20 laps: 1. 44, Chris Martin, Ankeny, IA (2) 2. 99, John Schulz, West Burlington, IA (6) 3. 3G, Jarrod Schneiderman, West Burlington, IA (1) 4. 81, Austin Johnson, Pleasant Hill, IA (5) 5. 49, Josh Schneiderman, West Burlington, IA (3) 6. 16, Dustin Clark, Agency, IA (8) 7. 29, Russ Hall, Pleasant Hill, IA (9) 8. 83, Dave Getchell, Sperry, IA (14) 9. 1st, John Greenwood, Woodward, IA (13) 10. 10T, Tim Moore, Rock Island, IL (10) 11. 19, Rob Weuve, Oakland Acres, IA (11) 12. 85, Chase Wanner, Agency, IA (12) 13. 3, Nate Van Haaften, Otley, IA (7) 14. 4, Jon Agan, Knoxville, IA (4). Lap Leader: Martin 1-20. KSE Hard-charger: Getchell.
Randall's Performance Heat one (started), 8 laps: 1. Austin Johnson (2) 2. Jarrod Schneiderman (3) 3. Dustin Clark (6) 4. Tim Moore (1) 5. Rob Weuve (7) 6. Chase Wanner (4) 7. Dave Getchell (5)
CenPeCo Lubricants Heat two (started), 8 laps: 1. Chris Martin (1) 2. Jon Agan (3) 3. Josh Schneiderman (2) 4. John Schulz (4) 5. Russ Hall (6) 6. Nate Van Haaften (7) 7. John Greenwood (5)
Fraise Mowersports Heat three (started), 8 laps: 1. Nate Van Haaften (2) 2. Jon Agan (6) 3. John Schulz (4) 4. Austin Johnson (7) 5. Dustin Clark (5) 6. Rob Weuve (3) 7. Dave Getchell (1)
Dee Zee Manufacturing Heat four (started), 8 laps: 1. Chris Martin (7) 2. Jarrod Schneiderman (6) 3. Russ Hall (3) 4. Josh Schneiderman (5) 5. Chase Wanner (2) 6. John Greenwood (1) 7. Tim Moore (4)
Budweiser King of Beers – Golden Eagle Distributors Shake-up Dash (started), 6 laps: 1. Jon Agan (1) 2. Austin Johnson (2) 3. John Schulz (4) 4. Jarrod Schneiderman (3) 5. Chris Martin (6) 6. Josh Schneiderman (5)
Contingencies
Pyrotec – Russ Hall
Saldana Racing Products – Tim Moore
Kreitz Oval Track Products – Jon Agan
Photo: Chris Martin and the team celebrate in Victory Lane in Des Moines (Conrad Nelson Photo)