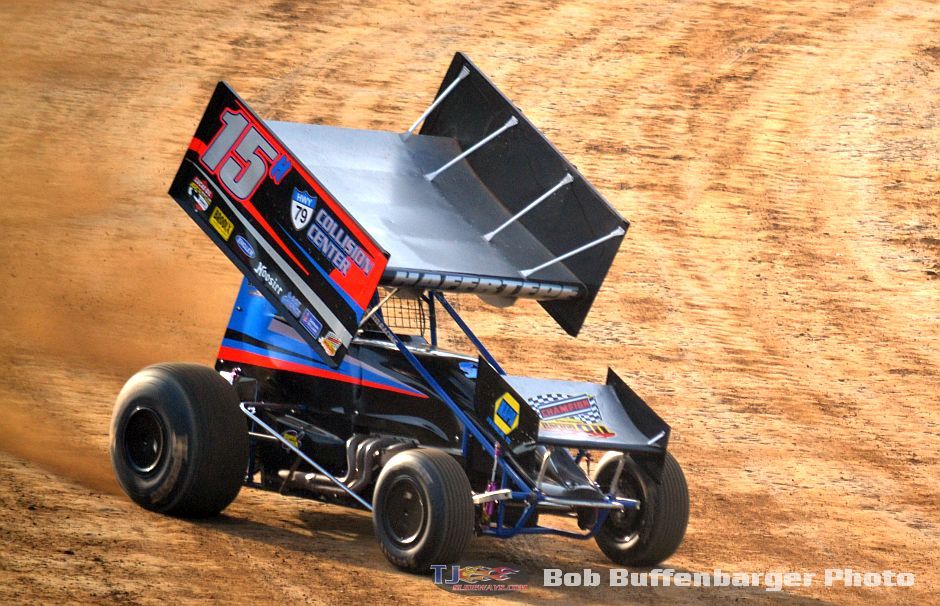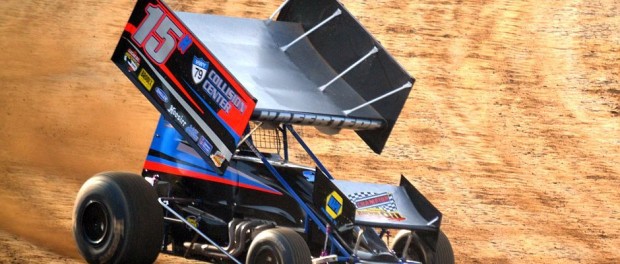 From Bryan Hulbert
When you're hot, you're hot and right now, Sam Hafertepe, Jr. is smoking the Lucas Oil American Sprint Car Series presented by the MAVTV Motorsports Network as the Sunnyvale, Texas native picked up his fifth National Tour win of the 2016 season on night one of the second annual Fred Brownfield Classic.
Sam's first National Tour triumph at the Grays Harbor Raceway, and 11th podium in 16 National Tour A-Mains this season, the Keith Dobbs Motorsports No. 15h rolled from fourth in Friday's A-Feature.
Riding third as Johnny Herrera and Wayne Johnson occupied the top two positions; the leaders picked off the fifth round with Herrera slipping over the cushion in turns one and two. Slipping the bottom in the No. 2c, Johnson opened the door wide for Hafertepe, as the battle went three wide with the advantage going to Sam Hafertepe, Jr.
"This is pretty awesome. To start there in the fourth spot, you know, Wayne and Johnny were pretty tough early so we were just trying to run where they weren't and Johnny just went a little high off of two, and it was a little tough to navigate that corner, but that opened the door for me especially when Wayne kind of missed the bottom too," said Hafertepe of the victory.
"That got us out in front and I knew once we got to clean air and got the wing back a little bit, we were going to be okay. The car was really good."
Able to keep Wayne Johnson at bay on several restarts, the field found slower traffic in the closing laps, but it was in short lived as the caution flew on Lap 18. Strong on the bottom line during restarts, Wayne Johnson rolled nearly even with Hafertepe several times, but would end up settling for a second place showing in the City Vending No. 2c.
"You know, hats off to Sam on those guys. They've been rolling here lately. Just to be on the same lap as those guys here as bad as we've been lately is great," said Wayne of his runner up finish.
"The car's been working good. Buddy, Ken, and Slip have been working their butts off. We changed cars here about a month ago and this car seems to be way better than the other one. We're just trying to get her dialed in, but I don't feel like we needed that caution there with about six or seven to go. I thought we had something for Sam there."
Wayne's runner-up finished shot him from seventh in the standings to fourth.
Dropping back to fifth after leading early on, Johnny Herrera came back in the closing laps to claim third in the Mesilla Valley Transportation No. 45x.
"We got there at the end. We started out good, I just got into those holes on the bottom the first couple of laps just searching; trying to find the right part of the race track to run and by that time I made a couple mistakes, and those guys got by me. After that, I just kind of settled in. We weren't real good with the car, but we'll take a third out of it and work on it for tomorrow night."
Coming from ninth, Seth Bergman steadily worked his way forward. Cracking the top-five on Lap 17, the Washington native grabbed away the final transfer into Saturday's A-Feature from Aaron Reutzel on the final lap as Aaron was having to handle a very erratic car as a Left Front Radius Rod Bolt broke in the closing laps.
Having to make the car as wide as possible, Aaron was able to hold into a fifth place finish, but will have to bring out a brand new car as the No. 87 suddenly snapped around after the checkered flag, right in the line of J.J. Hick. The two hit hard nose to nose. Chase Goetz was also caught up in the crash. All three drivers were okay.
Henry Van Dam crossed sixth with J.J. Hickle credited with seventh. Logan Forler from 16th ran to eighth with Jay Cole ninth. In his first trip to the Grays Harbor Raceway in the Van Dyke Motorsports No. 5h, Cory Eliason rounded out the top-ten.
A field of 39 drivers were on hand for the first night of the second annual Fred Brownfield Classic, yielding five Heat Races that went to Sam Hafertepe, Jr., Robbie Price, Reece Goetz, Jay Cole, and J.J. Hickle. A pair of B-Mains were topped by Justin Youngquist and Roger Crockett. The night's only Provisional start was used by Matt Covington.
The Fred Brownfield Classic continues on Saturday, July 2 with races getting underway at 7:00 P.M. (PDT). For more information, log onto http://www.graysharborraceway.com.
For continued updates on the Lucas Oil ASCS presented by the MAVTV Motorsports Network, log onto http://www.ascsracing.com.
Race Results:
ASCS National
Grays Harbor Raceway – Elma, Wash.
2nd annual Fred Brownfield Memorial
Friday, July 1, 2016
Car Count: 39
ButlerBuilt Heat Races (8 Laps, Top 16 in Passing Point advance to the A-Main)
Heat 1 (8 Laps): 1. 15H-Sam Hafertepe Jr[4]; 2. 18-Jason Solwold[3]; 3. 45X-Johnny Herrera[8]; 4. 9-Shawn Rice[1]; 5. 44NZ-Daniel Anderson[2]; 6. 33-Colton Heath[6]; 7. 20-Travis Jacobson[7]; 8. 42-Devin Madonia[5]
Heat 2 (8 Laps): 1. 21-Robbie Price[1]; 2. 31C-Justyn Cox[3]; 3. 2C-Wayne Johnson[7]; 4. 2L-Logan Forler[6]; 5. 2JR-Kelly Miller[2]; 6. 17-Cameron (Cam) Smith[8]; 7. N8-Nate Vaughn[5]; 8. 5-Brian Boswell[4]
Heat 3 (8 Laps): 1. 9R-Reece Goetz[2]; 2. 39C-Travis Rilat[3]; 3. 94-Steven Tiner[1]; 4. 91-Chase Goetz[4]; 5. 11-Roger Crockett[7]; 6. 51-Bricen James[5]; 7. 97R-Jason Reed[8]; 8. 33S-Lance Sargent[6]
Heat 4 (8 Laps): 1. 0J-Jay Cole[2]; 2. 33V-Henry VanDam[5]; 3. 23-Seth Bergman[6]; 4. 44-Jake Helsel[7]; 5. 52-Blake Hahn[3]; 6. 11M-Evan Margeson[8]; 7. 8X-John Stuart[4]; 8. (DNF) 99-Skylar Gee[1]
Heat 5 (8 Laps): 1. 3-J.J. Hickle[2]; 2. 87-Aaron Reutzel[4]; 3. 5H-Cory Eliason[5]; 4. 22C-Trevor Cook[3]; 5. 56-Justin Youngquist[7]; 6. (DNF) 9A-Luke Didiuk[6]; 7. (DNF) 95-Matt Covington[1]
BMRS B-Feature(s) (12 laps, top 3 advance to the A-Feature)
B Feature 1 (12 Laps): 1. 56-Justin Youngquist[2]; 2. 94-Steven Tiner[1]; 3. 52-Blake Hahn[5]; 4. 22C-Trevor Cook[3]; 5. 95-Matt Covington[10]; 6. 11M-Evan Margeson[4]; 7. 2JR-Kelly Miller[6]; 8. 97R-Jason Reed[8]; 9. 9A-Luke Didiuk[7]; 10. 42-Devin Madonia[11]; 11. N8-Nate Vaughn[9]; 12. (DNF) 99-Skylar Gee[12]
B Feature 2 (12 Laps): 1. 11-Roger Crockett[1]; 2. 91-Chase Goetz[2]; 3. 20-Travis Jacobson[8]; 4. 33-Colton Heath[6]; 5. 51-Bricen James[7]; 6. 44NZ-Daniel Anderson[5]; 7. 9-Shawn Rice[4]; 8. 33S-Lance Sargent[10]; 9. 8X-John Stuart[9]; 10. (DNF) 17-Cameron (Cam) Smith[3]; 11. (DNF) 5-Brian Boswell[11]
Protect the Harvest A-Feature (25 Laps, Top 4 lock into Saturday's A-Main)
A Feature (25 Laps): 1. 15H-Sam Hafertepe Jr[4]; 2. 2C-Wayne Johnson[3]; 3. 45X-Johnny Herrera[1]; 4. 23-Seth Bergman[9]; 5. 87-Aaron Reutzel[6]; 6. 33V-Henry VanDam[2]; 7. 3-J.J. Hickle[5]; 8. 2L-Logan Forler[16]; 9. 0J-Jay Cole[7]; 10. 5H-Cory Eliason[14]; 11. 11-Roger Crockett[18]; 12. 9R-Reece Goetz[8]; 13. 52-Blake Hahn[21]; 14. 18-Jason Solwold[11]; 15. 31C-Justyn Cox[12]; 16. 94-Steven Tiner[19]; 17. 21-Robbie Price[10]; 18. 56-Justin Youngquist[17]; 19. 91-Chase Goetz[20]; 20. 44-Jake Helsel[15]; 21. (DNF) 39C-Travis Rilat[13]; 22. (DNF) 20-Travis Jacobson[22]; 23. (DNF) 95-Matt Covington[23]
Lap Leader(s): Johnny Herrera 1-4; Sam Hafertepe, Jr. 5-25
FSR High Point Driver: Sam Hafertepe, Jr.
Hard Charger: Logan Forler +8
Provisional(s): Matt Covington
2016 ASCS National Driver Standings (Top 10): 1. Sam Hafertepe, Jr. 2,143; 2. Johnny Herrera 2,039; 3. Logan Forler 1,885; 4. Wayne Johnson 1,855; 5. Aaron Reutzel 1,852; 6. Blake Hahn 1,829; 7. Seth Bergman 1,818; 8. Matt Covington 1,790; 9. Brad Loyet 1,498; 10. Josh Baughman 1,380;