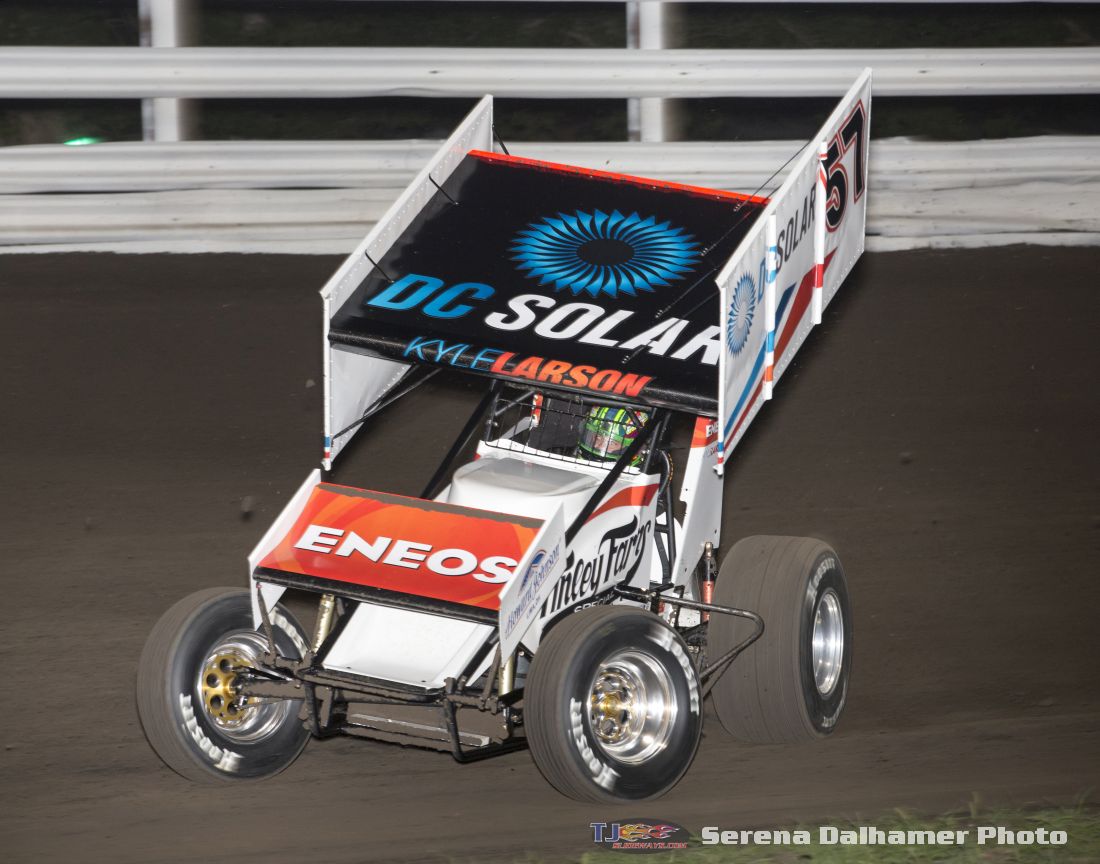 By T.J. Buffenbarger
KNOXVILLE, Iowa – (August 13, 2016) – Kyle Larson used the time off from his day job with the NASCAR Sprint Cup Series to win the B-Main during the 5-hour ENERGY Knoxville Nationals presented by Casey's General Store. Larson took the lead with two laps to go for the victory.
Blaney and Ian Madsen raced for the lead through turns one and two and down the backstretch. Going into turn three Madsen got very sideways, but was able to gather up the car. After that the caution flag appeared for Danny Dietrich's car backwards against the fence on the front stretch. Dietrich's car suffered too much damage to continue. During that caution C-Main winner Davey Heskin also went to the work area and was unable to make repairs for the restart.
During the restart Blaney and Madsen crossed lines with Blaney coming out with the lead. Behind Blaney the race for second was torrid with Madsen and Larson swapping the position back and forth on each end of the race track for multiple laps until Larson was able to pull away on lap six.
While Blaney, Larson, and Madsen pulled away Wayne Johnson found himself under siege for the final transfer spot by Lynton Jeffrey. Jeffrey made his move on lap 15 to take the spot from Johnson off turn two.
Jeffrey could not rest though as 12th starting Logan Schuchart was on the move. Schuchart quickly disposed of Johnson and challenged Jeffrey for the final transfer spot. With four laps to go Schuchart got a great drive off of turn four to drive by Jeffrey for the second spot.
Once the transfer spot was secured Larson got a run on Blaney and passed him for the lead with two laps to go using the bottom of the track. Larson then drove away for the victory over Blaney, Madsen, and Schuchart.
56th Annual 5-Hour Energy Knoxville Nationals presented by Casey's General Stores Finale
Knoxville Raceway
Knoxville, IA
Saturday August 13, 2016
B-Main (22 Laps): 1. 57 – Kyle Larson, 2. 1H – Dale Blaney, 3. 18 – Ian Madsen, 4. 1S – Logan Schuchart, 5. 12 – Lynton Jeffrey, 6. 13JT – Mark Dobmeier, 7. 2C – Wayne Johnson, 8. 51S – Stevie Smith, 9. 55 – Brooke Tatnell, 10. 83 – Joey Saldana, 11. 19M – Brent Marks, 12. 49X – Tim Shaffer, 13. 1ST – Gary Taylor, 14. 93 – Sheldon Haudenschild, 15. 7D – Dustin Selvage, 16. 09 – Matt Juhl, 17. 21H – Cap Henry, 18. 17B – Bill Balog, 19. 99 – Brady Bacon, 20. 2M – Matt Moro, 21. 7W – Tasker Phillips, 22. 10 – Dakota Hendrickson, 23. 29 – Danny Dietrich, 24. 56N – Davey Heskin. (First four finishers transferred to the A-Main)