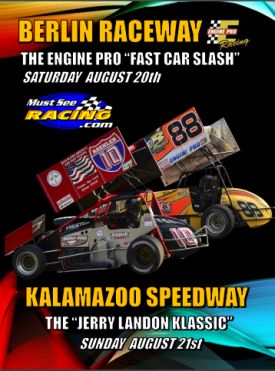 From Must See Racing
HOLLY, Mich. – The Must See Racing Sprint Car Series is set for their biggest weekend of the season, with two traditional Michigan tracks set to take center stage in a blockbuster doubleheader for series title sponsor Engine Pro.
Race 10 and 11 on the calendar see the winged warriors tackling the .4375-mile Berlin Raceway on Saturday, Aug. 20 before heading to the slightly-smaller, three-eighths mile Kalamazoo Speedway on Sunday, Aug. 21
Berlin has been a staple venue for the series, appearing on every season calendar at least once with the exception of MSR's inaugural season in 2010. In all, seven prior MSR features have been held at the Marne facility, with two-time series champion Brian Gerster winning the series' most recent appearance in August of last year.
Saturday's Berlin race will also feature a special addition to the race format in the Engine Pro Fast Car Slash. While standard hot laps, two-lap time trials, eight lap heat races, a B-Main (if necessary) and the 30 lap A-Main will all be run as normal, the Fast Car Slash will provide an extra twist in determining the feature lineup.
The driver who sets quick time in qualifying will roll a die to determine whether the fastest six or eight drivers will compete in the eight-lap dash. Eligible drivers must be among the five transfers out of their respective heat race, and any holes following the heats will be filled by the next-fastest driver(s) from qualifying.
Once the green flag drops on the Fast Car Slash, drivers will look to pass the field en route to victory and a $300 bonus, with any driver who is passed on-track in the eight lap event eliminated and slotted into the starting grid based on their order of elimination. All drivers who survive elimination will line up for the feature based on their finishing order from the Fast Car Slash, with eliminated drivers following behind them.
The event is always a fan-favorite when the MSR field hits the track at Berlin, and will no doubt provide some of the most intense action of the night during the Berlin program.
"The Fast Car Slash is a staple of our fall visit to Berlin, and we're excited to have it back once again with our partners at Engine Pro," said MSR Founder and President Jim Hanks. "This addition to the format puts the drivers more 'in control' of their starting spots and gives the fans one more thrilling race to view before the main event. We're looking forward to seeing who can survive the Slash and start up front on Saturday night!"
On Sunday, the fast three-eighths-mile Kalamazoo oval makes its return to the series after a one year hiatus and for the fifth time overall with the running of the Jerry Landon Klassic featuring the Engine Pro 50.
In MSR history, there has never been a repeat winner at Kalamazoo, with four different drivers visiting Engine Pro Victory Lane in four prior appearances. Defending series champion and current points leader Jimmy McCune won the most recent Kalamazoo MSR feature in 2014.
The Kalamazoo racing card will also feature the Michigan Traditional Sprint Series, putting winged and non-winged pavement sprint cars on the same program for the first time ever in the state of Michigan, as well as the Midwest Compact Touring Series and the POWRi Division II Midwest Midget Series.
In addition, event promoters Windy City Promotions will give away a cash prize to one lucky fan at Kalamazoo, starting at $1,000 if attendance for the night is 2,000 fans or greater. For every 500 additional fans in the facility, another $1,000 prize will be given away to a fan in attendance. If attendance reaches 5,000 fans, one fan will receive a $5,000 prize as a result.
"I truly believe in giving back to our race fans," said promoter Andy Jach. "Without the support of our great fans we wouldn't be able to put this huge event on, and we're also excited to be partnering with the Must See Racing sprint cars again on one of our event programs. You won't want to miss this night."
Drivers expected to be in attendance for the blockbuster two-day weekend include McCune, recent Owosso Speedway winner Jason Blonde, Canadian star Ryan Litt, Anderson (Ind.) Speedway winner Chris Neuenschwander and outlaw late model star-turned sprint car racer Tyler Roahrig.
Berlin's race program opens the gates at 1 p.m, with hot laps rolling at 3, qualifying at 5, the pre-race show at 6 and racing starting at 6:30.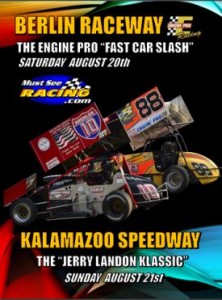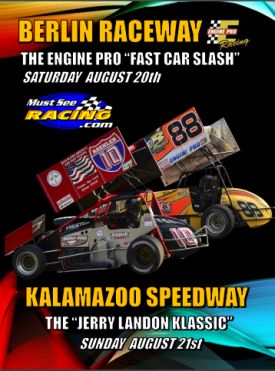 For Kalamazoo, gates open at 11 a.m., with practice kicking off at 1:30 p.m. Qualifying follows at 4 and racing begins at 6.
For more information on Must See Racing, including driver and team profiles, the latest schedule updates, race reports and more, visit www.mustseeracing.com.