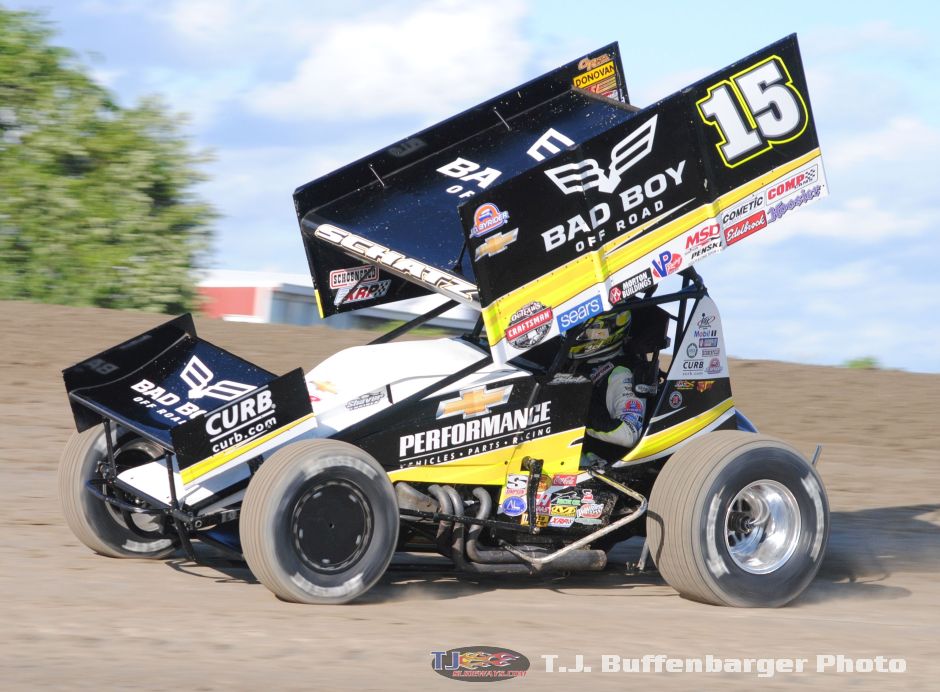 From Tony Veneziano
GRAND FORKS, N.D. (August 26, 2016) — Donny Schatz scored a pair of sweeps on Friday night with the World of Outlaws Craftsman® Sprint Car Series at River Cities Speedway in his home state of North Dakota. First, he completed a clean sweep of the night, setting fast time, winning a heat race, winning the dash and winning the 40-lap A-Feature. Second, he completed a sweep of both legs of the Gerdau Northern Tour at River Cities Speedway for 2016.
The win for Schatz was his fourth straight with the World of Outlaws Craftsman Sprint Car Series at the high-banked, action-packed bullring. In his career, the seven-time and defending Outlaws champion has now won eight times with the series at the track.
"This race team is incredible, it's not me," said Schatz of his success at River Cities Speedway. "The things they think of to make this race car better is amazing. I just have a habit of having a dumb way of driving it. I like it laying on the right rear like the late model. It really works, especially here. Sunday at Angell Park, I thought I had the best race car I had ever driven. That thing was awesome, but tonight, it was unbelievable. I think one of my eight-year-old nieces could have won that race in that race car. This race team is on their game. It's what they do, day in and day out. I'm just the lucky guy that gets to drive it."
Schatz started on the pole and led from the drop of the green flag. The first caution of the night fell on the second lap. He chose the low side of the track on the double file restart and opened a quick lead, as Logan Schuchart, Brad Sweet and David Gravel waged a side-by-side battle for the second spot for several laps. The second and final yellow flag of the night flew on lap-13, with the remainder of the race going green, putting Schatz in heavy lapped traffic for most of the duration of the 40-lap contest in his Bad Boy Off-Road J&J.
"It was fun in traffic," said Schatz. "If you're not leading and in second or third, you want to use that traffic to your advantage to try to move around. When you are leading, it's what you look forward to and try not to make mistakes, because it can gap you between yourself and the field. I could run the top and the bottom and threw enough stuff off the bottom that you could run in the middle. We were lapping some really, really good cars."
Schatz now has won 17 A-Feature events in his career with the World of Outlaws Craftsman Sprint Car Series in his home state of North Dakota, at four different tracks. He has one more chance to add to that on Sunday at his home track of Nodak Speedway in Minot.
"I'm a damn proud North Dakotan," said Schatz. "This state is where I grew up. We are fortunate in North Dakota to have a lot of great race tracks. Everybody needs to keep that in mind and keep supporting them. This is a part of the country that still has a lot of dirt track racing and it's disappearing in other parts of the country. It's strong here and let's keep it that way."
Brad Sweet picked up his third consecutive podium finish over the last week and a half, as he crossed the line second. After battling Schuchart and Gravel in the early going, Sweet moved into second on the seventh lap. He was able to gain a little ground on Schatz in traffic in the middle portions of the race, but was never able to gain enough ground to make a bit for the lead.
"Donny (Schatz) was awfully good, like he's been the last four or five times here," Sweet shared. "It's tough to beat him at one of his home state tracks, just like any other place. We are pretty happy with how the car handled tonight. To be up here on the front straightaway with Donny is all good. We are still chasing him and trying to get our program a little better so we can win these races."
Sweet started fourth and was able to quickly move forward and maintain his spot near the front of the field aboard the Ollie's Bargain Outlet machine. With his runner-up finish, Sweet moved into the second spot in points.
"We had great speed all night," said Sweet. "Getting through lapped traffic, Donny was just a little bit better. He was able to go in the middle and do a few things we weren't able to do. We'll go back and do our homework. I have to thank my guys for working hard."
Mark Dobmeier, who hails from Grand Forks, made a late-race charge to finish third. Dobmeier started seventh and fell back a few spots early in the race, before gaining quite a few positions in the final 20 laps of the 40-lap race.
"About halfway through, the car really came on," explained Dobmeier. "I knew it was a long race and I had to save my (right rear) tire a little bit. I saved it up for a bit. I don't know if it was me getting on the gas or these fans, but we got some electricity going and this thing was charging forward. We turning as fast of laps as we could. We just needed a caution or something at the end to bunch them up again. That's what you get for starting sixth, but I got up on the wheel and got it going."
Dobmeier, who is the winningest sprint car driver in River Cities Speedway history, has been close on several occasions to scoring a win with the series at his home track. While he has three career World of Outlaws Craftsman Sprint Car Series wins on his resume, one at River Cities is what still eludes him.
"I would give up a Knoxville Nationals win to win one here with the Outlaws," said Dobmeier. "I've won a couple in Sioux Falls, which is kind of a second home track to me, and the crowd gets electric, but it cannot beat the crowd at Grand Forks when these guys get on their feet and cheering."
Logan Schuchart finished fourth on Friday night to earn his second straight top-five finish at River Cities. Joey Saldana was fifth, with Daryn Pittman coming home sixth. Jason Johnson was seventh, while David Gravel was eighth, Shane Stewart ninth and Dusty Zomer 10th.
The World of Outlaws Craftsman Sprint Car Series returns to action on Sunday, August 28 at Nodak Speedway in Minot, North Dakota, with the running of the Gerdau Magic City Showdown