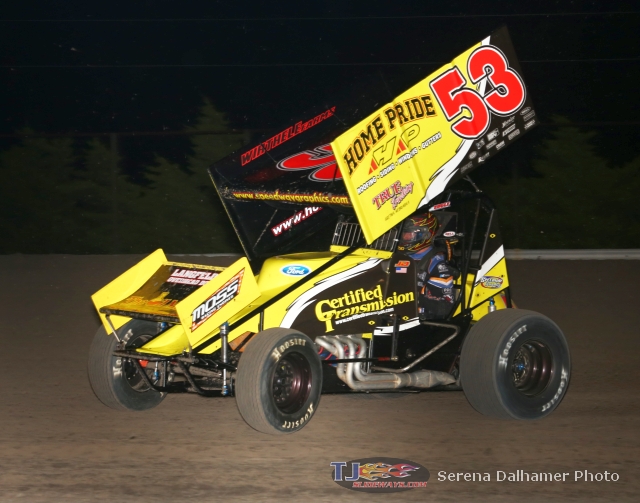 Inside Line Promotions 

JEFFERSON, S.D. (Sept. 20, 2016) – Jack Dover produced another stout performance last Saturday at Park Jefferson International Speedway, where he earned his third consecutive victory and 13th of the season.
Dover kicked off the Carpetland Nebraska 360 Sprints event by advancing from seventh to fourth place in a heat race. That earned him a spot in the feature redraw, where he pulled the highest number – eight – to start the 25-lap main event on the outside of the fourth row.
"I made it up to second about halfway through the race," he said. "I got first place with four or five laps to go. It was so slick everyone was running around the top because there was a good cushion. I went to the bottom and everyone was running the top side. I got in front of the leader and then the yellow came out with three laps to go. I think he cut in front of me and it screwed his entry into the corner. I was able to come out in front of him. After that caution we checked out."
The win gives Dover five career triumphs at the track – all since 2014 – and it marked his eighth win in the last 16 races. He is now only two wins away from tying his season high of 15 victories.
"It's pretty sweet," he said. "It shows how good our momentum is right now and how good everything is working. You have some good guys who were there in Gregg Bakker, Tim Kaeding and Dusty Zomer to name a few. It was a stout field. When you can beat guys like that you know you have something pretty good."
Dover leads the Carpetland Nebraska 360 Sprints championship standings by 115 points with only one race remaining this season. He only needs to show up to the season finale to seal his second straight championship with the series.
Dover is heading to Lucas Oil Speedway in Wheatland, Mo., this weekend for the Hockett/McMillin Memorial, which features Lucas Oil ASCS National Tour races Thursday through Saturday. He finished sixth at the track in May during his only visit this season.
QUICK RESULTS –
Sept. 17 – Park Jefferson International Speedway in Jefferson, S.D. – Heat race: 4 (7); Feature: 1 (8).
SEASON STATS –
38 races, 13 wins, 22 top fives, 29 top 10s, 33 top 15s, 35 top 20s
UP NEXT –
Thursday through Saturday at Lucas Oil Speedway in Wheatland, Mo., for the Hockett/McMillin Memorial with the Lucas Oil ASCS National Tour
MEDIA LINKS –
Website: http://www.JackDoverRacing.com
Twitter: https://twitter.com/JackDoverRacing
Facebook: https://www.facebook.com/jackdoverracing?fref=ts
SPONSOR SPOTLIGHT – True Trucking
True Trucking is a trucking company based in Gretna, Neb.
"The True's are family friends who have always been there to support me," Dover said. "I appreciate their partnership and look forward to reaching Victory Lane with them a lot."
Dover would also like to thank Certified Transmission, Home Pride Companies Inc., Eagle Motorsports, Moss Racing Engines, Thorpe's Body Shop, Backlund Plumbing, Trail Performance Coatings Inc., ButlerBuilt Professional Seat Systems, Keizer Wheels, Schoenfeld Headers, Shaver Racing Engines, Langfeldt Overhead Doors, K&N Filters, FK Rod Ends, DMI, Speedway Motors and Vortex Wings for their continued support.
PARTNERSHIP OPPORTUNITIES –
Jack Dover Racing is close to being able to compete across the country by returning to the Lucas Oil ASCS National Tour, where Dover has finished in the top 10 both seasons he has raced full time with the premier 360 sprint car series. He is also ready to compete with the World of Outlaws Sprint Car Series en route to his dream of racing in NASCAR. The only variable missing is a reliable truck and trailer. For more information on partnership opportunities, e-mail TeamDover@gmail.com.
INSIDE LINE PROMOTIONS –
Inside Line Promotions specializes in affordable public relations and media management for motor sports drivers, teams, sponsors, tracks, series, events, organizations and manufacturers. ILP Founder Shawn Miller leverages professional journalism with new media technologies and social networking to improve your exposure and the return on investment for your sponsors.
To meet the media relations needs of your program by joining Team ILP, contact Shawn at 541-510-3663 or Shawn@InsideLinePromotions.com. For more information on Inside Line Promotions, visit http://www.InsideLinePromotions.com.