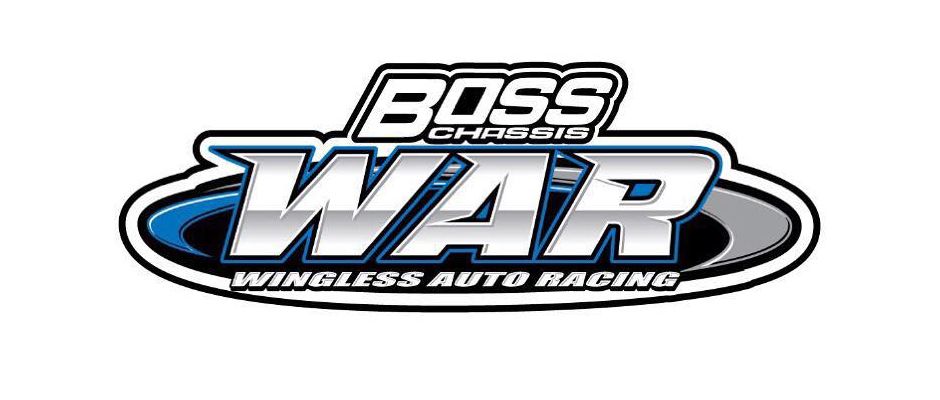 From Chad Buford
WINSTON, Mo. (October 8, 2016) — Capping off a stellar season with the Boss Chassis WAR Series, Korey Weyant picked up his sixth win of 2016 on Saturday night in the season finale at I-35 Speedway.
Weyant started his night by picking up a series best eighth heat race win. The win gave him the Heat Race Hero award over Clinton Boyles, who also came into the night with seven wins. The award was worth $400 thanks to Scott Shuman.
In the 30 lap A-Main, Chris Parkinson set the pace early as he was trailed by Mitch Wissmiller and Rob Hockett. Third row starters Weyant and Terry Babb started to make their presence known as the pair battled with Hockett for third with both moving by on lap four. A lap later, Babb slid high in turn three over the bank bringing out the yellow as he backed into the wall. Babb would restart at the tail of the field.
On the restart, Wissmiller applied heavy pressure on Parkinson for the top spot. As the pair battled down the backstretch side by side, Wissmiller got a run on top and around Parkinson. Parkinson would get sideways in turn four and slid to a stop bringing out the yellow flag. He would restart at the tail. As the field got bunched up after the spin, Vinny Ward and Steve Thomas made contact with both suffering too much damage to continue.
Once green again, Wissmiller set the pace. Wissmiller would lead laps six to eleven as Weyant started gaining ground around the top groove. On lap twelve, Weyant would work his way past Wissmiller and steadily he would increase his lead until a yellow came out for RJ Johnson and TJ Muths, who got tangled up in between turns one and two on lap seventeen. Johnson's night would come to and end, while Muths would restart at the tail.
Weyant got a great restart as he immediately increased his lead over Wissmiller. Behind Wissmiller, Rob Hockett, Clinton Boyles, Craig Carroll, and Terry Babb were having a good battle for third.
The race would see one final yellow for PJ Grimes, who looped it in turn one.
On the final restart, Weyant again proved his dominance as he went on to his sixth win of 2016, setting a single season record in the process. The victory in his Ealey Transportation/Moore Automotive/Mahan Fiberglass Eagle with Automotive Machine power put him within one win of Mitchell Moore, Chris Parkinson, and Casey Shuman on the all-time WAR win list. Babb, made a great charge as he worked his way past Wissmiller and into the second spot in his KCBJ Motorsports/Faith Flatout Ministries Maxim with Stanton-All Pro power. Wissmiller was a solid third in his Air Plus Contracting/Roberts Tech Jobs.com Hixsom-powered Maxim. 2016 WAR champion Boyles was fourth in his Jesse Hockett Racing/Lucas Oil/Rod End Supply/Rockwell Security Maxim with RMS power. Hockett rounded out the top five in his Jesse Hockett Racing Frankenstein with a Kevin Roth 305 under the hood. Parkinson would work his way back to sixth with Carroll, Layne Himebaugh, Muths, and Ryan Kitchen rounding out the top ten.
Stay tuned to warsprints.com for more information about the 2017 season as many exciting things are in the works.
Hinchman Racewear First Heat- 8 laps
1. 8D-Terry Babb, Decatur, IL (2); 2. 1-Mitch Wissmiller, Saybrook IL (1); 3. 77H-Rob Hockett, Lone Jack, MO (6); 4. 24L-Layne Himebaugh, Collinsville, OK (5); 5. 75K-RJ Johnson, Phoenix, AZ (7); 6. 00-PJ Grimes, Otterville, MO (4); 7. 8K-Katlynn Leer, Moulton, IA (8); 8. 20-Steve Thomas, Rantoul, IL (3)
Wilwood Disc Brakes Second Heat- 8 laps
1. 99-Korey Weyant, Springfield, IL (2); 2. 24C-Craig Carroll, Collinsville, OK (4); 3. 65-Chris Parkinson, Gladstone, MO (3); 4. 77-Clinton Boyles, Greenwood, MO (5); 5. 65M-TJ Muths, Sedalia, MO (1); 6. 75-Ryan Kitchen, Lincoln, NE (8); 7. 82-Vinny Ward, Warrenton, MO (7); 8. 55-Kenny Potter, Harrisonville, MO (6)
A-Main- 30 laps
1. 99-Korey Weyant (5); 2. 8D-Terry Babb (6); 3. 1-Mitch Wissmiller (2); 4. 77-Clinton Boyles (8); 5. 77H-Rob Hockett (3); 6. 65-Chris Parkinson (1); 7. 24C-Craig Carroll (4); 8. 24L-Layne Himebaugh (7); 9. 65M- TJ Muths (11); 10. 75-Ryan Kitchen (10); 11. 00-PJ Grimes (13); 12. 55-Kenny Potter (15); 13. 8K-Katlynn Leer (12)-DNF; 14. 75K-RJ Johnson (9)-DNF; 15. 82-Vinny Ward (14); 16. 20-Steve Thomas (16)-DNF