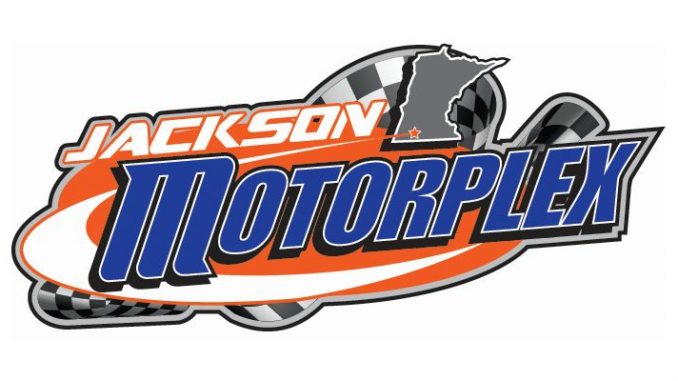 From Inside Line Promotions
JACKSON, Minn. (Oct. 14, 2016) – Jackson Motorplex officials are excited to announce a revamped 2017 race schedule for the recently renovated facility.
The half-mile oval will compete mostly on Friday nights from late April through September with several marquee events throughout the season.
"We are excited to build on the momentum we generated last year with a great schedule in 2017," Jackson Motorplex General Manager Doug Johnson said. "We have some huge events on tap and we're currently working on adding a few more dates to the schedule as well."
The action kicks off April 28-29 with the Frostbuster, which will showcase IMCA a mods, sport mods, stock cars, hobby stocks and sport mods.
The first sprint car date at the track is set for May 12 as the oval will host 410ci winged sprint cars, RaceSaver 305ci sprint cars and non-wing sprints cars. Jackson Motorplex will feature two more marquee sprint car events as the World of Outlaws Craftsman Sprint Car Series will be part of the 39 th annual Jackson Nationals, which is moved to June 1-3, and the half-mile track will showcase the Fall Classic 410 Outlaw Sprints Cheater's Day on Sept. 1-2.
The season will conclude on Sept. 22-23 with the IMCA Jackson Nationals.
For detailed information about the tentative schedule, visit http://www.JacksonMotorplex.com/schedule. Additional dates will be added to the 2017 schedule throughout the off season.
2017 Tentative Jackson Motorplex Schedule
4/28/2017 – Frostbuster: IMCA A Modifieds, IMCA Stock Cars, IMCA Hobby Stocks, IMCA Sport Modifieds, IMCA Sport Compacts
4/29/2017 – Frostbuster: IMCA A Modifieds, IMCA Stock Cars, IMCA Hobby Stocks, IMCA Sport Modifieds, IMCA Sport Compacts
5/12/2017 – Spring Sprint Car Classic: 410 Sprints , IMCA 305 Sprints, 360 Non Winged Sprints
5/26/2017 – 410 Sprints , IMCA 305 Sprints, IMCA A Modifieds, IMCA Hobby Stocks, IMCA Sport Modifieds
6/1/2017 – 39th annual Jackson Nationals: 410 Sprints : World of Outlaws, IMCA 305 Sprints
6/2/2017 – 39th annual Jackson Nationals: 410 Sprints : World of Outlaws, MCA 305 Sprints
6/3/2017 – 39th annual Jackson Nationals: 410 Sprints : World of Outlaws, IMCA 305 Sprints
6/9/2017 – IMCA 305 Sprints, IMCA A Modifieds, IMCA Hobby Stocks, IMCA Sport Modifieds
6/16/2017 – IMCA 305 Sprints, IMCA A Modifieds, IMCA Hobby Stocks, IMCA Sport Modifieds
6/23/2017 – 410 Sprints , IMCA 305 Sprints, IMCA A Modifieds, IMCA Hobby Stocks, IMCA Sport Modifieds
6/30/2017 – 410 Sprints , IMCA 305 Sprints, IMCA A Modifieds, IMCA Hobby Stocks, IMCA Sport Modifieds
7/7/2017 – IMCA 305 Sprints, IMCA A Modifieds, IMCA Hobby Stocks, IMCA Sport Modifieds
7/14/2017 – 410 Sprints , IMCA 305 Sprints, IMCA A Modifieds, IMCA Hobby Stocks, IMCA Sport Modifieds
7/21/2017 – 410 Sprints , IMCA 305 Sprints, IMCA A Modifieds, IMCA Hobby Stocks, IMCA Sport Modifieds
7/28/2017 – IMCA 305 Sprints, IMCA A Modifieds, IMCA Hobby Stocks, IMCA Sport Modifieds
8/4/2017 – IMCA 305 Sprints, IMCA A Modifieds, IMCA Hobby Stocks, IMCA Sport Modifieds
8/19/2017 – IMCA 305 Sprints, IMCA A Modifieds, IMCA Hobby Stocks, IMCA Sport Modifieds
8/25/2017 – 410 Sprints , IMCA 305 Sprints, IMCA A Modifieds, IMCA Hobby Stocks, IMCA Sport Modifieds
9/1/2017 – Fall Classic 410 Outlaw Sprints Cheater's Day: 410 Sprints
9/2/2017 – Fall Classic 410 Outlaw Sprints Cheater's Day: 410 Sprints
9/22/2017 – IMCA Jackson Nationals
9/23/2017 – IMCA Jackson Nationals