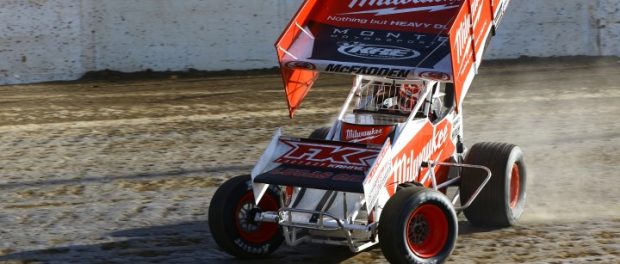 From Wade Aunger
Murray Machining & Sheds Speedway is honoured to be the host venue for an historic World Series Sprintcars moment.
This Saturday night, the 30th consecutive season of "World Series" kicks off at the revamped and reloaded iconic South Aussie bullring and a unique historical chapter is written into the Sprintcar bible.
In 1986/87 when the very first World Series Sprintcars tournament was launched at Claremont Speedway in West Australia few could have predicted or even dreamed that the national Sprintcar 'circus' would be still going three decades later.
But this Saturday night, literally thousands of racing laps and tens of thousands of highway kilometres later the 2016/2017 version of WSS fires into life and South Australian Sprintcar fans have a unique chance to see history created.
It will also be the first time WSS and the USC SA combine with the third round of the South Australian Ultimate Sprintcar Championship.
"Over the years World Series Sprintcars has seen and indeed survived some seriously turbulent times," says former WSS Promoter and Series announcer Wade Aunger, "and it's still always managed to deliver. The essence of this competition has always been the same; a travelling group of committed and dedicated contracted Sprintcar teams taking on the local heroes at their home tracks in front of huge crowds. The names of the contracted drivers has changed constantly throughout the last thirty years but World Series has provided a platform for fans in some of the remote corners of this country to see first hand the Braziers, the Tatnells, the Dumesny's, the Rushes, the Andersons, the Kinsers, the Laceys and so many other household names racing on your front doorstep. Without World Series Sprintcars, that idea of seeing the biggest names in the sport in regional centres like Murray Bridge, Mt. Gambier, Avalon, Nyora, Hobart, Latrobe, Lismore, Manjimup, Kalgoorlie, Albany, Bunbury, Swan Hill, Wagga, Rockhampton, Toowoomba, Gunnedah, Mildura and many other places would be simply a dream. Despite it's at times fragile existence, the importance of this tournament has always been paramount. No matter how much longer it has a place in the national landscape, World Series has been a critical and significant platform for Aussie Sprintcar racing to be promoted and exposed."
World Series Sprintcars has enjoyed some truly stellar competition at Murray Bridge with some enormous crowds and significant moments for the sport.
It may not be widely known that Murray Bridge was in fact the first track to ever utilise a Giant Video Screen for WSS – a then novelty that is now the standard for the sport across the country in terms of audio-visual entertainment.
The 'elbows up, spurs on' nature of the tight bullring has meant that nationally celebrated WSS Champions like James McFadden regard "MMS" as one of his favourite tracks.
"When it's right," McFadden said recently, "there's no track in Australia I'd rather be racing at. You can move around on many different lines. It's possible to come from the back and win there, and that's not possible at many tracks we race at."
At the time of writing this Saturday night's Round One features 34 entries in a combination of:
South Australia 22
Victoria 2
(Warrnambool duo Darren Mollenoyux & Jamie Veal)
New South Wales 6
(Robbie Farr classified as NSW born)
West Australia 2
Northern Territory 2
(James McFadden classified as NT born)
In the field will be 13 WSS titles shared between Brooke Tatnell (9) James McFadden (2) Jamie Veal (1) and Steven Lines (1).
In terms of Australian Sprintcar Championships there are eight crowns shared between Brooke Tatnell (5) James McFadden (2) and Robbie Farr (1) in this Saturday nights line-up.
Saturday night, regardless of the end result, emotion will spill over as the first WSS round of the modern era is held without Shane Krikke at the helm of Krikke Motorsport.
The Principal of "KMS" Shane lost an 18 year battle with cancer in late June of this year and whilst this larger than life luminary of the sport will not be there in a physical form the essence of Krikke Motorsport and the energy that Shane gave the team will be everywhere when the TEH #2 Cool lines up in the hands of 9 x WSS Champ Brooke Tatnell.
With Peter, Julie, Ryan, Jodie and Taylor Krikke in attendance at MMS come Saturday the night also represents a chance for South Australian fans to pay respects and acknowledge the memory of this giant West Australian's contribution to Sprintcars.
West Australian drivers Daniel Harding and Jason Pryde have also lined up for battle this summer with Harding in particular spending many months racing in the USA this year and showing plenty of speed as a result.
Defending champion Jamie Veal and former WSS champs James McFadden, Robbie Farr and Steven Lines will face an even more fired up than usual Tatnell.
South Australians with a proud and particularly competitive WSS history include Luke Dillon (who has competed as a contracted driver several times and has an incredible 7 quick times in qualifying last season to his credit) Ricky Maiolo (a multiple former contracted driver) Daniel Pestka (a former contracted driver) Ryan Jones (a former contracted driver) Matt Egel, Brad Keller and so many other livewire youngsters all gunning for WSS opening round glory.
Versatile NSW driver Andrew Wright will once again take to the open road as a contracted driver whilst Sydney third generation racer Blake Skipper makes the long trek across the Hay Plains to compete.
In addition to Sprintcars will be Speedcars and V6 Sprints.
The naming rights sponsor this Saturday night is Moore Mechanical.
Prices and track particulars:
Adults $30
Pensioner (with government-issued pension card) $25
Juniors 13-15 years $15
Family (2 Adults & 2 Juniors) $70
Kids 12 & Under FREE (with an accompanying paying adult)
Purchase tickets at the gate or online at www.speedwaytickets.com.au
Speedway Location:
Kennett Rd Bridge East SA 5253
Action from 5pm.
Visit www.murraybridgespeedway.com or Murray Bridge Speedway on Facebook and Instagram.