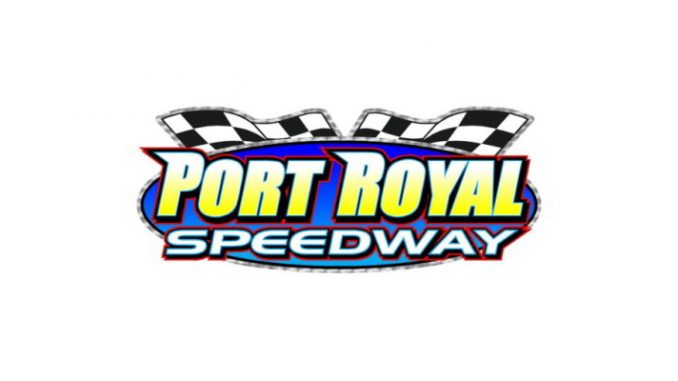 From Port Royal Speedway
PORT ROYAL, Penn. (November 19, 2016) – Over 300 people gathered on Saturday night at the Port Royal Community Building in Port Royal to honor the 2016 speedway track champions.
Taking top honors were Doug Esh, Weikert's Livestock 410 sprints; Andy Haus, Aumiller's Insurance super late models; Devin Hart, Gray's Auto & Towing 355 econo late models; Pete Leister, Len Krautheim Auto Sales xtreme stocks; and Nate Gramley, River Valley Builders 305 sprints.
All five champions will receive beautiful championship rings as provided and sponsored by Foss Jewelers of Lewistown. In addition, all champions received fuel certificates from Insinger Fuels.
Hoosier Tire awarded monogrammed jackets to champions in both sprint divisions along with the late model and econo late model classes.
Season passes were distributed to all five champions as well as to all Rookie of the Year honorees and the six drivers in the sprint and late model divisions that had perfect attendance in 2016.
Driving for Mark Coldren, Doug Esh of Lancaster recorded his first ever Port Royal sprint car track title in 2016, garnering 6,615 points for the crown.
Esh scored a lone victory plus nine additional top five finishes during the season, earning an average feature finish of eighth in the 23 events he contested.
Both Esh and Coldren accepted laurels and vowed to return and defend the title in 2017.
Finishing second in the sprint car points was Jonestown's Brock Zearfoss who piled up 6,355 points.
Zearfoss scored his first career win at the track in 2016 and put together an average feature finish of 8.6.
Known as "The Jonestown Jet," Zearfoss was awarded the Most Improved Driver award for the season after finishing 13th in the 2015 points.
Richfield's Curt Stroup earned the 2016 Sportsmanship Award to go along with a seventh place finish in the points.
Finishing 10th in points, Enola's Kody Lehman earned Rookie Of The Year honors having entered all 23 sprint shows contested during the season.
Others honored were Mike Wagner, third in points; Dylan Cisney, fourth in points; Greg Hodnett, fifth in points; Lucas Wolfe, sixth in points; Ryan Taylor, seventh in points; and Blane Heimbach, ninth in points.
Andy Haus of Hamburg put together a pair of wins and eight additional top five finishes on his way to the super late model title.
Haus ended up with 5,570 points and an average feature finish of 6.6 after racing in all 18 late model shows conducted.
Haus now joins his father Scott on the oval's all time track champion list.
Mike Lupfer was second in points with 5,300 points and an average feature finish of 7.1.
Tim Smith Jr., who finished third in points, earned 2016 Sportsmanship honors.
Billy Wampler was fourth in points followed by Trent Brenneman, Andrew Yoder, Scott Flickinger, Dylan Yoder, Dave Brouse Jr., and Tim Wilson.
After a 16th in points in 2015, Andrew Yoder was voted Most Improved in 2016 with his sixth place point finish.
Brouse Jr. was Rookie Of The Year with a pair of eighth place finishes to his credit during the season.
Port Royal's Devin Hart earned the econo late model title with 3,045 points.
Hart took a pair of wins on his way to the title plus six other top fives while scoring an average feature finish of 5.1.
Tim Krape was second in points followed by Tim Fedder, Curt Dunn and Harold Ranck Jr.
Fedder got Sportsmanship laurels for the division.
Also honored were sixth through 10th place point men Jason Nace, Shaun Miller, Todd Snook, Chase Bowsman and Jason Peachey.
Pete Leister got the xtreme stock title with 1,970 points, a pair of wins, a pair of seconds and one third place finish.
Leister's average feature finish was 3.5.
Second through 10th in points went to Bill Powell, Jason Zook, Austin Johnson, Walt Peters, Brian Strawser, Kevin Imes, Charlie Bryner, Ryan Zook and Deron Henry.
Nate Gramley was the 305 sprint series champion with 1,930 points and an average feature finish of 4.6.
Gramley notched a pair of wins on his way to the title.
Cale Reigle, Zach Newlin, Kyle Ganoe and Drew Ritchey completed the top five in points.
Opening day 2017 is slated for Saturday, March 11 at 6 pm.
Stay up to date with all the latest Port Royal news and information by visiting the oval's official website at www.portroyalspeedway.com or by following the track on Facebook or Twitter.