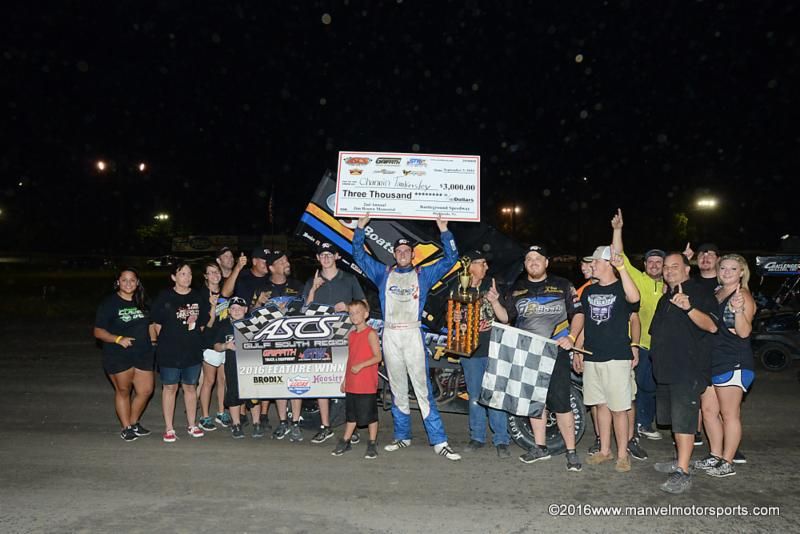 From Inside Line Promotions
HIGHLANDS, Texas (November 22, 2016) – Channin Tankersley produced the best season in his sprint car career in 2016.
Tankersley recorded his second ASCS Gulf South Region championship in the past three years and he earned a career-best five region wins during the strong season.
"It's so hard to stay consistent throughout a season," he said. "To win as many races as we did it's like icing on top of the cake. We reached our goals."
Tankersley swept a pair of ASCS Gulf South Region weekends with wins at Heart O' Texas Speedway in Waco, Texas, on May 6 and at Golden Triangle Raceway Park in Beaumont, Texas, on May 7, and victories at Heart O' Texas Speedway on July 22 and at Cotton Bowl Speedway in Paige, Texas, on July 23. His final region victory came during the season finale on Sept. 2 at Battleground Speedway in his hometown of Highlands, Texas.
"Sweeping two weekends is an accomplishment in itself," he said. "I think prior to this year it'd only been swept a few times before. To do it twice in one year is a solid accomplishment.
"It just shows that we are a contender every night. Last year we were in contention to win the championship, but I lost it in the final three or four races. I think we've been one of the top contenders the past three or four years. We're finally showing the success of putting the whole year together."
Tankersley led the region with the five triumphs as well as 10 top fives and 11 top 10s in 13 features.
He also posted his career-best Lucas Oil ASCS National Tour result with a second-place finish in June at Missouri State Fair Speedway in Sedalia, Mo.
"I want to thank everyone who has provided me with great opportunities, including the car owners, sponsors, fans and my family," he said. "I'm really looking forward to next season and topping our achievements from this year."