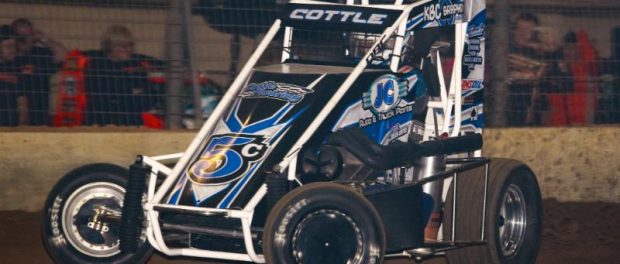 From Richie Murray
INDIANAPOLIS (December 5, 2016) — Entries continue to pour in for the 2nd Annual "Junior Knepper 55" USAC Midget Special Event at the Southern Illinois Center in Du Quoin on Saturday, December 17.
Among the entries so far are two-time USAC AMSOIL National Sprint Car champion Brady Bacon from Oklahoma; versatile California racer and two-time Chili Bowl winner Cory Kruseman; plus, USAC Sprint Car standout Thomas Meseraull from California; Indiana Sprint Week feature winner Brent Beauchamp and "Ted Horn 100" Silver Crown winner Chris Urish out of Elkhart, Illinois.
A couple of drivers have already filed their intentions to take the wing off and compete on the 1/6-mile indoor dirt oval including World of Outlaws regular Joey Saldana from Indiana and 2006 Knoxville Nationals Rookie of the Year Tony Bruce, Jr. from Kansas.
Drivers who've made their names known to a nationwide audience outside of the dirt discipline are entered as well including 2016 ARCA champ Chase Briscoe and two-time American Le Mans Series titlist Chris Dyson.
West coast star Ryan Bernal is entered in a team car to Saldana while midget racing standouts Kyle Schuett of Philo, Illnois – a winner indoors at Bankers Life Fieldhouse in Indianapolis a year ago – and Tyler Thomas are set to hit the stage in their self-owned rides.
Even more entries are expected to join the large field at the racy indoor track located adjacent to the "Magic Mile" at the Du Quoin State Fairgrounds where the annual "Ted Horn 100" USAC Silver Crown race is held each Labor Day weekend.
Tickets are now on sale for the "Junior Knepper 55." Discounted advance general admission tickets can be purchased at http://www.usactickets.com/. No reserved seating will be available for the event; only general admission. Adult tickets are $20. Kids age 6-12 are $10. Children age 5 and under get in for FREE! Pit passes are $35.
Gates open at 1pm with hot laps scheduled for 4pm and racing set for 5pm.
Teams and drivers may now file their entries for the event for free online at https://usacracing.ticketspice.com/2016-knepper-car-entry, but you must use the coupon code "KNEPPER" at checkout. If you do not pre-enter for the event by December 11, 2016, entries are $30 at the track on race day.
If you are unable to make it to the event in person, http://www.SpeedShiftTV.com/ will be streaming the race LIVE!
———————————
"JUNIOR KNEPPER 55" ENTRY LIST
SOUTHERN ILLINOIS CENTER – Du QUOIN, ILLINOIS – SATURDAY, DEC. 17, 2016
Gates open at 1pm. Hot laps at 4pm. Racing at 5pm.
**Several more entries are expected to be filed as we get closer to the event.
60 USAC MIDGETS ENTERED AS OF DECEMBER 5, 2016
0 Johnny Murdock/Conroe, TX (Zero Motorsports)
0B Steve Finn/Collinsville, IL (Zero Motorsports)
1 Travis Pence/Stronghurst, IL (Travis Pence)
1T Tony Roney/Herculaneum, MO (Tony Roney)
2 TBA (Zero Motorsports)
3J Jake Griffin/Quincy, IL (Jim Neuman)
3N Jake Neuman/New Berlin, IL (Jim Neuman)
3s Brian Shirley/Chatham, IL (Jim Neuman)
3w Alex Watson/Columbus, OH (3w Racing)
4 Kyle Jones/Kennedale, TX (Kyle Jones)
5 Chase Briscoe/Mitchell, IN (Chase Briscoe)
5c Colten Cottle/Kansas, IL (Rick Cottle)
6 Andy Baugh/Mason City, IL (Zero Motorsports)
7 Gage Walker/Fairland, IN (Brian Walker)
7B Cody Beard/St. Anthony, IN (Cody Beard)
7JR J.D. Black/Grain Valley, MO (J.D. Black)
7K Justin Peck/Monrovia, IN (Kenny & Reva Irwin)
9 Steve Aplin/St. Louis, MO (Bill Allen)
9K Kyle Schuett/Philo, IL (Schuett Racing)
11 Brent Beauchamp/Fairland, IN (B & B Motorsports)
11L Aaron Leffel/Springfield, OH (Team Taylor Racing)
11T Ryan Fleming/Xenia, OH (Team Taylor Racing)
13 Brian Reick/Troy, MO (Zero Motorsports)
14I Isaac Schreurs/Sioux Falls, SD (Jody Rosenboom)
14R Jody Rosenboom/Rock Rapids, IA (Jody Rosenboom)
15 Cole Fehr/Coatesville, IN (Live Loud Racing)
15m Shane Morgan/Creve Coeur, IL (Shane Morgan)
15x Tim Siner/Dupo, IL (Siner/Cyliax Racing)
16K Chris Dyson/Poughkeepsie, NY (Kruseman Motorsports)
17 Joey Saldana/Brownsburg, IN (Shannon Saldana)
18 Tony Bruce, Jr./Liberal, KS (Wheeler Racing)
21K Cory Kruseman/Ventura, CA (Kruseman Motorsports)
25P Dylan Peterson/Sioux Falls, SD (Vance Peterson)
25s Alex Schriever/Sioux Falls, SD (Vance Peterson)
29 Joey Moughan/Springfield, IL (Moughan)
29x David Hair/Indianapolis, IN (Ed Hair)
30T Tyler VanToll/Belleville, IL (Tyler VanToll)
35 Chris Baue/Indianapolis, IN (Chris Baue)
35T Tyler Robbins/Collinsville, IL (Tyler Robbins)
43T Josh Thomas Edinburg, IL (Josh Thomas)
45x Bricen James/Albany, OR (Johnny Herrera Racing)
50 Daniel Adler/St. Louis, MO (Daniel Adler)
51J Ryan Jamison/Mediapolis, IA (Jamison Racing)
56v Matt Veatch/McLeansboro, IL (Mark Chisholm)
56x Mark Chisholm/Cheyenne, WY (Mark Chisholm)
57D Daniel Robinson/Ewing, IL (McCreery Motorsports)
66 Thomas Meseraull/San Jose, CA (Amati Racing)
68 Kyle O'Gara/Beech Grove, IN (Sarah Fisher Racing)
73 Broc Hunnell/Eolia, MO (Broc Hunnell)
76M Brady Bacon/Broken Arrow, OK (FMR Racing)
77u Chris Urish/Elkhart, IL (Tom Casson)
86 Danny Meyer/Tuscola, IL (Ebby Bergfield)
87 Ryan Bernal/Hollister, CA (Shannon Saldana)
88 Terry Babb/Harristown, IL (Terry Babb)
88w Chad Wheeler/Muskogee, OK (Wheeler Racing)
91 Tyler Nelson/Kansas City, MO (Harris Racing)
91A Chris Andrews/Sandusky, OH (Tyler Thomas Motorsports)
91m Chris Majdik/Redding, CA (Tyler Thomas Motorsports)
91T Tyler Thomas/Collinsville, OK (Tyler Thomas Motorsports)
95 Chris Andrews/Tulsa, OK (Miller Racing)