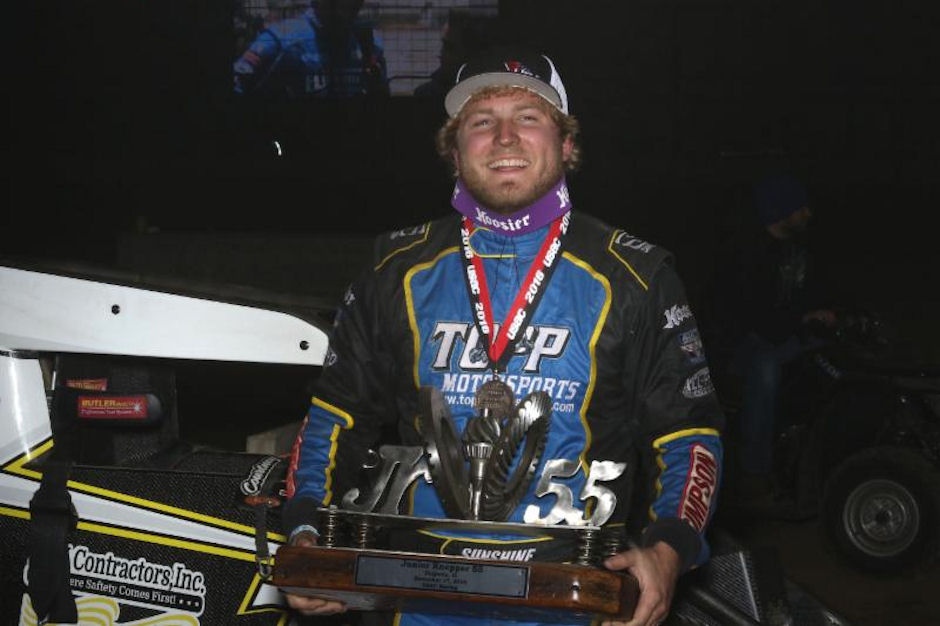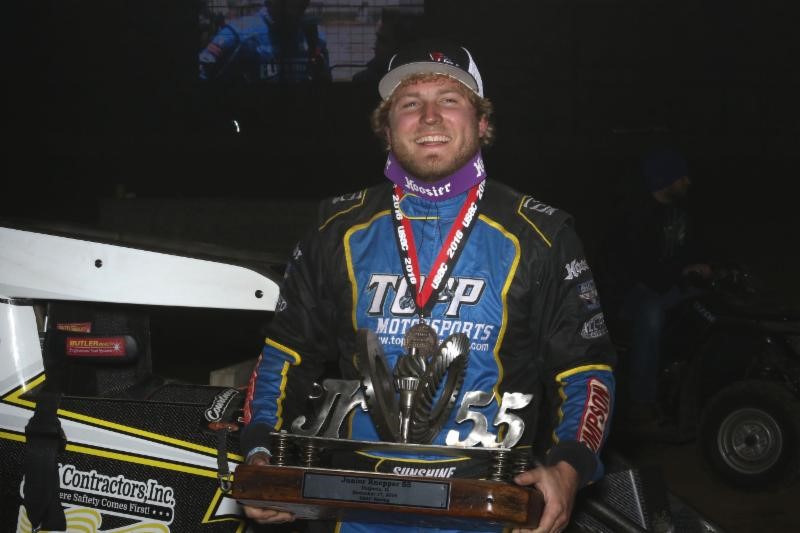 From Richie Murray
DU QUOIN, Ill. (December 18, 2016) — Six years ago, Tyler Courtney was a newcomer to the midget racing scene when he made his debut at the first full midget race ever held at the Southern Illinois Center.
Saturday, on the very same ground, Courtney became a winner at the place where it all began, on the one-sixth-mile dirt bullring indoors at the "Junior Knepper 55" as the Indianapolis, Indiana native raced to victory in the second annual USAC Midget Special Event honoring the late, successful USAC car owner.
Courtney led the opening lap before giving way to Justin Allgaier, then clawed his way back to the front on the eighth lap to reclaim a lead that he wouldn't relinquish to take his first career Midget win under the USAC banner.
The 22-year-old Courtney became the third consecutive driver to pilot a Tim Clauson/Tyler Ransbottom-wrenched car to victory lane at the Southern Illinois Center following fellow teammates Ricky Stenhouse, Jr.'s "Knepper" triumph one year ago and Shane Golobic's "Shamrock Classic" win this past Spring.
It was an emotional win for Courtney as his racing career has now gone full-circle just as his career is beginning to blossom. And, on this night, running the letters BC behind the No. 7 on his tail tank in honor of 2011 Southern Illinois Center Midget victor Bryan Clauson.
"This is where I ran my first real midget race and it was for Bryan and Tim (Clauson) and their whole family," Courtney recalled. "To come back here and get a win with this new team with all these guys, it's pretty special. They've been a part of my career since it's really gotten going and I can't thank them enough for the opportunity."
"Tim definitely knows how to make a racecar go," Courtney continued. "And he's got two of the best guys to work on them in the shop. They've all done a heck of a job over the last month and a half getting these cars ready to go. To put two cars on the podium tonight is a statement. It's a pretty good start to something that's going to be special."
The weather outside was frightful as roads leading to the Southern Illinois Center Saturday night were wrought with slippery surfaces due to the harsh winter conditions. Courtney's road to victory at the "Junior Knepper 55," on the other hand, was paved with pay dirt.
Courtney spurted out to the lead on the opening lap, yet the run up front was short-lived as he pushed up at the exit of turn four on the second lap, allowing Allgaier to slip by on the bottom.
Allgaier, the 2008 ARCA champ, took control in the early stages of the 55-lapper, but he too drifted high, this time at the entrance of the first turn, as Courtney surged ahead on the bottom to retake the point on lap eight.
From there on, Courtney was in total control as he extended his lead to a full-straightaway on a lengthy 28-lap green flag run through the middle stages that saw him work lapped traffic to his advantage as he pointed his car high, low, everywhere it could go, to cast all doubts aside as to who was the class of the field on this night.
Chase Briscoe, the 2016 ARCA champ, posed a threat as he worked his way from sixth into a challenge for second until a broken right front shock sidelined the Mitchell, Indiana driver with 17 laps remaining.
Meanwhile, Golobic, the most recent USAC Midget winner at the Southern Illinois Center, dashed his way up to second in the late stages, but was separated by a slew of lapped cars between he and leader Courtney that threw a wrench in his quest to mount a serious challenge for the win.
On a restart with six to go, Courtney once again shot away to a hefty advantage to put this one to rest as he sped away to take a 2.649-second victory over Golobic, Chris Andrews, Allgaier and Chad Wheeler.
It was Courtney's second USAC-sanctioned feature victory of the year in his first voyage in the Clauson-Marshall Racing/TOPP Industries – B & H Contractors/Spike/Stanton SR-11. In July's "Indiana Sprint Week" round at Gas City I-69 Speedway, Courtney made a historic comeback from the tail position (24th) to win after an opening lap spin. Even though lapped traffic on the tight confines of the SIC can wreak havoc for some, that wasn't the case for Courtney as he made it look just a tad easier on Saturday night.
"I kind of liked getting into lapped traffic, especially there toward the middle of the race," Courtney acknowledged. "I knew I had quite a bit of a cushion between me and the second-place car. I wouldn't have minded if it stayed green there, but it was also nice to get a break there and kind of reset and adjust on the car a little bit. This one's going to mean a lot for a long time."
Fremont, California's Golobic made a valiant charge toward the front at the end, but a repeat victory wasn't in the cards on Saturday night as he earned a solid second-place finish behind his teammate in his Clauson-Marshall Racing/Elk Grove Ford – B & H Contractors/Spike/Stanton SR-11.
"Tyler (Courtney) was on an island all by himself out there up front," Golobic admits. "I would've loved to have had a late race restart to see if we might've had anything for him. We got pretty good there at the end and the car came alive on the bottom. I'm happy for this team. To come here with a bunch of brand new racecars and leave with a one-two finish isn't too bad."
Tulsa, Oklahoma native Chris Andrews, who's garnered extensive accolades for his Micro Sprint prowess over the years, took an impressive third-place finish in his Jimmy Miller-owned, R & B Powder Coating – Bell Helmets/Boss/Esslinger
"If you would've told me going into tonight that we were going to have a night like we did, I would've said there's no way possible," Andrews exclaimed. "Jim and Jimmy Miller put me in the car two weeks ago. I sat in the car last night for the first time. To do what we did was amazing and it's one of those nights we'll always cherish and remember."
———————————
USAC MIDGET "SPECIAL EVENT" RACE RESULTS: December 17, 2016 – Du Quoin, Illinois – Southern Illinois Center – "Junior Knepper 55"
FIRST HEAT: (10 laps) 1. Shane Golobic (#17w Clauson/Marshall), 2. Tyler Courtney (#7BC Clauson/Marshall), 3. Justin Peck (#7k Irwin) 4. Cory Kruseman (#21k Kruseman), 5. Riley Kreisel (#93k DKR), 6. Ryan Bernal (#87 Saldana), 7. Chris Urish (#77u Casson), 8. Tyler Robbins (#35T Robbins). NT
SECOND HEAT: (10 laps) 1. Chris Andrews (#95 Miller), 2. Justin Allgaier (#7A Allgaier), 3. Ricky Stenhouse, Jr. (#17BC Clauson/Marshall), 4. Thomas Meseraull (#66 Amati), 5. Wesley Smith (#44 WSR), 6. Broc Hunnell (#73 HFR), 7. Cody Beard (#7B Beard), 8. Matt Veatch (#56v Fifty6x Racing). 1:51.20
THIRD HEAT: (10 laps) 1. Tony Roney (#1T Roney), 2. Johnathon Henry (#16k Kruseman),3. Bricen James (#45x Herrera), 4. Joey Saldana, (#17 Saldana), 5. Ryan Fleming (#11L Taylor), 6. Nick Drake (#55 Cline), 7. Chad Wheeler (#88w Team Eights), 8. Ryan Jamison (#51J Jamison). NT
FOURTH HEAT: (10 laps) 1. Tim Siner (#15 Siner/Cyliax), 2. Chase Briscoe (#5 Briscoe), 3. Jason Johnson (#41 Clauson/Marshall), 4. Kyle Schuett (#9k Schuett), 5. Daniel Adler (#50 Adler), 6. Alex Schriever (#25 Peterson), 7. David Hair (#29 Hair), 8. Hunter Lane (#0A Zero). NT
FIFTH HEAT: (10 laps) 1. Mark Chisholm (#56x Fifty6x Racing), 2. Dylan Peterson (#25p Peterson), 3. Terry Babb (#88 Babb), 4. Tyler Van Toll (#30T Van Toll), 5. Daniel Robinson (#57D McCreery), 7. Aaron Leffel (#11T Taylor), 7. Travis Pence (#01 Pence), 8. Jesse Colwell (#2 Zero). 1:52.91
SIXTH HEAT: (10 laps) 1. Tony Bruce Jr., (#18 Team Eights), 2. Matt Westfall (#14w Bordner), 3. Danny Meyer (#86J Bergfeld), 4. Tyler Nelson (#91 Harris), 5. Kyle O'Gara (#68 SFH), 6. Colten Cottle (#5c Cottle), 7. Chris Baue (#35 Baue). NT
FIRST QUALIFIER: (12 laps) 1. Johnson, 2. Meseraull, 3. Briscoe, 4. Westfall, 5. Van Toll, 6. Chisholm, 7. O'Gara, 8. Fleming, 9. Veatch, 10. Nelson, 11. Schriever, 12. Beard. NT
SECOND QUALIFIER: (12 laps) 1. Courtney, 2. Kreisel, 3. Golobic, 4. James, 5. Wheeler, 6. Saldana, 7. Peterson, 8. Hunnell, 9. Roney, 10. Urish, 11. Kral. NT
THIRD QUALIFIER: (12 laps) 1. Allgaier, 2. Andrews, 3. Bruce, 4. Drake, 5. Smith, 6. Schuett. 7. Meyer, 8. Stenhouse. NT
FOURTH QUALIFIER: (12 laps) 1. Babb, 2. Kruseman, 3. Adler, 4. Siner, 5. Baue, 6. Peck, 7. C.Cottle, 8. Henry, 9. Robinson, 10. Jamison, 11. Leffel. NT
B-MAIN #1: (15 laps) 1. Wheeler, 2. James, 3. Drake, 4. Adler, 5. Henry, 6. Fleming, 7. Schriever, 8. Urish, 9. Robinson, 10. Leffel, 11. Meyer, 12. Schuett, 13. Stenhouse, 14. Roney, 15. Veatch. NT
B-MAIN #2: (15 laps) 1. Kreisel, 2. Smith, 3. Peck, 4. Chisholm, 5. Saldana, 6. Jamison, 7. Nelson, 8. Peterson, 9. O'Gara, 10. Hunnell, 11. Baue, 12. C.Cottle, 13. Van Toll. NT
FEATURE: (55 laps) 1. Tyler Courtney, 2. Shane Golobic, 3. Chris Andrews, 4. Justin Allgaier, 5. Chad Wheeler, 6. Tony Bruce Jr., 7. Matt Westfall, 8. Thomas Meseraull, 9. Joey Saldana, 10. Cory Kruseman, 11. Terry Babb, 12. Tim Siner, 13. Justin Peck, 14. Nick Drake, 15. Riley Kreisel, 16. Bricen James, 17. Chase Briscoe, 18. Mark Chisholm, 19. Wesley Smith, 20. Daniel Adler, 21. Jason Johnson. NT
—————————-
**Beard flipped during the first qualifier. Stenhouse flipped during the first B Main.
FEATURE LAP LEADERS: Lap 1 Courtney, Laps 2-7 Allgaier, Laps 8-55 Courtney.