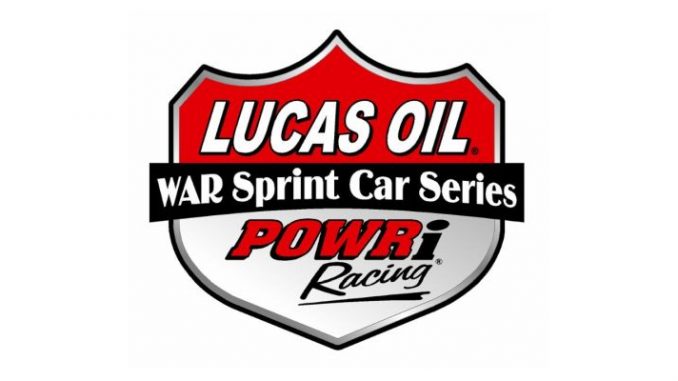 From POWRi
INDIANAPOLIS (December 26, 2016) – The POWRi/WAR Sprint Cars have partnered with Southern New Mexico Speedway in Las Cruces, NM and Aztec Speedway in Aztec, NM to sanction the Lucas Oil POWRi 305 sprints series in 2017.
This 305 wing sprint series will consist of fifteen races in the "Land of Enchantment," with the defending champion Don Grable leading the list of names scheduled to compete for the 2017 championship. The series will utilize a passing points format. The top eight in passing points will also compete in a $200 to win Trophy Dash each night sponsored by American Linen to add extra incentive for each competitor.
The May 27th event at Southern New Mexico Speedway will be televised as an episode of the MAVTV "Dirty 30" program. "I am excited to work with some really passionate dirt track people like Royal Jones and Rue Stone at Southern New Mexico Speedway," said POWRi/WAR Series Director Casey Shuman, "We're also looking forward to having Aztec promoter Chad Tenski join us with this new partnership. It's a great opportunity to gain exposure for POWRi/WAR as well as the dedicated racers in that region."
For more information on the series rules or other info you can visit www.snmspeedway.com or contact Rue Stone at (575)-642-3103.
Lucas Oil POWRi 305 Wing Sprints Series 2017 Schedule
April 15th Aztec Speedway Aztec, New Mexico
April 29th Southern New Mexico Speedway Las Cruces, New Mexico
May 13th Southern New Mexico Speedway Las Cruces, New Mexico
May 26th Southern New Mexico Speedway Las Cruces, New Mexico
May 27th Southern New Mexico Speedway Las Cruces, New Mexico
June 10th Southern New Mexico Speedway Las Cruces, New Mexico
June 24th Southern New Mexico Speedway Las Cruces, New Mexico
July 8th Southern New Mexico Speedway Las Cruces, New Mexico
July 22nd Southern New Mexico Speedway Las Cruces, New Mexico
August 5th Southern New Mexico Speedway Las Cruces, New Mexico
August 19th Southern New Mexico Speedway Las Cruces, New Mexico
September 1st Aztec Speedway Aztec, New Mexico
September 2nd Aztec Speedway Aztec, New Mexico
September 16th Southern New Mexico Speedway Las Cruces, New Mexico
September 30th Southern New Mexico Speedway Las Cruces, New Mexico