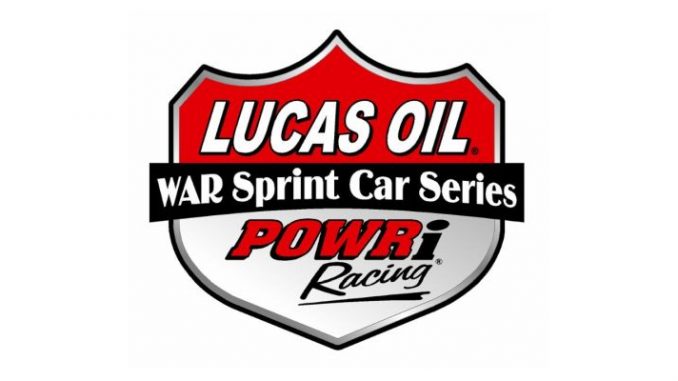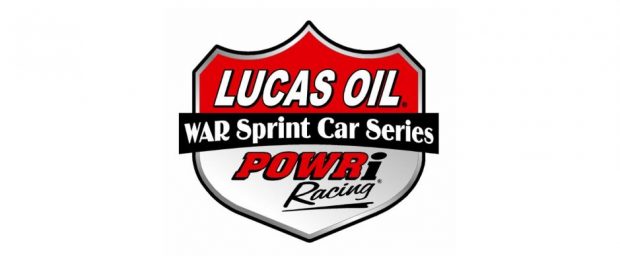 From Brooke Rowden
INDIANAPOLIS, Ind. (December 30, 2016) – A competitive total of thirty-one events will make up the Lucas Oil POWRi/WAR Sprints schedule in 2017. There are many exciting improvements in store for the future of the series as the fast approaching race season takes shape.
Four new venues will make their debut on the Lucas Oil POWRi/WAR Sprints 2017 schedule to complement the original WAR tracks from 2016. Valley Speedway in Grain Valley, Mo., will host 10 events throughout the coming season. The POWRi/WAR Sprints will also visit US-36 Raceway in Cameron, Mo., twice. Mid America Speedway in South Coffeyville, Okla., and Eagle Raceway in Eagle, Neb., will each see the POWRi/WAR Sprints once in 2017. While the many dedicated tracks, such as I-35 Speedway in Winston, Mo., and Lucas Oil Speedway in Wheatland, Mo., from the previous season continue their relationship with the fast-growing series.
The legendary Lucas Oil name becoming the new title sponsor has opened many new doors for the POWRi/WAR Sprints.
"We are thrilled to partner with such a great group of people that supports many different forms of auto racing all over the world," said POWRi/WAR Series Director Casey Shuman. "It is an honor to have them on board. Their addition to 2017 propelled our year-end points fund to over $10,000! Which is a huge deal for these teams in the Midwest."
The 2017 Lucas Oil POWRi/WAR Sprints Champion will be crowned on the final night of the three-day Hockett/McMillin Memorial event at Lucas Oil Speedway, September 21-23, 2017.
The famed "Dirty 30" MAVTV television show produced by the mastermind behind GoJackslash.com, Sean Buckley, is another new partner for the entire POWRi organization for 2017. POWRi and Buckley have partnered to televise several races this year, featuring a mixture of sprint car, midget and micro events. "We are excited to give our competitors the opportunity to race and represent their sponsors on national television," said Shuman.
The POWRi TV schedule is being finalized, and will be released at a later date.
2017 Lucas Oil POWRi/WAR Sprint Car Schedule
April 8 Valley Speedway
April 15 I-35 Speedway
April 22 Valley Speedway
May 5 Valley Speedwway
May 6 Lucas Oil Speedway
May 11 Lakeside Speedway
May 13 Valley Speedway
May 19 US-36 Raceway
May 20 I-35 Speedway
June 3 Valley Speedway
June 10 I-35 Speedway
June 17 Lucas Oil Speedway
June 24 Valley Speedway
June 30 Belle-Clair Speedway
July 1 St. Francois Co. Raceway
July 8 I-35 Speedway
July 14 Valley Speedway
July 15 Valley Speedway
July 28 Mid America Speedway
July 29 Springfield Raceway
Aug 5 Randolph Co. Raceway
Aug 12 Valley Speedway
Aug 25 US-36 Raceway
Aug 26 I-35 Speedway
Sep 3 Bethany Fairgrounds
Sep 8 Eagle Raceway
Sep 9 I-35 Speedway
Sep 16 Valley Speedway
Sep 21 Lucas Oil Speedway
Sep 22 Lucas Oil Speedway
Sep 23 Lucas Oil Speedway