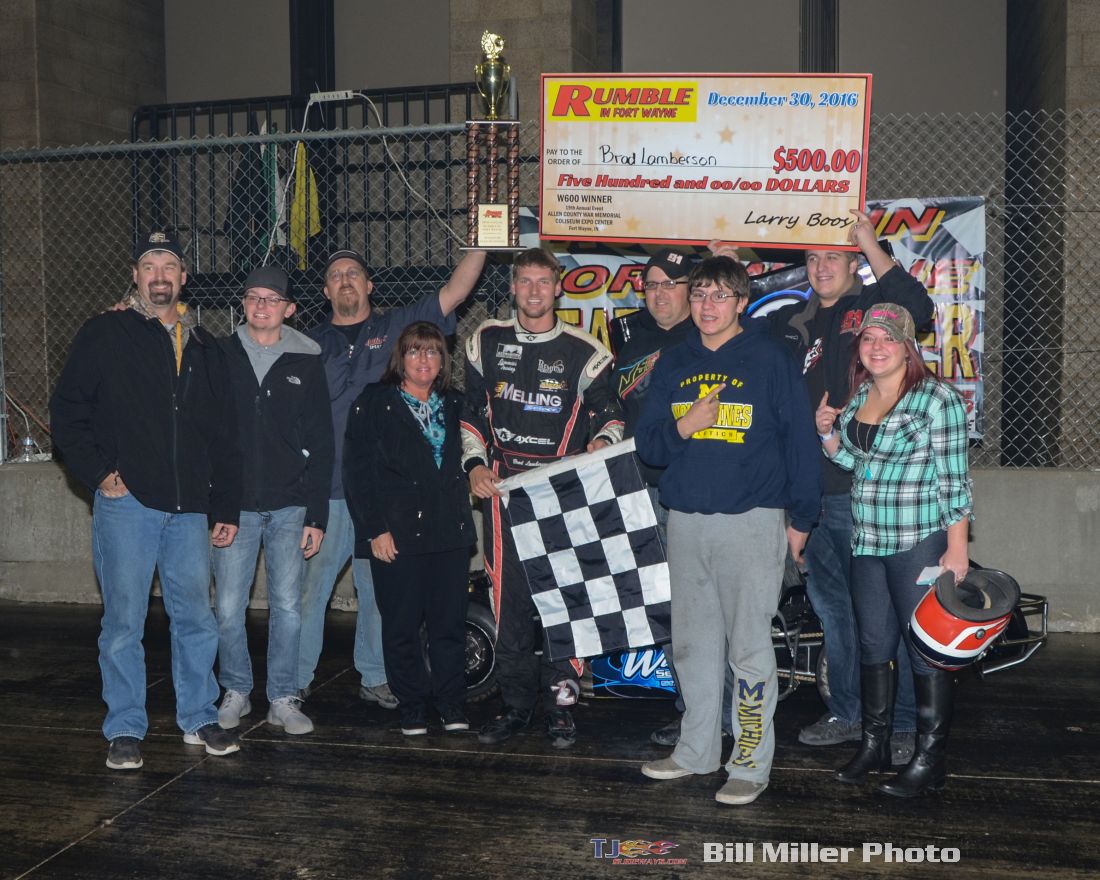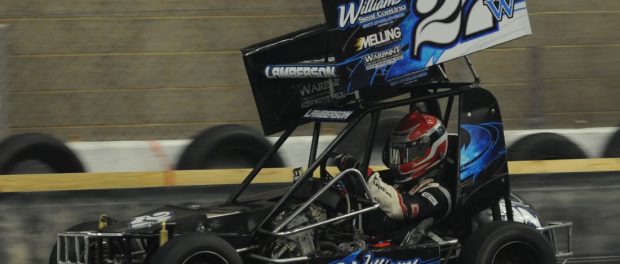 Several sprint car drivers from the mitten finished off the 2016 season at the annual Rumble in the Expo at the Allen County Memorial Coliseum Exposition Center in Fort Wayne, Indiana. Leading the Michigan contingent were Brad Lamberson and Andrew Scheid picking up a victories in the winged 600cc outlaw mini sprint and karts respectively. Lamberson teamed up for a second year with Parma, Michigan car owner Danny Williams again this season. After taking the car to Atlantic City last year and making the feature program Lamberson backed that up with his victory on Friday at the Rumble. Lamberson plans on returning to the Atlantic City event January 27th and 28th,.Scheid, who was the topic of our last column of 2016 about his upcoming effort with the Sprints on Dirt this season, picked up the victory with his family's karting effort.Other sprint car related entries included Rumble Midget B-Main winner Chance Rice (who is looking for a sprint car opportunity in 2017), Nick Landon, Lexi Adgate and Dustin Hyliard's son Keagan.
The Great Lakes Super Sprint schedule was released this past week. 360 teams will be hitting the road more in 2017. 11 races in 2017 will take place in the state of Ohio between Limaland Motorsports Park and Waynesfield Raceway Park. GLSS has partnered with the K&L Ready Mix National Racing Alliance (read more about that in the national notebook) with 22 co-sanctioned events for 2017. One interesting aspect of the partnership for GLSS teams is more co-sanctioned races in Michigan than 360 teams have seen in past seasons. Most of the venues from 2016 return to this year's schedule including the addition of the Manistee County Fairgrounds half mile in Onekema, Michigan being a full point race after hosting an exhibition in 2016.Two other dates on the GLSS schedule to keep an eye on is Sunday July 23rd race at I-96 Speedway that was a big hit last year and produced one of the best sprint car events of the season. August 18th Hartford Motors Speedway will host GLSS and the Lane Automotive Michigan Traditional Sprints.
Ryan Grubaugh. (Bob Buffenbarger Photo)

The cat was let out of the bag over the weekend on who would drive Steve Smith's 71 car in 2017. Smith revealed that Ryan Grubaugh would return to the driver's seat for the first time since 2013. Smith and Grubaugh both indicated a tentative schedule would be announced soon.
The Engine Pro Sprints on Dirt presented by ARP have retained several sponsors (see various releases here) and have been teasing some new sponsorship via their social media outlets. While several SOD dates have been released there are still a couple of shows in the works before the entire schedule can be released.
Look for the venue for the Arctic Cat All Star Circuit of Champions event originally slated for June 30th at Hartford Motor Speedway to change or for the July 1st event at Merritt to be a standalone event. Hartford officials cite scheduling conflicts that could not be worked out for the All Stars to return after a spectacular three-in-one sprint car event in 2016, which is another loss for sprint car fans in Michigan that enjoy regional and national touring events follow the loss of the ASCS National Tour, one World of Outlaws Event, and now two All Star shows compared to last season.
Indoor racing returns to Battle Creek Kellogg Arena January 13th – 15 with the Cereal City Showdown featuring the Midwest Indoor Racing Series. Look for several sprint car drivers turning laps in everything from micro sprints to karts.