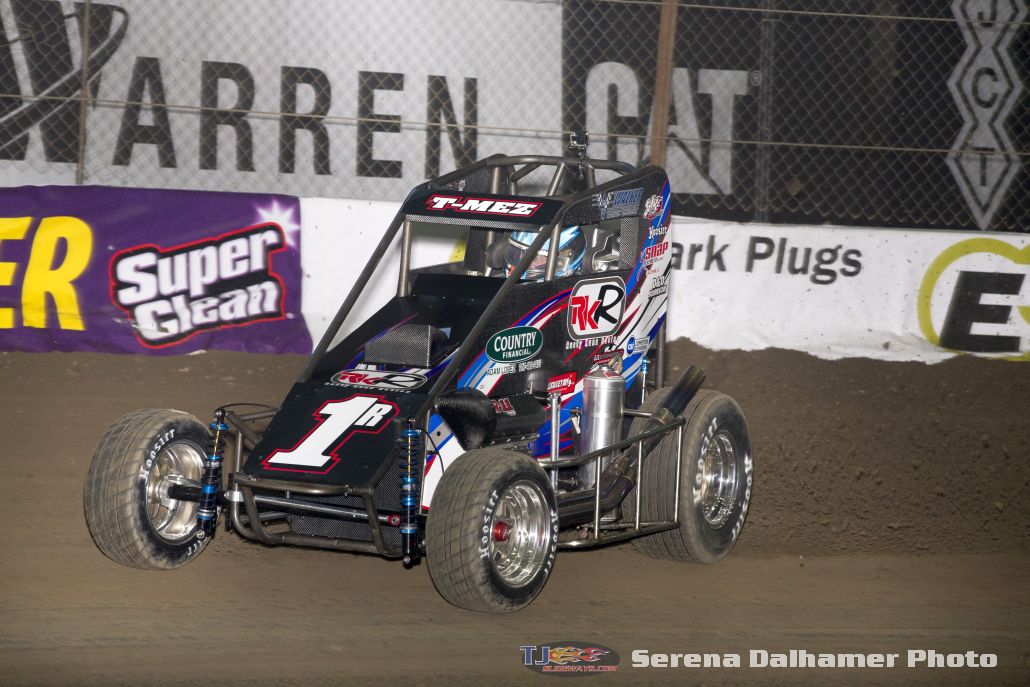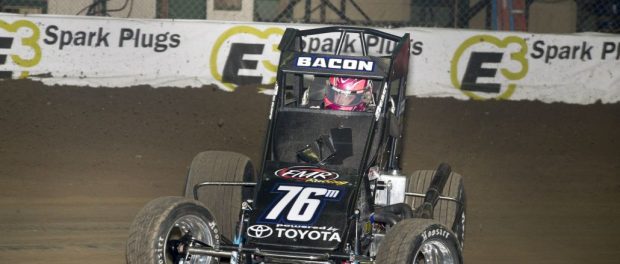 By T.J. Buffenbarger
Predictions for the Chili Bowl Nationals might be the most challenging of any year since I started writing these pre-race columns. Of the drivers that have locked in through the first two nights of competition five of the six will make their first career feature start at the Chili Bowl on Saturday. I don't think many people would predict that Keith Kunz Racing's only car in Saturday's A-Main would be Rico Abreu through a previous winners provisional.
Not one to give up easily here are my predictions for the Thursday night program.
Favorites to lock into Saturday's A-Main
Thomas Meseraull (Serena Dalhamer photo)

Thomas Meseraull: When going through the first release of the entry list seeing T-Mez teamed up with Rusty Kunz made him go directly into my favorites to win the entire Chili Bowl Nationals. This is Meseraull's best opportunity to win the Chili Bowl in his career. While many of the favorites have fallen T-Mez can likely gas his way to the front as long as he can avoid some of the pitfalls that have befallen other favorites.
Brady Bacon: The Chili Bowl is a home game for Bacon. Last season Bacon's midget team fielded by Frank Manafort was one of the fastest cars in the country. Bacon has the speed, but can he avoid some of the misfortune we've seen other fast teams run into this year?
Christopher Bell: Saying Keith Kunz Racing's 2017 Chili Bowl effort has not gone according to plan would be an understatement. I expect midget racing's super team to rebound tonight with Bell behind the wheel.
Ryan Bernal: One might think Joey Saldana would be the most likely driver to lock an entry into Saturday's A-Main from Crazy Eyes Motorsports. Bernal though is my pick to get one of the Saldana owned entries into Saturday's big show through the preliminary night. Bernal is a good young driver with a good head on his shoulders. With the way the week has gone Bernal is my pick to win the preliminary feature on Thursday.
Ronnie Gardner: Note how strong Jake Swanson's entry was last night. Gardner is the regular driver for Six 8 Motorsports. Gardner has had some bad luck at the Chili Bowl in the past, but should have a fast race car for Thursday.
Dark horses
Gage Walker: Sticking to my theory of not betting against drivers who primarily compete in midget racing all season Gage Walker could surprise some people tonight. It wouldn't surprise me to see Walker open some eyes nationally tonight.
Kody Swanson: Midwest fans have learned to throw away the "pavement driver" label Swanson was saddled with early in his career. Swanson is a very talented driver that can get the job done on any surface.
Sam Hafertepe Jr: Hafertepe is another driver that often rises to the occasion when seldom mentioned. It wouldn't surprise me to see Hafertepe slide into one of those spots for Saturday's feature through the preliminary night.
Other noteworthy entries
Sheldon Haudenschild will drive an entry fielded in partnership with Kyle Larson's father Mike and Keith Kunz Motorsports. This is going to be a spotlight moment for one of the up and coming young stars in the sport.
Jerry Coons Jr. will roll out in the other Wilke-PAK entry on Thursday while former Chili Bowl winner Tracy Hines returns to the driver's seat of a midget on Thursday.
2016 Knoxville Nationals champion Jason Johnson will try to continue Clauson-Marshall Racing's strong showing at the 2017 Chili Bowl.
Late Model veteran Jonathan Davenport turns his first competitive laps in a midget tonight.