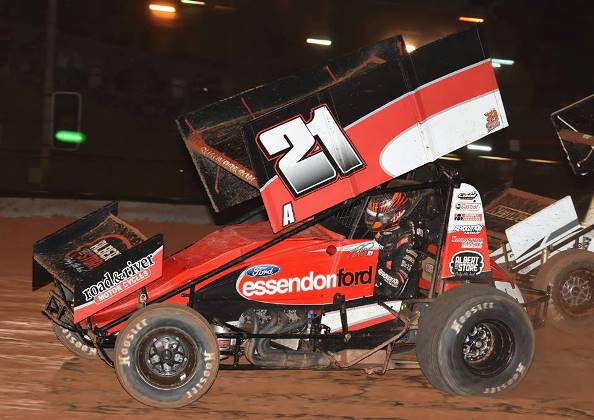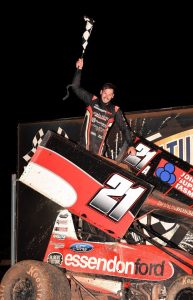 From Redline Media
After seven years of Sprintcar racing, Shaun Dobson last Saturday night at Sydney's Valvoline Raceway drove to his breakthrough major win – the Scott Darley Challenge – which saw him pocket $20,000 in prize money.
Regarded as one of the toughest annual events on the Australian Sprintcar calendar and with nearly 100 of some of the World's best 410 Sprintcar drivers in the field, this season's Scott Darley Challenge had no shortage of competition, but Dobson came out on top and picked up the $19,000 winner's cheque along with a Lap 19 leading bonus of $1,000.
In what was a dominant performance, Dobson, driving the ACT # 21 Essendon Ford / Quantum Quartz supported Cool car, started from the outside of the front row for the Scott Darley Challenge deciding feature race and was never headed throughout the shortened 30-lap distance (from the originally scheduled 40 laps) that managed to go non-stop without a single stoppage from green to chequered flag.
Despite wet weather hampering the start of the feature race and pressure from a number of brief challengers throughout the race, mainly from current and two-time Australian Champion Kerry Madsen, Dobson kept his nerve and scored a commanding win. This win was not only Dobson's maiden major win, but he also became the first ever Tasmanian-based driver to win a Sprintcar feature race at Valvoline Raceway.
Although Dobson has been enjoying a strong 2016-17 season, he was in a state of being pleased but at the same time shocked at picking up such a prestigious event.
"My team and I has been building towards a major win like this, but for it to actually happen still comes as a bit of a shock and is quite a surreal feeling," admitted the jubilant 24-year-old racer from Hobart.
"This win is as much my team's as it is mine. My crew chief Shane, dad and team Andrew, along with pit crew members James, Darren and Craig have been doing a great job all season and we've all been working well together, and that's played a massive part in my consistent front-running pace so far this season."
Leading up to the Scott Darley Challenge feature race last night, Dobson had topped the time sheets in his qualifying group, followed by winning his heat race and then earning his outside front-row feature-race start.
"It was the perfect night for the team and I," he expressed.
"Even with the wet weather falling prior to the feature race and the spanner it threw into the works for all of the teams, our team made all of the right calls with setup and I was able to go on with the job and drive to the win."
The opening Scott Darley Challenge night saw Dobson unlucky to miss out on a third-place podium finish. For the latter stages of the feature race, he was locked in a fierce battle with American Carson Macedo and he was able to pip Dobson, who ended up fourth, on the line by the slimmest of margins at the fall of the chequered flag.
This Wednesday night will see Dobson and the team travel down to Geelong's Avalon Raceway in Victoria to contest the President's Cup, followed by Thursday night's King's Challenge at Mount Gambier's Borderline Speedway in South Australia, and then Friday, Saturday and Sunday night will see them battle it out in the Grand Annual Classic at Warrnambool's Premier Speedway in Victoria.
"We're enjoying a great season but this week is going to be tough," he admitted.
"The goals for these three upcoming events are to just firstly qualify into the feature races and then hopefully qualify towards the front of the field, which is going to go a long way towards being able to challenge for wins."
The Dobson Motorsport team would like to thank their 2016-17 season sponsors: Essendon Ford, Quantum Quartz, Road & River Motorcycles, Albert Road Store – Hobart, Joinery Supplies Tasmania, Castrol Oil, Cool Chassis, and KRE Race Engines.
To find out more about Dobson, or to purchase team merchandise, visit his website at www.shaundobson.com.au. You can also follow Dobson on social media via Facebook by searching Shaun Dobson Racing or follow him on Twitter by searching @DobsonShaun.