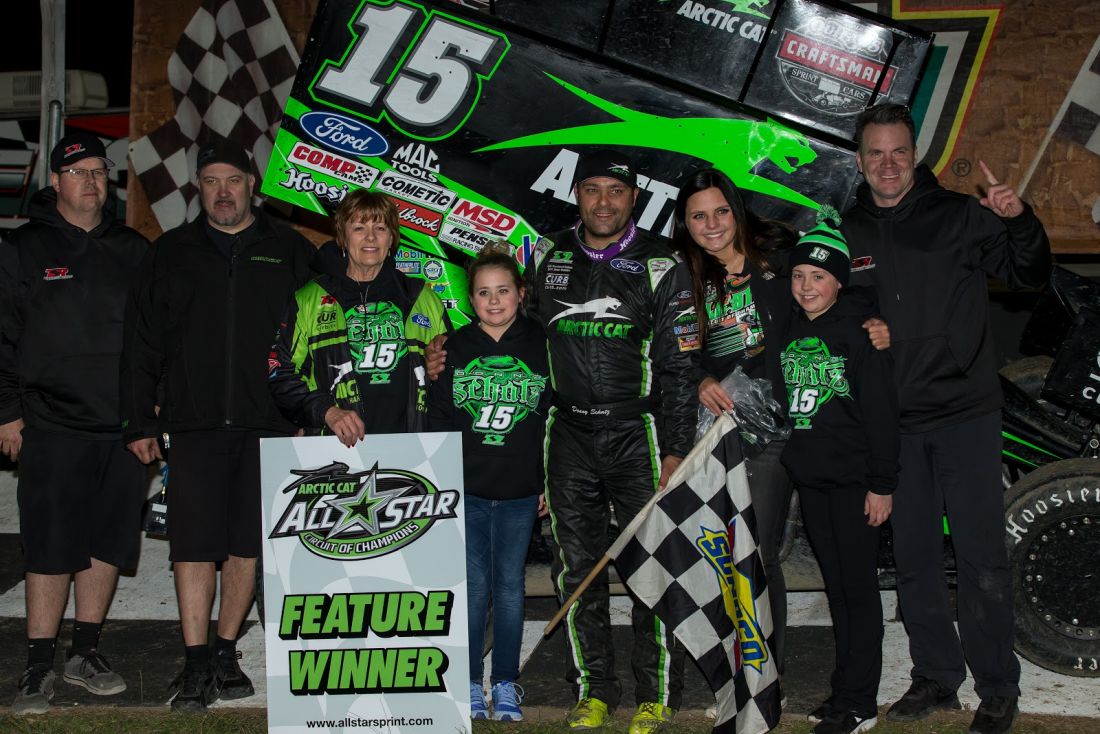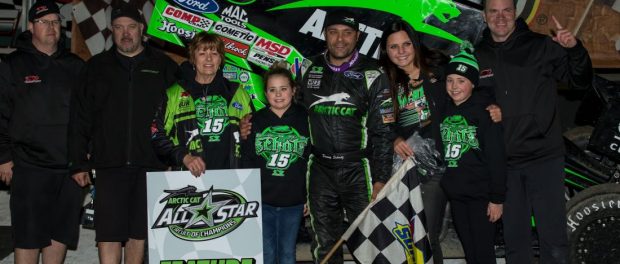 From Tyler Altmeyer
OCALA, Fl. (February 9, 2017) – Fargo, North Dakota's Donny Schatz survived a wild ending on Thursday evening at Bubba Raceway Park; advancing two positions during the last two circuits, each while battling nearly nose-to-tail in heavy lapped traffic, to clinch the season's first Arctic Cat All Star Circuit of Champions victory. Schatz, the eight-time and defending World of Outlaws Craftsman Sprint Car Series champion, advanced six positions during 30 non-stop laps to capture his 14th career Arctic Cat All Star victory. Tim Shaffer held on to finish just behind the pilot of the Tony Stewart Racing/Arctic Cat/Ford Performance/No. 15, followed by Kraig Kinser, Ian Madsen and Caleb Armstrong.
"Oh man, that was crazy," said Donny Schatz. "I started to notice Kerry's [Madsen] tire was really beginning to get low; almost down to the chords. I knew that I didn't want to be above him at that point because when the right rear tire goes flat, the car tends to drift up the race track. When it blew, we just went to work on Shaffer. I didn't have a lot of time, but he was racing a little too protective and I was able to set him up and get around him. I never give up and I never count us out, no matter where we are at on the race track."
Donny Schatz commenced his campaign to the front of the field right from the drop of the initial green, eventually working forward from the inside of row four to a podium position by lap 15. By the time Schatz solidified himself third in the running order, Kerry Madsen was already in control, tailed closely by the "Steel City Outlaw" Tim Shaffer. All three drivers navigated traffic nose-to-nail for nearly ten circuits, each utilizing the bottom groove of the racing surface. Shaffer was strong enough to periodically make a bid for the top spot, but each time it was negated.
Unfortunately for Kerry Madsen, who took command officially on lap 13 aboard his GoMuddy.com/Big Game Treestands/No. 2M, disaster would strike in the form of a flat right rear tire with just two circuits remaining, caused by the rubbered-up racing surface that started to build along the bottom edge of Bubba Raceway Park. Without bringing out a caution, Madsen exited the speedway, surrendering his top spot to Tim Shaffer. Despite Shaffer's attempt to race conservatively and protect the rubbered-up racing groove, Schatz continued to apply pressure, ultimately working around the Aliquippa, Pennsylvania, native on the final circuit to clinch the $5,000 payday.
"It feels really good to get it done here tonight, especially with Arctic Cat playing such a big role in our program now," Schatz explained. "They are big supporters of the Arctic Cat All Star Circuit of Champions, and obviously big supporters of Tony Stewart Racing, so to win right out of the gate with this new deal is very special. Hopefully we can do this a few more times this weekend."
The Arctic Cat All Star Circuit of Champions will continue their Winter Nationals triple-header at Bubba Raceway Park on Friday evening, February 10. Identical to Thursday, "America's Series" will showcase a complete program on Friday night, awarding $5,000 to the main event winner, as well as full points toward the 2017 Arctic Cat All Star championship.
It was Bloomington, Indiana's Kraig Kinser who earned the Friday night victory at Bubba Raceway Park in 2016. The win was Kinser's first of two during the season, eventually revisiting the top spot on the podium at Tri-City Raceway Park in Franklin, Pennsylvania, during the I-79 Summer Shootout.
Those seeking additional news and information regarding Bubba Raceway Park, such as gate times and ticket prices, should visit the facility live on the Web at www.bubbaracewaypark.com.
Contingency Awards/Results: Bubba Raceway Park – Thursday, February 9, 2017:
Event: Bubba Army Winter Nationals
EMi Driver's Meeting: 38 entries
State Water Heaters Warm-Ups: Tyler Clem – 12.502 seconds
Lincoln Electric Fast Qualifier: Danny Dietrich – 12.368 seconds
Kistler Racing Products Heat #1: Tim Shaffer
All Pro Aluminum Cylinder Heads Heat #2: Greg Hodnett
Hunt Brothers Pizza Heat #3: Kerry Madsen
Kear's Speed Shop Heat #4: Joey Saldana
JE Pistons Dash #1: Kraig Kinser
JE Pistons Dash #2: Greg Hodnett
Classic Ink USA B-Main: Chad Kemenah
Daido Engine Bearings Main Event Winner: Tim Shaffer (2nd)
MSD Performance Hard Charger Award: Chad Kemenah (+11)
Outback Steakhouse A-Main 5th Place Finisher: Caleb Armstrong
Outback Steakhouse A-Main 10th Place Finisher: Chad Kemenah
Outback Steakhouse A-Main 15th Place Finisher: Steve Buckwalter
(Lincoln Electric, Daido Engine Bearings, MSD Performance, Outback Steakhouse: Need decal to qualify for contingency award)
Qualifying
1.13D-Danny Dietrich, 12.368; 2.15-Donny Schatz, 12.381; 3.11K-Kraig Kinser, 12.385; 4.24-Rico Abreu, 12.526; 5.7C-Caleb Armstrong, 12.539; 6.2M-Kerry Madsen, 12.556; 7.10H-Chad Kemenah, 12.640; 8.49x-Tim Shaffer, 12.703; 9.27-Greg Hodnett, 12.711; 10.5-David Gravel, 12.779; 11.22-Cole Duncan, 12.832; 12.14-Tony Stewart, 12.860; 13.87-Aaron Reutzel, 12.974; 14.18-Ian Madsen, 12.983; 15.5M-Max Stambaugh, 12.988; 16.M1-Mark Smith, 13.008; 17.14T-Tyler Clem, 13.162; 18.4p-Paul McMahan, 13.177; 19.17s-Joey Saldana, 13.192; 20.2-Parker Price-Miller, 13.197; 21.17B-Steve Buckwalter, 13.242; 22.17-Caleb Helms, 13.291; 23.8M-TJ Michael, 13.410; 24.4-Danny Smith, 13.478; 25.O7-Jacob Wilson, 13.497; 26.21-Carson Short, 13.524; 27.59-Ryan Smith, 13.540; 28.7J-Joe Swanson, 13.543; 29.49H-Bradley Howard, 13.637; 30.40-Mark Imler, 13.637; 31.13F-Todd Fayard, 13.670; 32.33-Brent Matus, 13.833; 33.51-John Garvin, 14.099; 34.13-Brandon Matus, 14.134; 35.9-Ryan Linder, 14.160; 36.7W-Tasker Phillips, 14.207; 37.76-David Jones, 14.288; 38.45-Trevor Baker, 15.537;
Heat 1, Group A – (8 Laps)
1. 49x-Tim Shaffer[1] ; 2. 7C-Caleb Armstrong[2] ; 3. 22-Cole Duncan[5] ; 4. 11K-Kraig Kinser[3] ; 5. 13D-Danny Dietrich[4] ; 6. 5M-Max Stambaugh[6] ; 7. 13F-Todd Fayard[8] ; 8. 49H-Bradley Howard[7] ; 9. 33-Brent Matus[9] ; 10. 45-Trevor Baker[10]
Heat 2, Group B – (8 Laps)
1. 27-Greg Hodnett[3] ; 2. 5-David Gravel[2] ; 3. M1-Mark Smith[6] ; 4. 87-Aaron Reutzel[5] ; 5. 17-Caleb Helms[7] ; 6. 14-Tony Stewart[1] ; 7. 10H-Chad Kemenah[4] ; 8. 59-Ryan Smith[8] ; 9. 7W-Tasker Phillips[9] ; 10. 76-David Jones[10]
Heat 3, Group C – (8 Laps)
1. 2M-Kerry Madsen[2] ; 2. 15-Donny Schatz[4] ; 3. 4p-Paul McMahan[1] ; 4. 24-Rico Abreu[3] ; 5. 17B-Steve Buckwalter[6] ; 6. 2-Parker Price-Miller[5] ; 7. 7J-Joe Swanson[8] ; 8. 51-John Garvin[9] ; 9. 8M-TJ Michael[7]
Heat 4, Group D – (8 Laps)
1. 17s-Joey Saldana[2] ; 2. 18-Ian Madsen[4] ; 3. 21-Carson Short[6] ; 4. 4-Danny Smith[1] ; 5. O7-Jacob Wilson[5] ; 6. 14T-Tyler Clem[3] ; 7. 40-Mark Imler[7] ; 8. 13-Brandon Matus[8] ; 9. 9-Ryan Linder[9]
Dash 1 – (1 Laps)
1. 11K-Kraig Kinser[1] ; 2. 2M-Kerry Madsen[3] ; 3. 18-Ian Madsen[2] ; 4. 15-Donny Schatz[4] ; 5. 5-David Gravel[5]
Dash 2 – (1 Laps)
1. 27-Greg Hodnett[2] ; 2. 49x-Tim Shaffer[3] ; 3. 13D-Danny Dietrich[1] ; 4. 17s-Joey Saldana[5] ; 5. 7C-Caleb Armstrong[4]
B-Main 1 – (30 Laps)
1. 10H-Chad Kemenah[1] ; 2. 14-Tony Stewart[2] ; 3. 5M-Max Stambaugh[3] ; 4. 14T-Tyler Clem[4] ; 5. 59-Ryan Smith[7] ; 6. 2-Parker Price-Miller[5] ; 7. 7J-Joe Swanson[8] ; 8. 49H-Bradley Howard[10] ; 9. 13-Brandon Matus[14] ; 10. 40-Mark Imler[9] ; 11. 7W-Tasker Phillips[16] ; 12. 51-John Garvin[13] ; 13. 33-Brent Matus[12] ; 14. 76-David Jones[17] ; 15. 45-Trevor Baker[18] ; 16. 9-Ryan Linder[15] ; 17. 13F-Todd Fayard[11] ; 18. 8M-TJ Michael[6]
A-Main 1 – (12 Laps)
1. 15-Donny Schatz[7] ; 2. 49x-Tim Shaffer[4] ; 3. 11K-Kraig Kinser[1] ; 4. 18-Ian Madsen[5] ; 5. 7C-Caleb Armstrong[10] ; 6. 22-Cole Duncan[11] ; 7. 27-Greg Hodnett[2] ; 8. 13D-Danny Dietrich[6] ; 9. 5-David Gravel[9] ; 10. 10H-Chad Kemenah[21] ; 11. 24-Rico Abreu[15] ; 12. 21-Carson Short[14] ; 13. M1-Mark Smith[12] ; 14. 4-Danny Smith[17] ; 15. 17B-Steve Buckwalter[16] ; 16. 2M-Kerry Madsen[3] ; 17. 14-Tony Stewart[20] ; 18. 17-Caleb Helms[19] ; 19. 17s-Joey Saldana[8] ; 20. 5M-Max Stambaugh[23] ; 21. 4p-Paul McMahan[13] ; 22. O7-Jacob Wilson[18] ; 23. 51-John Garvin[24] ; 24. 33-Brent Matus[25] ; 25. 14T-Tyler Clem[22] ; 26. 59-Ryan Smith[26]