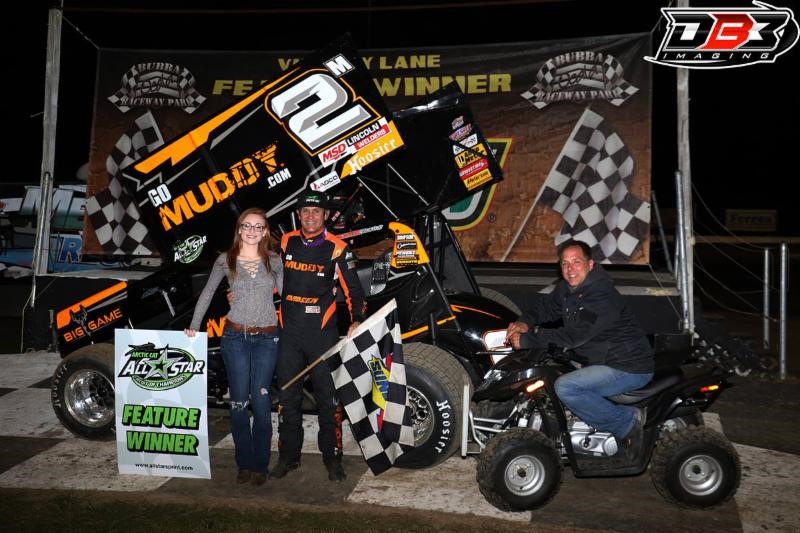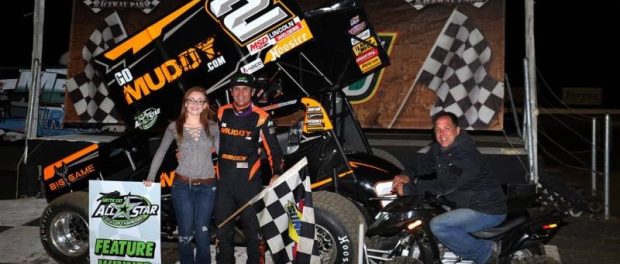 From Inside Line Promotions
OCALA, Fla. (February 13, 2017) – Kerry Madsen produced a stout debut with Big Game Motorsports last weekend.
Madsen and the Muddy sponsored team garnered a feature victory, two top fives and set quick time twice during the Arctic Cat All Star Circuit of Champions tripleheader at Bubba Raceway Park during the Bubba Army Winter Nationals.
"As soon as I got in the car the first night that thing was fast," he said. "To come out that strong, I'm really impressed. It's a confidence builder that everything is right. I feel like good things are coming."
Madsen entered the weekend with a four-race winning streak at the unique track dating back to 2014 and it looked like he was on pace for five in a row. He qualified sixth quickest overall and third in his group on Thursday. That lined him up on the outside of the front row for a heat race, which he won to lock into the dash.
Madsen picked up a position to finish second in the dash, which became a routine during all three nights. That lined him up third for the 30-lap main event.
"We were quick out of the box," he said. "In the A Main the thing was quick and rolling around well."
Madsen took the lead on Lap 13 only to see his night end early because of a flat right rear tire with less than two full laps remaining. He was credited with a 16th-place result.
"The rubber came in and we got a little tight," he said. "I looked up and saw we had two laps to go and I thought, 'Ok, we can do this' and then it blew. Normally I'd be pretty mad, but I was pumped we were that quick straight out of the box."
The Muddy backed team returned to the egg-shaped oval on Friday for Round 2, which began with Madsen setting quick time during qualifying. He then advanced from fourth to second place in a heat race to again lock into the dash, where a runner-up result lined him up third for the feature.
"We had just passed Donny (Schatz) and the yellow came out and then we had a red," he said. "We lost a little bit of air in the tires under red. On the restart we were bad for two laps and we lost two spots. Then the air pressure came back and we came on at the end. We had a better car at the end. It was good to have a good run."
Madsen's fourth-place finish gave the team momentum heading into the finale on Saturday, when he set quick time during qualifying for the second straight night. Madsen also maneuvered from fourth to second place in a heat race and from fourth to second place in a dash to start the main event on the inside of the second row.
"When I got second and saw Donny had a bit of a lead I wanted to push as hard as I could to catch him," he said. "We caught him pretty quick. Catching him and passing him are two different things. He went around a lapped car on the outside and got tight up there and left a hole for me."
Madsen took advantage and led the final half-dozen laps to capture his first triumph with the Muddy sponsored team, which returns to action this Wednesday through Sunday at Volusia Speedway Park in Barberville, Fla., at the DIRTcar Nationals with the Arctic Cat All Star Circuit of Champions and World of Outlaws Craftsman Sprint Car Series.
Madsen has earned four top fives and 10 top 10s in his last 13 main events at the event since 2014.