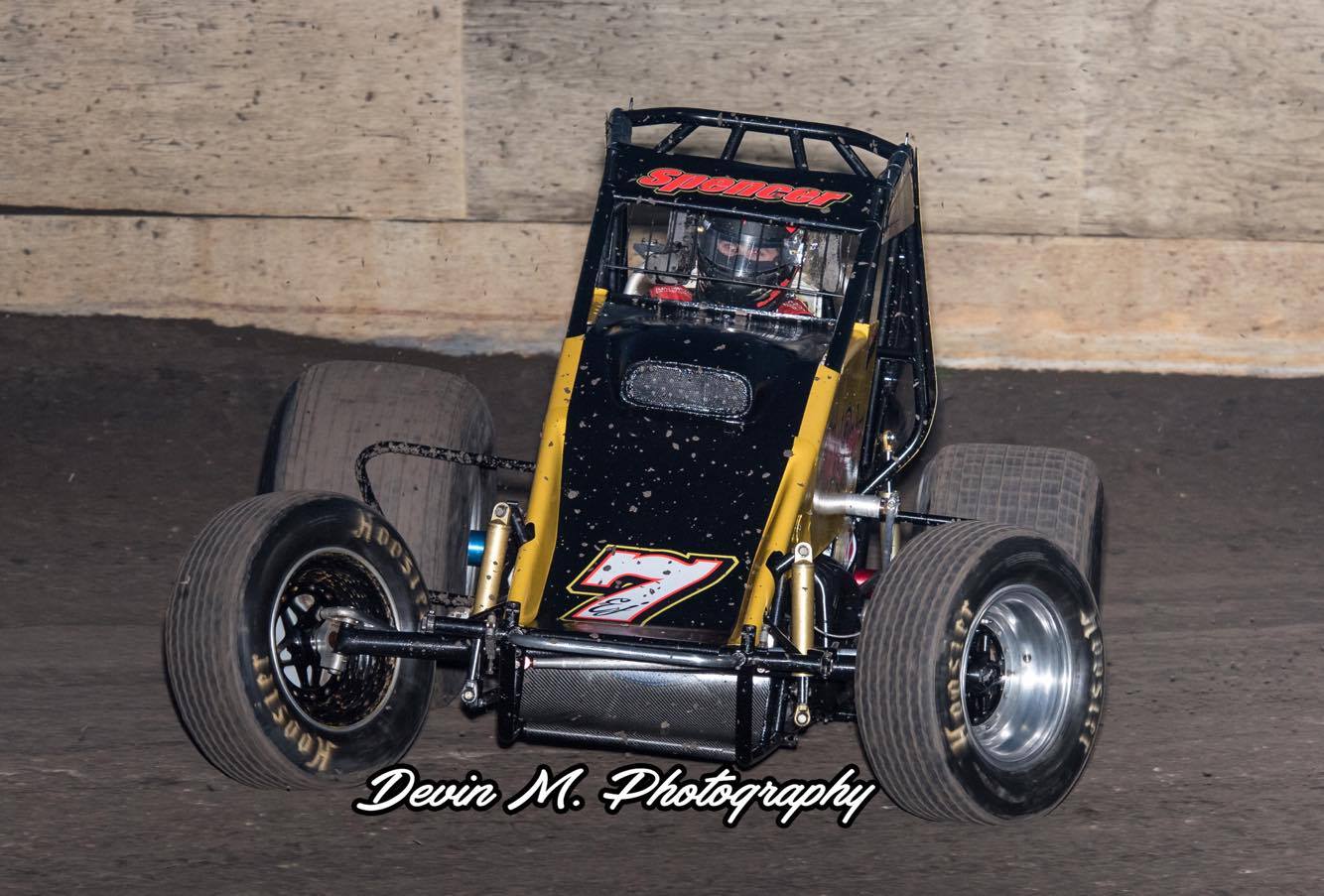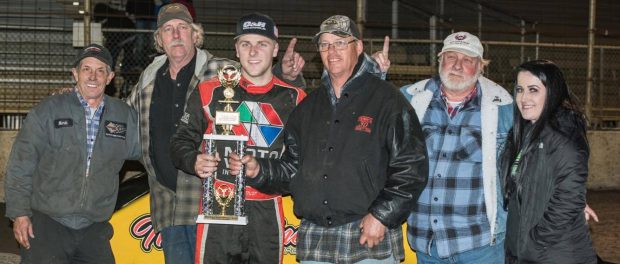 From Gary Thomas
MARYSVILLE, Ca. (February 25, 2017) — A wild C&H Veteran Ent. presents Hunt Magnetos Wingless Tour opening night at the Marysville Raceway saw Orangevale, Ca driver Cody Spencer come out on top during a chaotic late-race scramble, scoring his first career victory with the tour in the process.
Spencer was also making his first ever start in the Mark Dolner owned No. 7EJ Sprinter on Saturday night and made it pay off during a back and forth 25-lap Sherm & Loree Toller Memorial feature.
"What a great way to kick off the year with a new team," Spencer commented. "I can't thank these guys enough for allowing me to drive this car. I'm really excited about the new C&H Hunt Wingless series. There are a lot of great people involved in the new series that are really trying to give back to the racers and the fans. I'm just thankful to be a part of it. Hopefully we can do this a lot in 2017."
The A-main started out with reigning C&H Veteran Ent. presents Hunt Magnetos Wingless Tour champion Klint Simpson of Santa Rosa and Citrus Heights' Kalib Henry on the front row. At the waving of the green flag it was Henry who jumped to the lead, in what was his first career wingless sprint car start. The 17-year-old Silver Dollar Speedway Winged 410 Rookie of the Year from last season looked strong out front in the early stages.
As often the case in opening season events there were a number of cautions during the feature that slowed down the contest. Henry was able to hold strong out front, until reported power steering issues had developed that forced him to fight his car for the remainder on the heavy and rough surface. With the race winding down Simpson then stepped up his challenges and was able to charge under Henry to grab the lead. A red flag just before the finish then made for a green-white-checkered restart and what resulted was pure chaos up front.
As Simpson led the field back to green last year's final round winner DJ Johnson of Stockton attempted to get by and steal the opening night win away. Contact ensued however, and ultimately saw both drivers get upside down to end their shot at victory. Spencer was able to avoid the melee and go on to score the improbable win. Santa Rosa's Terry Schank Jr. came home in second, with Sacramento's Troy Degaton, Tracy's Austin Ligett and Sebastopol's Geoff Ensign rounding out the top-five. Chris Kerr, Josh Vierra, Simpson, Johnson and Ryan Souza completed the top-10.
A-main finish: 1. 7EJ Cody Spencer, 2. 1 Terry Schank Jr., 3. 39t Troy Degaton, 4. 51 Austin Liggett, 5. 3f Geoff Ensign, 6. 27 Chris Kerr, 7. 3v Josh Vierra, 8. 32 Klint Simpson, 9. 33g DJ Johnson, 10. 15 Ryan Souza, 11. 38 Casey McClain, 12. 51L Thomas Leiby, 13. 33 Kalib Henry, 14. 56K Scott Hall, 15. 84 Brent Steck, 16. 87jr Tim Sherman Jr., 17. 14 Barry Pries Jr., 18. 13f Dan Hayes, 19. 6w Billy Wallace, 20. 5b Angelique Bell
The LRB Inc. opening heat race was picked off by Cody Spencer, while Austin Liggett won the second heat race presented by SpeedMart and Terry Schank Jr. claimed Benic Enterprises heat race number three. The B-main was captured by Thomas Leiby, with the Santauro Racing Products Dash going to Klint Simpson. DJ Johnson opened the evening by setting the West Coast Race Parts Fast Time by turning a 13.681 to beat out the 26-car field.
The C&H Veteran Ent. presents Hunt Magnetos Wingless Tour will return to action on Saturday March 11 as part of the annual Silver Cup at Chico's Silver Dollar Speedway. It will mark the first of two season appearances at the famed quarter-mile located on the Silver Dollar Fairgrounds. More information on the event can be found at www.silverdollarspeedway.com
Information on the C&H Veteran Ent. presents Hunt Magnetos Wingless Tour can be found by visiting http://www.petaluma-speedway.com/ and clicking on the Hunt Series tab. You can also like the tour on Facebook at https://www.facebook.com/joehuntwingless/?pnref=lhc
C&H Veteran Ent. presents the Hunt Magnetos Wingless Tour is proudly brought to you by C&H Veteran Ent., Hunt Magnetos, Pit Stop USA, West Coast Race Parts, LRB Inc., SpeedMart, Benic Enterprises, Santamauro Racing Products, Davis Motorsports of Reno, Air One Hvac Systems and TW Racefotos.