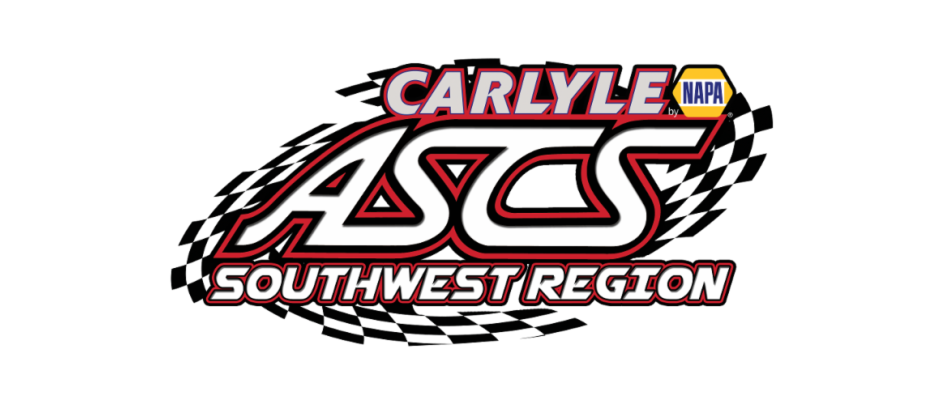 From Bryan Hulbert
PEORIA, Ariz. (March 4, 2017) — Starting off the 2017 season on the right foot, Arizona's Bob Ream, Jr. picked off his eight career victory with the Carlyle Tools ASCS Southwest Region; winning the season opening event at Canyon Speedway Park in Peoria, Ariz. on Saturday, March 4, 2017.
Coming from third to get the victory, Ream's No. 8 was chased to the line by J.T. Imperial with Colton Hardy taking the bronze podium step. Lance Norick from seventh came up to finish fourth with defending series champion, Rick Ziehl, finishing out the top-five.
The Wofford family made up the next two positions with Lorne Wofford edging out his son, Wes Wofford. Looking to contend for Rookie of the Year honors in 2017, Josh Shipley was eighth with Darrell Sickles and Steve Stone make up the final positions in the top-ten.
The Carlyle Tools ASCS Southwest Region returns to competition on Saturday, March 11 with the season's first stop at the Arizona Speedway in Queen Creek, Ariz.
For continued updates on the Carlyle Tools ASCS Southwest Region, log onto http://www.ascsracing.com.
Race Results:
ASCS Southwest Region
Canyon Speedway Park – Peoria, Ariz.
Saturday, March 4, 2017
Car Count: 15
Heat 1 (8 Laps): 1. 75X-J.T. Imperial[2]; 2. 12-James Mosher[1]; 3. 20Z-Rick Ziehl[5]; 4. 01-Josh Shipley[3]; 5. 77-C.J. Hulsey[4]
Heat 2 (8 Laps): 1. 90-Lance Norick[1]; 2. 74-Colton Hardy[5]; 3. 19-Wes Wofford[4]; 4. 14-Darrell Sickles[2]; 5. 57-Steve Stone[3]
Heat 3 (8 Laps): 1. 8-Bob Ream Jr[3]; 2. 5C-Ben Gregg[1]; 3. 18-Lorne Wofford[4]; 4. 33-Steve Cushman[2]; 5. 7-Mark Clark[5]
A Feature (30 Laps): 1. 8-Bob Ream Jr[3]; 2. 75X-J.T. Imperial[1]; 3. 74-Colton Hardy[4]; 4. 90-Lance Norick[7]; 5. 20Z-Rick Ziehl[5]; 6. 18-Lorne Wofford[9]; 7. 19-Wes Wofford[6]; 8. 01-Josh Shipley[10]; 9. 14-Darrell Sickles[11]; 10. 57-Steve Stone[15]; 11. 33-Steve Cushman[12]; 12. 77-C.J. Hulsey[14]; 13. 5C-Ben Gregg[8]; 14. 7-Mark Clark[13]; (DQ) 12-James Mosher[2]